Estimated read time: 4-5 minutes
This archived news story is available only for your personal, non-commercial use. Information in the story may be outdated or superseded by additional information. Reading or replaying the story in its archived form does not constitute a republication of the story.
PROVO — With the recent experience that BYU men's basketball has had with the NCAA, it's hard to blame the Cougars if they didn't expect to receive a waiver for Alex Barcello's immediate eligibility.
Proving its unpredictability, the Indianapolis-based governing body of college athletics threw the Cougars a curveball last week. But BYU will take this one to the yard.
Barcello received a waiver to play immediately at the end of last week, and the Arizona transfer will be able to play in BYU's exhibition opener Friday against Division II UT Tyler (7 p.m. MDT, BYUtv) as well as the regular-season opener next Tuesday against Cal State Fullerton.
Off the practice squad, and into the rotation.
"It's just great to play with these guys," Barcello said. "Guys who work hard every day, and we're all about the same mentality: winning. It definitely encourages me to be a better player, and it's fun to be here with these guys."
The 6-foot-2, 180-pound guard from Chandler, Arizona, played two seasons of college hoops at Arizona, averaging 3.3 points, 0.9 rebounds and 0.5 assists in 30 games as a sophomore. An ESPN top-100 recruit at Corona del Sol High School in Chandler, Barcello was a two-time Gatorade Arizona player of the year who averaged 24.2 points, 5.8 rebounds, 3.0 assists and 1.9 steals per game as a senior for the 26-4 Aztecs.
And while he categorizes himself as a point guard, Barcello said he is capable of playing multiple positions on the guard line — a key factor in his recruitment to BYU in head coach Mark Pope's first season.
"I like to play the point, but at the end of the day I'm a basketball player," Barcello told BYUtv. "Whatever the team asks me to do, I'm going to go out and do."
Barcello's eligibility allows Pope to play multiple guard-oriented lineups, especially while the Cougars wait for Yoeli Childs to serve a nine-game suspension. With just two fully healthy, scholarship big men on the roster in Dalton Nixon and Kolby Lee, BYU could struggle to fill bodies early in the low post.
So any time spent in a potentially four-guard lineup would be a benefit to the Cougars. That could include Barcello running the point and TJ Haws moving to the two-guard spot, or getting more minutes from reserve guard Jesse Wade, freshman Trevin Knell and wing forward Zac Seljaas, who is coming off a foot fracture suffered during the Cougars' preseason trip to Italy.
"It actually made our average height smaller," Pope joked of Barcello, who is the fourth-shortest player on the roster. "But it changes a lot. He gives us a real physical presence in the backcourt, which is a huge gift. He's an extraordinary young man, and a terrific basketball player.
"He brings a physicality to the game that we desperately need. He's a huge addition for us, and we're super grateful."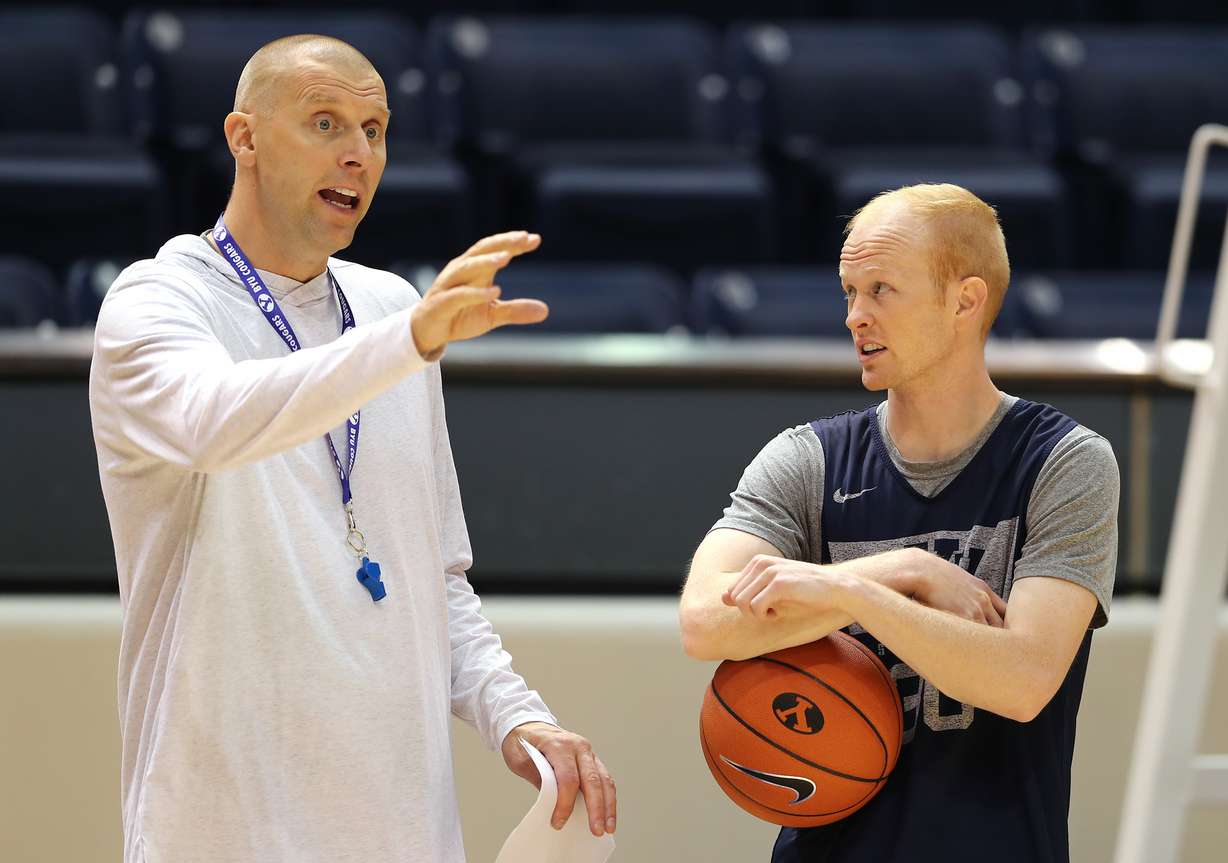 Barcello's teammates have embraced the newcomer on a team that strives for continuity, with seven seniors who have all been in the program previously (graduate transfer senior Jake Toolson started his career at BYU before playing two seasons for Pope at Utah Valley).
Described as a "bulldog" in the gym with a knack for defending, Barcello had added to the "practice squad" of players that may not suit up for the Cougars this year. In addition to Barcello (until recently), that list included Utah Valley transfers Wyatt Lowell and Richard Harward; and (at times) Childs, who will miss the first nine games of the season while serving an NCAA-mandated suspension dealt after he returned to BYU from NBA draft consideration.
"We were so pumped. We thought it was bad news when they first told us," BYU teammate Kolby Lee said. "When we heard the news, we were all pumped. We're glad to have him.
"He's one of the fastest, quickest guards I've ever played with. He plays downhill. The pull-up game is really nice. He's a good shooter, a great passer; I found him a couple of times in the scrimmage (against Cal). I love playing with him."
Barcello credits Pope and his assistants Chris Burgess, Cody Fueger and Nick Robinson for bringing him to Provo, calling them "different than any other coaching staff" he encountered after he entered the transfer portal.
"They showed that they cared about me as a person, and the guys that are here," he said. "It's a really great group of guys, and a great program to be in. You can see that it's really a team environment, and everyone is all about the same thing, which is winning."
×
Related stories
Most recent BYU Cougars stories