Estimated read time: 9-10 minutes
This archived news story is available only for your personal, non-commercial use. Information in the story may be outdated or superseded by additional information. Reading or replaying the story in its archived form does not constitute a republication of the story.
Editor's note: KSL.com's "Into the Voting Booth" series is meant to inform Utahns about the election process, how voting makes a difference in local communities and why the political process is important. Check KSL.com for future stories in this series over the coming weeks. Thanks for reading!- - - - - -
SALT LAKE CITY — A few weeks ago, a dozen members of Utah's Lieutenant Governor Spencer Cox's office gathered together on a chilly autumn morning for a team meeting where they settled a passionate debate: What's the best cereal?
Being that the lieutenant governor's office oversees the state's elections, it's fitting they put it to a vote. Every member of the office was tasked with bringing in a different cereal and then the office experimented with a new way of voting: They ranked their favorite of the dozen cereals on a scale.
In the end, as it turned out, it didn't matter what system they used.
"Reese's (Puffs) pretty much ran away with it," Justin Lee, the director of elections in the lieutenant governor's office, said with a chuckle. For the curious minds out there, Cinnamon Life and Count Chocula placed second and third, and Lee said the voting system they used really only factored in with those results.
Doing the important work in our elections office today and running a ranked-choice voting experiment. 😂 pic.twitter.com/uhtwq1SVPY

— Spencer Cox (@SpencerJCox) October 2, 2019
OK, this election didn't really matter, but many elections experts across the country are interested in the system they used. It's called ranked-choice voting and is what Payson and Vineyard residents will use to determine city council elections this year. They will be the first Utah municipalities to test out the voting system that could help solve an important elections question.
Can't there be a better way to vote?
Shaking up the system
Voting has been the same way for a while. Up until this decade, Utahns would go to a central location and cast a ballot. The person with the most votes won; however, that process had some cracks.
For starters, getting to a poll and waiting to vote takes time, which may discourage participation. And unless you memorized everything on the ballot and every candidate's position, you may not know which way to vote.
Utah is one of less than half of U.S. states to move forward with a solution to making voting a little more accessible. In 2012, Duchesne County became the state's first county to switch to vote-by-mail for all voters in the county. All counties in the state will use it next year, which makes Utah just the fifth state to do accomplish that.
Data shows voting participation has increased since vote-by-mail was added. Nearly 52% of registered voters in Utah participated in the 2010 midterm election. That number fell to 46.25% in 2014 and skyrocketed to 75.55% in 2018. On an even more local scale, Weber County reported that nearly 31% of voters in its county participated during primary municipal elections this past August. That's up from 16% in 2011 and 2015 primary elections, the two previous years where the same four-year seats — such as Ogden's mayoral race — were determined.
Aside from mail-in ballots, Utah County will experiment with a pilot program where active-duty military members and those overseas could vote from their smartphones. Online voting is something that Lee expects will eventually arrive on a wider scale — once cybersecurity concerns are figured out.
Related:
Lee also explained polling places still remain for those who prefer that method and also help those in Utah's disability community, especially for those who are visually impaired.
"We're doing whatever we can to make sure everybody has the ability to vote their ballot, to have that ballot safe and secure and to be secret," he said.
Other voting problems
However, those still don't address other problems within the system. There is a lack of competition in many races and voters don't know enough about the candidates or they may not even know how to vote to begin with, said Andrea Himoff, executive director of a nonpartisan community advocacy organization aimed at getting Utahns engaged in voting called Action Utah.
That's on top of voter apathy. A 2017 Pew Research Center poll found 40% of registered voters who did not turn out during the 2016 election — the last presidential election — didn't vote because they either didn't like the candidates/campaign issues or didn't feel like their vote mattered/weren't interested. The end result was millions of registered voters not participating.
Even with four out of 10 voters skipping that election, as NPR reported, voting participation is still normally highest during presidential election years and much lower for municipal elections.
The state's tie-break system is peculiar for those who do vote. As it currently stands, Utah's tie-break rule states that candidates must draw lots during a public meeting to decide the race. A recent example came in 2017 when Charleston's mayoral race was decided by a coin flip. Chance can decide an election.
Gerrymandering, which is the drawing of political boundaries to maximize partisan support, is a concern that is commonly brought up with congressional state representative elections, but it has little impact on nonpartisan municipal elections.
Ranked-choice voting
Remember the cereal vote? One possible solution some elections experts have brought up to address voting apathy is an instant run-off, or ranked-choice voting. Voters are asked to rank the candidates on a scale and if no candidate receives more than 50% of the vote immediately, a series of run-offs is put in order until a candidate reaches more than half the vote.
Utah's Legislature approved a ranked-choice voting pilot program bill last year. Some U.S. cities and other countries across the globe already use, but Payson and Vineyard will be the first Utah communities to try it.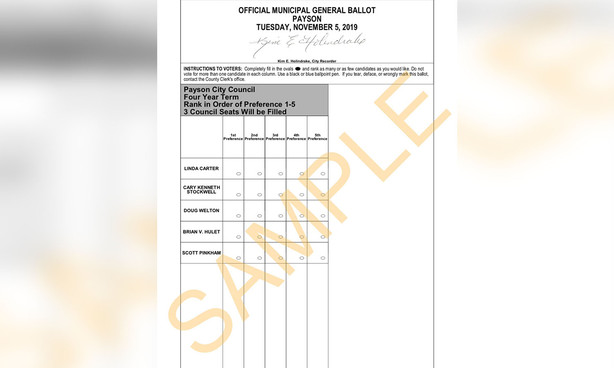 It's a system that's gained intrigue within the elections community. Katherine Gehl and Michael Porter advocated for U.S. elections to implement the system in a Harvard Business School paper published in 2017. In it, they argued the system ensures that the winning candidate has the highest overall broad appeal and not "less than majority support." In short, they believe it helps guarantee all votes are used and will bring stronger competition than two candidates would.
"Very importantly, it eliminates one of the hugest barriers to competition in the existing system and that is the spoiler argument," Gehl said, referring to third-party candidates who "steal" votes from top-party candidates, in a 2018 episode of the podcast "Freakonomics."
Utah officials are eager to keep tabs on the two ranked-choice elections to see how voters react to a new method, and whether voters' perceptions of the process change, before making any decisions about reshaping the state's election system. If implemented, ranked-choice could also eliminate the need for a primary election in the future since all of the possible candidates can be on the final ballot.
But the system also has its critics in the state. For instance, Sen. Daniel Thatcher, R-West Valley City, voiced concerns about ranked-choice voting during a Utah Legislature's Government Operations Interim Committee meeting in September.
"I believe that it games the system and that leads to bad election outcomes," he said during the meeting.
However, the pilot program will give officials hard data on how the system is used rather than the current theoretical discussions regarding whether the system is good or bad, Lee said. That said, as he points out, Vineyard and Payson's city council races will come with a distinct caveat when compared to something like a governor's race, since there will be multiple nonpartisan winners instead of one partisan winner.
"I think it will help inform the discussion, but I think there's a great deal more discussion and study that needs to go into it," Lee said. "Our office doesn't really have an official position as to whether ranked-choice voting is either a good or a bad thing; we're just interested to see what comes out of the pilot project."
Increasing competition
There are other potential improvements that could be made to the voting system without even changing the process. For instance, the type of system used doesn't matter if a candidate runs unopposed, and Himoff argues there is always an "absurd" amount of uncontested races in Utah each year. That's why she advocates that more people run for elected positions, which could eventually help those who feel candidates don't represent their values or ideas.
She added if there are more people coming from different backgrounds, it helps strengthen the importance of a race, which will bring more voters and will ultimately lead to better policies.
"You don't have to run for president of the United States or even Congress," Himoff said. "There are our school boards and our local governments that matter so much. Having people participate in those means there are more perspectives at the table and more people are being represented."
Researching candidates and platforms
Vote-by-mail hasn't just addressed accessibility; it has also addressed some of the other aforementioned issues. Ballots are sent to voters weeks before the election, so voters can see and then have time to research candidates or initiatives before they submit their ballot.
Voting information and other handy resources can be found on the state elections website. It includes biographical information about the candidates. Action Utah has handbooks and voter guides that explain the process and what people will see on their ballots, as well. Other groups like Voterise, Vote.org and Rock the Vote also provide resources to aid voters.
Himoff also encourages voters to find time to go to debates or events where candidates are speaking and ask candidates questions about their platforms.
"It's good democracy to vet your candidates and to do it in person if you can," she said.
In addition, organizations like Project 320 are recent programs launched to engage students in the elections and government processes. The more eligible voters understand the system, the more likely they are to participate.
All of those solutions combined could very well help increase voter turnout in the future; however, Himoff hopes people don't wait until new changes are implemented.
"Voting is one of the best ways to get your voice heard, to be represented in your views," she said. "During municipal elections, because there is lower voter turnout, I always tell people, that means your vote actually counts more."
×