Estimated read time: 3-4 minutes
This archived news story is available only for your personal, non-commercial use. Information in the story may be outdated or superseded by additional information. Reading or replaying the story in its archived form does not constitute a republication of the story.
SANDY — There hasn't been this much buzz at Alta View Elementary School since Principal Scott Jameson ate insects at a school fundraising assembly earlier this school year.
On Friday, the school unveiled a vending machine that dispenses books to students who earn tokens for good citizenship. The machine accepts no other currency.
At Alta View, students are expected to follow four keys for success: to be kind, engaged, safe and believe in themselves.
Fifth grader Cohen Nelson got the honor of being the first student to use the vending machine after being recognized for a series of acts of kindness, good conduct and citizenship, and then being selected from a drawing among other qualifying students in his grade.
Cohen fed the machine a token that says "I love books."
"It was awesome," Cohen said. "I got 'Jeremy Thatcher, Dragon Hatcher,'" by Bruce Coville.
The vending machine is "pretty cool," he said. "I think kids will start reading more if books come out of a vending machine."
Cohen said he enjoys reading, especially the "Harry Potter" series and "just stuff with magic in it. Fiction is my favorite."
According to Jameson, the vending machine was the brainchild of PTA president Emily Montgomery, who was looking for a fun way to foster good citizenship and reward students with a meaningful incentive to align with Jameson's Principal's Pride initiative.
She scoured the web for ideas and found a few schools out of state that had installed book-vending machines. In Utah, Granger Elementary School in West Valley City rolled out its book vending machine last spring.
"And I talked to every one of them," she said.
The colorful vending machine, which was placed in the school's foyer, cost about $4,000, which was covered by the PTA. The machine is stocked with books from Scholastic. The school hosts Scholastic book fairs twice each year and receives premiums that can be used to purchase books or other materials.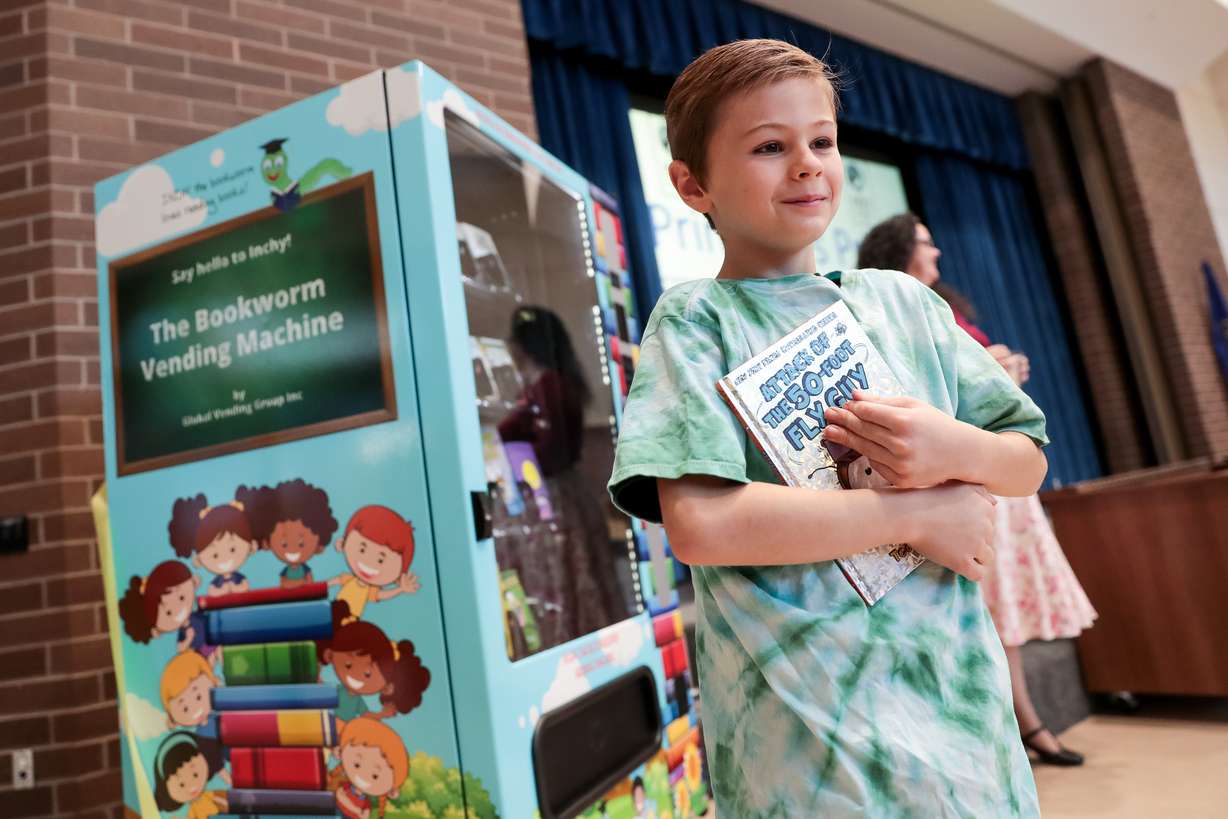 In the past, the credits have been given to teachers for their use, but the faculty liked the idea of the vending machine so much that they offered up their "Scholastic Dollars" to support it, she said.
Montgomery said the true test was the response of the student body when the vending machine was revealed to Alta View's 653 students Friday morning.
Would the students be as enthusiastic as they were when Jameson consumed cheddar cheese-flavored mealworms, sour cream-and-onion crickets, and chocolate-covered bugs?
"It was a mix of bugs," Jameson explained.
"The kids got almost to that level of excitement. That was nice to see how many were that excited," Montgomery said. "A lot of them were thanking me, which was really amazing. I had a couple of them say they want one for their house."
That will be up to their parents, she told them.
"We actually had quite a few ask if they could buy the books. I said, 'No, because you can only earn them. It's a reward,'" she said.
Each week, Jameson will draw the names of two qualifying students from each grade. Then they will get their pick of the new books stocked in the vending machine. The books are theirs for keeps.
Cohen said he believes books as a reward will encourage students to earn the opportunity to enter each week's drawing.
"I think kids are going to be trying hard to get keys and just work harder so they can get a chance at doing the vending machine," he said.
×
Most recent Uplifting stories