Estimated read time: 3-4 minutes
This archived news story is available only for your personal, non-commercial use. Information in the story may be outdated or superseded by additional information. Reading or replaying the story in its archived form does not constitute a republication of the story.
OREM — The Utah Valley men's basketball team that Brandon Averette committed to two years ago, before his NCAA-mandated redshirt season and a coaching change, is a thing of the past.
But neither the coaches nor the players who have left the program in transition over the past few months were the reason Averette decided to become a Wolverine.
He wants to do something special, and he's out to make the most of his time in the Western Athletic Conference.
"I saw an opportunity here to do something really special," Averette said Wednesday during the Wolverines' men's basketball media day, just three days before beginning a season-opening scrimmage against Montana. "We haven't been to the NCAA Tournament in school history, and that's an opportunity that I love seeing, coming in to UVU. That's something that I really want to keep pushing towards."
Averette, a junior transfer from Oklahoma State, sat out the 2018-19 season due to NCAA transfer restrictions. The native of Richardson, Texas, played in 36 games, including six starts for the Cowboys a year prior, averaging a team-high 2.9 assists to go along with 6.3 points, 1.8 rebounds and 0.6 steals per game in just under 20 minutes per game.
"It feels like forever that I've been waiting for this," Averette said. "I've just been working, and I'm ready to go out there and show what I've been working on.
"It's been a grind since coach (Mark) Madsen got here, but we're really looking forward to the season."
Averette will also be counted on to be a leader for the Wolverines, whose roster is littered with several junior college and Division I transfers. That includes Akron transfer Emmanuel Olojakpoke, Fordham's Cavit Ege Havsa, Mercer's Fardaws Aimaq, Boise State's Casdon Jardine, UNLV's Trey Woodbury and Bingham High grad Brandon Morley, a graduate transfer from Utah.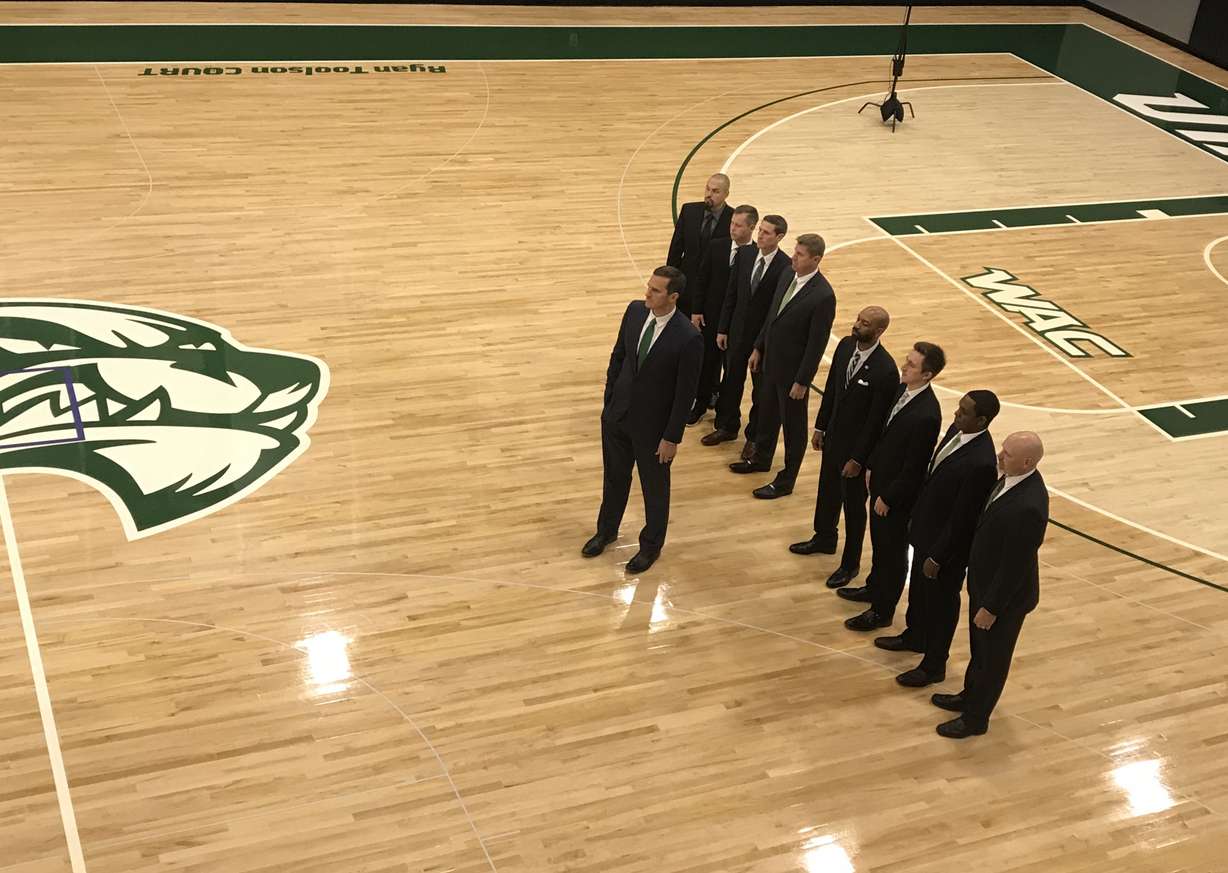 "We had a whole slew of changes, in the coaching staff and the players," Jardine said. "But honestly, the core that we kept from last year was a core that we felt really comfortable with. Then we welcomed everyone that came in and just got to work.
"It wasn't weird. We just knew we had to get going. It's more exciting than unsure."
Apart from Averette and Isaiah White — who started his career at nearby Salt Lake Community College and averaged 9.5 points per game in 33 games last year — head coach Mark Madsen's first year saw significant turnover.
That includes the coaching staff, which brings in a brand-new group. It includes former SLCC head coach Todd Phillips, as well as Todd Okeson, Jarred Jackson and director of basketball operations Michael Johnson, who replace two departed assistants and a director of basketball operations who left for BYU and another who left for Weber State.
But Madsen feels comfortable with what he's built in his first Division I head coaching job. "We have a great group of players, a great group that is practicing really well," said Madsen, a former two-time NBA champion with the Lakers who plans to play with "pace" and "tempo."
"They're really starting to grasp the system, and I'm excited."
The Wolverines lost leading scorer Jake Toolson to BYU, where he followed former coach Mark Pope along with big men Richard Harward and Wyatt Lowell. Starting center Baylee Steele transferred to Duquesne, while Conner Toolson and Ben Nakwaasah — two more of the Wolverines' top five scorers — graduated.
Olympus' Travis Wagstaff and Viewmont's Lewis Johnson are the only incoming high school players listed on Madsen's first roster.
"All of us that came back from last year, we've had to show the guys the ropes — just how things work around here," Averette said. "It's a leadership role, especially off the court. We're just trying to lead guys to be great."
×
Photos
Related stories