Editor's note: This is the second of a three-part series about the NCAA transfer portal and how it affects local college and university athletic departments. Read part one here. Part three will drop on KSL.com tomorrow.
OREM — Mark Madsen sat in his office that overlooks the Nuvi basketball center on the campus of Utah Valley University and thought for a moment.
Reclining his 6-foot-9 frame into his sofa, the former Los Angeles Lakers center and two-time NBA champion was asked to consider the rate of college basketball transfers in today's age. With barely a month on the job of his first Division I head coaching gig, Madsen hadn't thought about it before, and so he paused to collect his thoughts before continuing his dialogue.
Almost no sooner had he wrapped up his answer than Brandon Morley entered the coaches' offices in Orem. Transfers were nothing new for the 7-foot center from Bingham High School. Morley started his college career at Salt Lake Community College, then spent one season at Utah in 2018-19. He played in just 16 games for the Utes, averaging 2.4 points and 1.7 rebounds for head coach Larry Krystkowiak, before announcing his departure from the program.
The separation took him on a 45-minute drive south on I-15, where he approached Madsen's office. By all accounts, the new head coach and his assistants treated him well and brought him into a transfer-heavy roster — which makes sense, because Morley is becoming the norm in college basketball.
Rather than rail against a system that encourages players to leave a program at an increasing rate, Madsen has taken to his new job with aplomb in helping transfer players find a new home, a new niche, and a new work ethic in his program.
"We'll go to junior colleges. We'll go to the transfer portal," Madsen said during his introduction as the Wolverines' third men's basketball coach in the Division I era. "I speak Spanish; we'll go to South America. Wherever we need to go to get players, we're going to get players."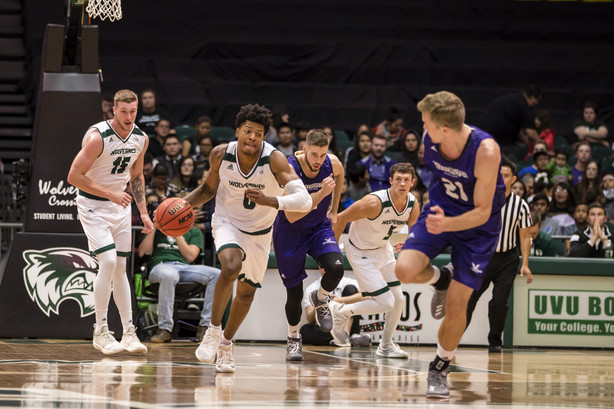 To Madsen, who spent a decade in the NBA, the move toward a player-friendly "free agency" model in college basketball can be beneficial for everyone — players, coaches, institutions and support staff. Even academic advisors can appreciate a school that helps a college basketball player earn a four-year degree before moving on to another university.
"The opposite would be disgruntled players, and I think disgruntled players is bad for college basketball," Madsen told KSL.com. "I also think that the talent will be more spread out. In the old days, you could stockpile talent on a team because it's harder to transfer. Now if there is a bunch of talent on one team, and one guy is not playing, then that guy can go somewhere else and showcase his ability. It makes other teams better. It brings a lot more parity."
As many as 27.6% of men's basketball players transferred at some point in their career, according to data compiled by the NCAA through the 2016-17 season. That was the highest across the amateur athletics association's organization of sports, with baseball being a close second at 21.7% of athletes transferring.
Women's basketball experiences transfers at a rate of 18.5 percent, while the Football Bowl Subdivision (formerly Division I-A football) sees approximately 13.3 percent of its student-athletes transfer at least once during their college careers, according to the same report.
Seeking to capitalize on this phenomenon — or at least provide a cleaner, user-friendly experience for players seeking a new start — the NCAA recently adopted an official transfer portal to aid student-athletes across all sports. While basketball and football draw the headlines, the transfer portal is available to all sports, from women's soccer to baseball to rowing, lacrosse and tennis.
But the vast majority of its use comes from basketball, where so many players have opted for the portal that it often leaves more transfers than open roster spots, nationally. According to data compiled by 247 Sports, 377 college basketball players have entered the transfer portal this summer, and that's just drawing on entrants that either announced their decision or reported it through a media source.
Many players enter the portal, take a look at the landscape, and opt to return. It happened at UVU, where Isaiah White entered the portal after Mark Pope took the BYU job, then removed his name from transfer consideration after Madsen's hire.
The matter of recruiting, and re-recruiting, every player every year is the new reality for college hoops coaches.
"You lose some and you get some," said Utah State coach Craig Smith, a seldom-searching transfer coach who recently added Virginia guard Marco Anthony to his roster. "But it's a reality. It's here, and I'm not sure it's going to change.
"In our world, you have to deal in reality, so you'd better be really excited about the guys you bring into your program and make sure they believe in one another."
***
For Utah Valley, transfers have become a way of life across all sports, but especially within its men's basketball program. Pope made a living on transfer prospects. The Wolverines unofficially earned the nickname of the "Last Chance U." of college basketball, referencing the popular Netflix docuseries about a junior college football power in Mississippi known to take in Division I prospects who didn't qualify academically or were kicked off their teams for other reasons.
The school's high acceptance rate, its standing in the Western Athletic Conference and position as one of the newer teams in NCAA Division I makes it a popular destination for many D-I transfers.
Even under Madsen, the trend continues. One quick glance on the Wolverines' current roster identifies players from Oklahoma State, New Mexico, Fordham, Boise State, Mercer, Utah, UNLV and Akron, in addition to junior colleges in Salt Lake City, Coffeyville (Okla.), Howard (Texas) and Palm Beach (Calif.).
"Transfers have experience, whether they are grad transfers, JUCO transfers or Division I transfers," Madsen said. "And ultimately, this is a school that is transfer-friendly. But I also see us moving forward in taking a significant look at transfers, and also taking a significant look at the in-state talent here in Utah."
Experience can be both a good and bad thing. While Brandon Averette made just six starts at Oklahoma State, his career found new life when he announced last year his intention to transfer to Utah Valley (Averette sat out the 2018-19 season due to official transfer rules).
The same can be said of Casdon Jardine at Boise State, Fardaws Aimaq at Mercer, Morley at Utah, Emmanuel Olojakpoke at Akron, and most recently Trey Woodbury at UNLV, who also received overtures from BYU. But while each of these players brings a unique skill set and experience at the Division I level, that experience doesn't come with playing together.
Into the Portal, Part I
Most of the time, these players don't know a single name or face at the school to which they are transferring. Building that chemistry with their new teammates takes time — and time is something a lot of Division I transfers don't have in abundance.
Because of NCAA rules, student-athletes who transfer laterally or above the division of their old school must sit out one season. The only exception comes in the case of graduate transfers, or those who have already earned a four-year degree at their previous institution, and those who successfully obtain a waiver from the NCAA (usually in the case of physical, emotional and mental hardships, as determined by a committee).
It also adds another dimension to recruiting — recruiting the players on a roster at the end of one season to stay on that roster for the next season. Players don't have to inform coaches of their intent to transfer; they can put their name in the transfer portal with only a little help from the school's compliance office. That means that submitting a name in the portal doesn't guarantee a player will transfer.
But coaches also don't have to guarantee a player will have a spot — or more importantly, a scholarship — on next year's team, particularly if the player enters the portal.
"I've experienced it from both ends," said Madsen, who lost former UVU standouts Jake Toolson, Wyatt Lowell and Richard Harward to BYU. "In my first 10 days, we had a number of people leave the program through the portal. It hurts; I wanted to keep everybody. But I had great conversations with every player who left. I wished them well, and it was very amicable."
***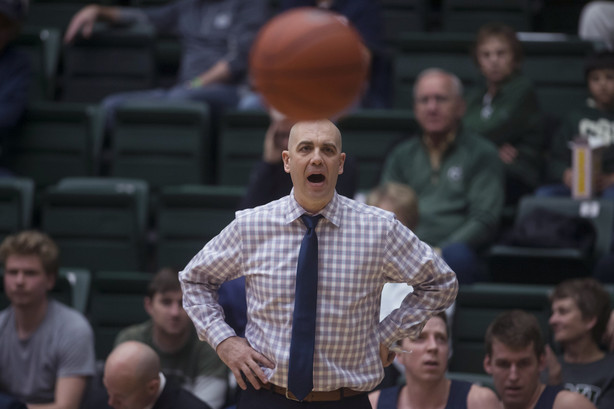 There are a lot of ways to use the transfer portal. Some programs, like UVU, will use it extensively as it scours the nation for outgoing players.
Utah State isn't one of those programs. Since Craig Smith moved to Logan from South Dakota a year ago, the Aggies have only taken one Division I transfer in Virginia's Anthony.
Sure, Utah State uses the junior college system — most recently with Polish-born center Kuba Karwowski from North Platte Community College — but the bulk of the Aggies' roster comes through high school recruits.
And if one of those recruits doesn't want to be at Utah State? Smith sees no reason to prolong the transfer process, which makes the portal's expedited nature a boon for his program. There are things coaches can do to keep a player in his program, but most of those things should come before the transfer begins.
"People always want to blame the student-athlete. But I think the coaches are just as much at fault," Smith said. "When you recruit a young man, are you recruiting the right type of person for your program? Are you recruiting on dreams that are probably not going to be fulfilled? Are they people that can thrive in your system and in your respective community, and on your depth chart?"
So when a player elects to leave the program, the Aggies can replace him through the junior college well — or simply redouble their efforts for the next signing class. Just over a year into his new job, Smith's tactics are working out. He helped the Aggies to their first NCAA Tournament bid since 2012 using a roster comprised almost entirely of Stew Morrill/Tim Duryea recruits, including Mountain West player of the year Sam Merrill.
And this year's squad could be just as good with the return of Merrill, NBA prospect Neemias Queta, Davis High product Abel Porter, Brighton High alum Brock Miller and super sophomore Justin Bean all returning.
So, unless a player like Anthony falls into your lap, there's not a lot of reason to find the shared transfer portal login.
"Fortunately for us, we've had good success with it," Smith said. "But for us, it's a little bit different because any time you are hired to a new position, you are going to have more transfers … before you can settle in."
×
Related Stories