PROVO — In the era of the RPI recently inaugurated by the Utah High School Activities Association, one might think that winning a region title doesn't mean anything.
No longer does a region championship — or even a top-four finish in league play — guarantee a berth in the state tournament. Every team in each classification (minus two teams from Class 3A, that is) qualifies for the postseason, with seeding based on their ratings percentage index score across the regular season.
But when Provo High clinched its first outright region title Wednesday night with a 35-3 win over Payson, the Bulldogs celebrated like they have — or would have — in the past 14 years.
"At the beginning of our season, we made goals — and this was one of the first goals," Provo linebacker Mason Cobb said. "It feels good to accomplish one of our goals, and now we can move forward. Being region champs is going to help us; it creates an extra energy that I think we need (for the playoffs)."
It wasn't hard for Provo's coaching staff to motivate the players to win a region title, or even to go undefeated in Region 8 play. In fact, head coach Tony McGeary barely had to mention it at all.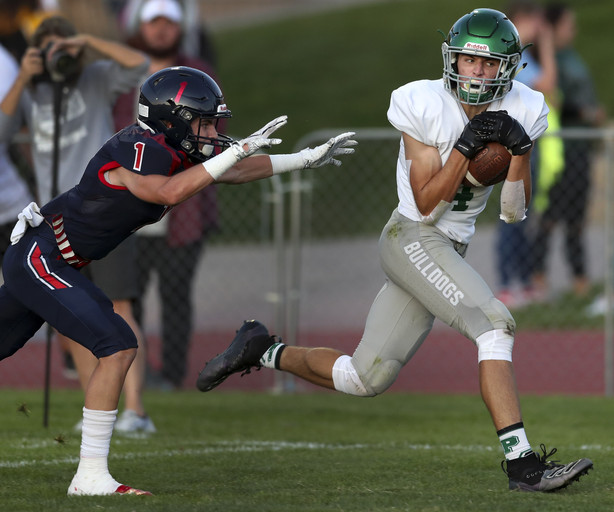 "That was a goal that these kids set at the beginning of the year, to win the region," McGeary said. "That was even before the RPI system was available.
"We can't control what seed we get in the playoffs. But to win a region championship outright was one of the goals. We'll just take the RPI and seeding how it comes. What can you do?"
Of course, with the title came an extra reason for the Bulldogs to celebrate Saturday morning: by virtue of being one of the top six-rated teams in Class 5A, the Bulldogs earned a first-round bye in the playoffs.
6A Corner Canyon, 5A Salem Hills, 4A Park City, 3A North Sanpete and 2A Beaver all claimed top seeds for the upcoming playoffs, which start Oct. 25. That means they'll all get a bye.
The top five-rated teams in Class 6A, top six in 5A, top 10 in 4A, and top three in 2A all earn byes to the second round.
Cottonwood, which finished the season with an 0-10 record, petitioned the UHSAA to withdraw from the 5A tournament, which also gave No. 7 Springville a first-round bye.
The top storyline in the final week of the season was Lone Peak, which was forced to forfeit five wins this season for use of an ineligible player. The Knights will take a 1-9 record and No. 20 seed on the road to No. 13 Riverton.
Here are the full matchups for the first round of the playoffs, which kick off Oct. 26 at host sites around the state.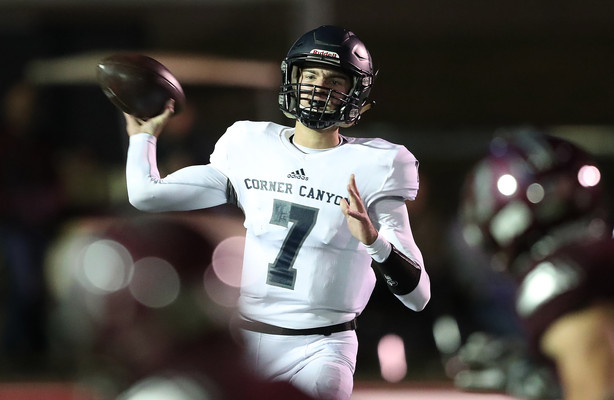 2019 UHSAA state football tournament
Class 6A
Oct. 25-26
No. 1 Corner Canyon (10-0) vs. BYE
No. 17 Westlake (2-8) vs. No. 16 Davis (4-5)
No. 24 Taylorsville (2-8) vs. No. 9 Pleasant Grove (7-3)
No. 25 Cyprus (2-8) vs. No. 8 Syracuse (7-2)
No. 4 Skyridge (7-2) vs. BYE
No. 20 Lone Peak (1-9) vs. No. 12 Riverton (6-4)
No. 12 Hunter (7-2) vs. No. 21 Copper HIlls (4-6)
No. 5 Kearns (9-1) vs. BYE
No. 2 Herriman (8-2) vs. BYE
No. 15 West Jordan (5-5) vs. No. 18 Jordan (2-7)
No. 10 Roy (6-3) vs. No. 23 Northridge (2-7)
No. 7 American Fork (6-4) vs. No. 26 Clearfield (1-9)
No. 3 Bingham (7-2) vs. BYE
No. 14 Fremont (5-4) vs. No. 19 West (4-5)
No. 11 Weber (6-3) vs. No. 22 Layton (2-7)
No. 6 East (7-3) vs. No. 27 Granger (0-10)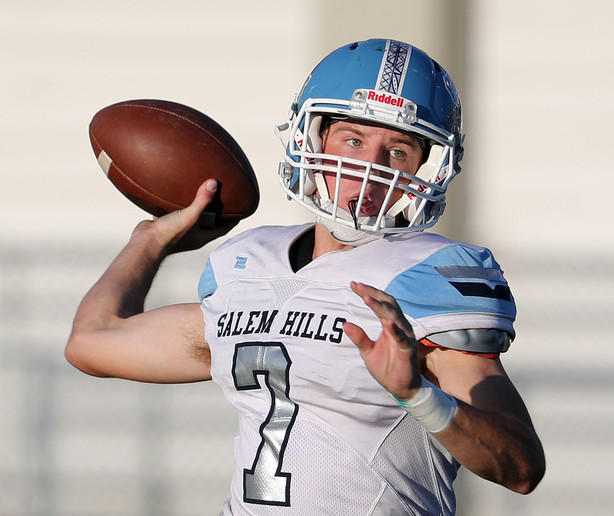 Class 5A
Oct. 25-26
No. 1 Salem Hills (9-1) vs. BYE
No. 17 Bountiful (4-6) vs. No. 16 Maple Mountain (5-5), 4 p.m.
No. 24 Hillcrest (2-8) vs. No. 9 Wasatch (6-4), 4 p.m.
No. 25 Mountain Ridge (0-10) vs. No. 8 Highland (7-3), 4 p.m.
No. 4 Olympus (9-1) vs. BYE
No. 20 Skyline (4-6) vs. No. 13 Murray (7-3)
No. 5 Brighton (8-2) vs. BYE
No. 21 Viewmont (3-7) at No. 12 Orem (5-4), 4 p.m.
No. 2 Provo (8-2) vs. BYE
No. 18 Box Elder (3-7) at No. 15 Alta (4-4), 4 p.m.
No. 23 Timpanogos (1-9) vs. No. 10 Timpview (7-3)
No. 7 Springville (6-4) vs. BYE
No. 3 Farmington (8-1) vs. BYE
No. 19 Spanish Fork (4-6) vs. No. 14 Bonneville (5-4), 4 p.m.
No. 6 Woods Cross (8-2) vs. BYE
No. 22 Payson (3-7) at No. 11 Lehi (7-3), 4 p.m.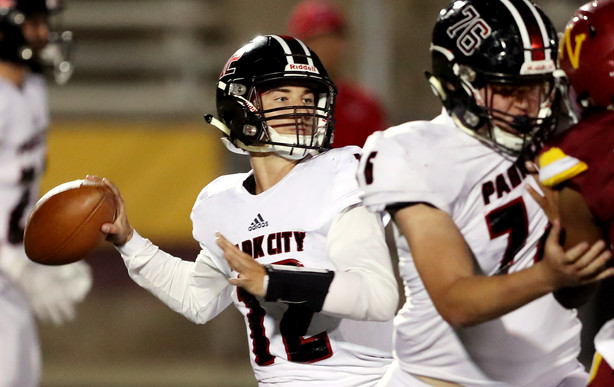 Class 4A
Oct. 25-26
No. 1 Park City (10-0) vs. BYE
No. 17 Ogden (3-7) at No. 16 Logan (2-7)
No. 9 Snow Canyon (5-4) vs. BYE
No. 8 Desert Hills (5-4) vs. BYE
No. 4 Green Canyon (7-3) vs. BYE
No. 20 Crimson Cliffs (1-8) at No. 13 Cedar (4-5)
No. 5 Pine View (7-2) vs. BYE
No. 21 Ben Lomond (1-9) at No. 12 Bear River (4-6)
No. 2 Sky View (9-1) vs. BYE
No. 18 Canyon View (1-8) at No. 15 Cedar Valley (4-6)
No. 7 Mountain View (8-2) vs. BYE
No. 10 Tooele (4-6) vs. BYE
No. 3 Dixie (7-2) vs. BYE
No. 19 Hurricane (1-8) at No. 14 Ridgeline (3-7)
No. 22 Uintah (1-9) at No. 11 Mountain Crest (4-6)
No. 6 Stansbury (7-3) vs. BYE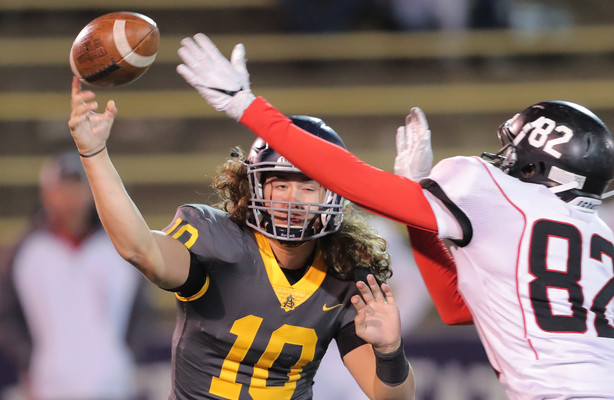 Class 3A
Oct. 25-26
No. 16 Emery (1-8) vs. No. 1 North Sanpete (9-1)
No. 9 Delta (3-7) vs. No. 8 Juan Diego (4-5)
No. 13 Grand (5-5) vs. No. 4 Manti (7-2)
No. 12 South Summit (3-6) vs. No. 5 Morgan (8-1)
No. 14 Union (2-8) vs. No. 3 Grantsville (8-2)
No. 11 Richfield (6-4) vs. No. 6 San Juan (8-2)
No. 10 Summit Academy (5-5) vs. No. 7 American Leadership (6-4)
No. 15 South Sevier (2-8) vs.No. 2 Juab (9-1)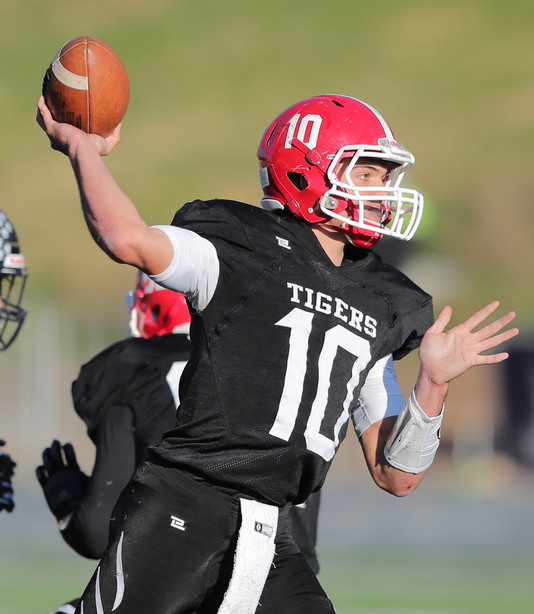 Class 2A
Oct. 25-26
No. 1 Beaver (10-0) vs. BYE
No. 9 Kanab (4-5) at No. 8 Monticello (6-3)
No. 13 Rich (0-8) at No. 4 Duchesne (8-1)
No. 12 Layton Christian (2-6)) at No. 5 Enterprise (5-5)
No. 2 Milford (9-1) vs. BYE
No. 10 North Sevier (3-7) at No. 7 North Summit (4-1)
No. 3 Millard (8-2) vs. BYE
No. 11 Gunnison Valley (3-6) at No. 6 Parowan (4-5)
×
Related Stories