OREM — Noah Sewell has had to wait longer than he would have preferred to get rolling in his senior season at Orem High.
The Tigers waited, of course, for the five-star running back and linebacker to recover from a foot injury and other offseason ailments — even when it meant starting the season 0-2 with losses to top-ranked Corner Canyon and Las Vegas' Bishop Gormam.
On Friday night, with a chance to slip into the driver's seat for the Region 7 title, the 6-foot-2, 266-pound Sewell made a declarative statement with two bruising touchdowns in leading Orem to a 28-10 win over Timpview.
"I'm glad to be back," said Sewell, who has 34 scholarship offers, including Alabama, Ohio State, Texas A&M and Oregon, where his brother Penei plays. "Y'all better be ready, because I'm back.
"Watching my teammates those first couple of games got me motivated to come back even stronger, and push my teammate to the best that we can be."
Orem didn't regain a .500 record until a 23-16 win over Alta in the fourth week of the season — a game that also turned into the Tigers' first victory over an in-state opponent in 2019.
Since then, Orem (4-3, 3-0 Region 7) lost 28-14 at 6A Skyridge and beat Timpanogos 55-21. But Friday night's game against Timpview — a school located just nine miles away, close enough for some of the kids to see one another at church and social activities — was a different animal. The Thunderbirds were also Region 7 challengers, and a shot at the region title would likely go through their Provo-based school, as well as the season finale Oct. 16 at Lehi.
With a fully healthy Sewell — all save a few plays in the third quarter when he left the field with a leg cramp — the Tigers looked like a completely different team than the one that lost to the 6A Chargers and Falcons, both of Region 4.
"We came out and had a tough schedule, but we try to play our best football by November," said Orem coach Jeremy Hill, whose team won back-to-back state titles in 4A before moving up this year. "I told the boys this week that this is the time when we start to ramp it up, to turn it on and try to get that region title. That's goal No. 1. With this new RPI system, it doesn't mean as much as it used to … but we'll play our best football against whoever they put in front of us, and try to win a third title."
Sewell scored the only touchdown of the first half on a late nine-yard run, then doubled his output with a 14-yard touchdown scamper midway through the third quarter. Kana'ipono Kahala-Giron connected with Jaxon Williams on a 35-yard score for a 28-3 lead with 19 seconds remaining in the third, and the Tigers didn't allow an offensive touchdown until the first drive of the fourth quarter.
But by the time Braxton Cravens hauled in his 19-yard score from quarterback Elijah Allen, the game was all but out of reach for the Thunderbirds (4-4, 2-1 Region 7) — thanks in large part to Orem forcing four turnovers, including a pair of interceptions by junior safety Joe Smith.
"This was a really big game," Sewell said. "Coach told us that Orem hasn't beat Timpview in 13 or 14 years, and this game meant a lot. I'm just so happy for my boys, to come out with the W."
Here are three other games that caught our attention in Week 8 of the Utah high school football season.
Second down
East 13, Herriman 10
At East, Sione Angilau's 29-yard touchdown with 4:35 remaining vaulted the Leopards into a four-way tie for first atop Region 3, alongside the Mustangs, Bingham and Riverton with two games remaining.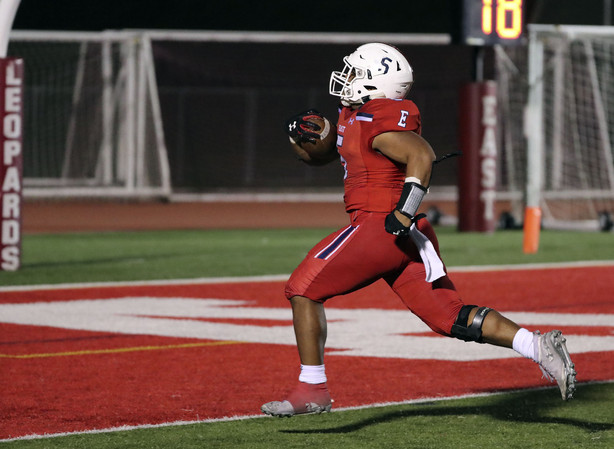 Third down
American Fork 38, Pleasant Grove 26
At American Fork, Maddux Madsen threw for four touchdowns and ran for another to help the Cavemen hold off the Vikings.
The Cavemen (5-3, 2-1) face rival Lone Peak next week before hosting a pivotal showdown with Corner Canyon to end the regular season.
Fourth down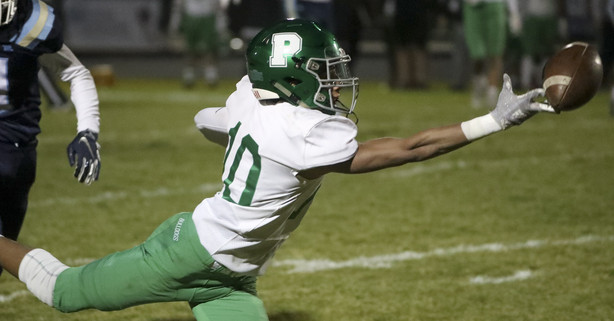 Provo 30, Salem Hills 26
At Salem Hills, Luke Haslem threw for a pair of touchdowns and Ryan Harward added two more scores to help Provo overcome a 10-0 first-quarter deficit and hand the Skyhawks their first loss of the season.
Jordan Ware's 3-yard TD run gave Salem Hills (7-1, 3-1) a 10-0 lead after the first quarter. But Provo scored 16 straight points to take a 16-13 lead into halftime and held on to edge the hosts.
As the only undefeated team remaining in Region 8, the Bulldogs (6-2, 4-0) can clinch at least a share of the region title with a win over Maple Mountain next week.
×
Photos
Related Stories