PROVO — Football has led to the fulfillment of Tony McGeary's lifelong dreams.
No, the Provo High head coach didn't play at the highest level of the collegiate game or sign a multi-million dollar NFL contract.
But he has lived out his own dream by coming to work every day, and mentoring thousands of young men as a coach, teacher and educator at a half-dozen schools, most of them on the Wasatch Front.
But Wednesday night's game was a little extra special.
Because Provo's 35-3 win over Payson didn't just clinch a region title — the Bulldogs' first since 2005 — or an undefeated season in Region 8 play.
Wednesday night's game was also McGeary's final regular-season home game. After 31 years, a state title, a handful of region championships, and the highs and lows that come with it, McGeary is retiring following the 2019 season.
What a way to go out — not just for McGeary, but for the Bulldogs (8-2, 6-0 Region 8).
"To go out like this as region champs, it's been awesome," McGeary said. "It was a tremendous outpouring of people that I've had a chance to coach over the past 31 years, and it's been awesome.
"Great friends. I hope I see all those people in heaven."
Wednesday night's region-clinching victory over Payson (3-7, 0-6 Region 8) wasn't much of a nailbiter. Dallin Havea scored three first-half touchdowns, and Mason Cobb added a 3-yard dive through the air to put the Bulldogs up 35-0 on the first drive of the second half.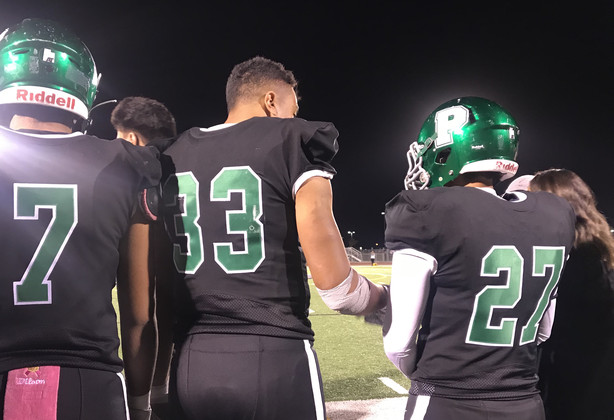 All that was left, then, was a victory lap — and a victory lap on McGeary's career.
A native of South Carolina, McGeary played tailback at Ricks College and finished his education at Southern Utah before becoming a physical education teacher and coach, with stops at Lehi, Tooele, American Fork and Jasper County in his native state.
Among his early pupils was Jay Hill, the current Weber State coach who starred for the Pioneers in his prep days. That set off a love of football that continued through his time at Utah, and now with the Wildcats.
And it all began with McGeary, Hill admitted while watching his friend and mentor from the sidelines Wednesday night alongside BYU head athletic trainer Steve Pincock, another friend of McGeary.
"To see those guys out here is just awesome," McGeary said. "The relationships are what you remember the most. Football is what brings you together."
McGeary went 51-12 in five seasons as head coach at Lone Peak, including a 5A state title and perfect 14-0 record in 2011. That season was loaded with talent, with eight first-team all-state players, including quarterback Chase Hansen, the Deseret News Mr. Football honoree who went on to a star-studded career at Utah and most recently played in the NFL with the New Orleans Saints.
Hansen was among the former players who came to Provo for McGeary's final regular-season game of his 31-year career.
But he resigned from Lone Peak following the 2012 season over a questionable deal involving a team-run camp and a contract with an Under Armour dealer that violated Alpine School District policy.
After just one year without football, McGeary moved south to Provo — and brought a wave of a culture change with him.
"He wanted to win and he hated to lose," said Cobb, the 6-foot-1 linebacker with offers from Utah State, Colorado State and Nevada, among others. "That's probably the biggest part of the culture he brought. When I was younger, (Provo) lost and they just almost didn't care. It wasn't how we are do now."
The Bulldogs had endured four consecutive losing seasons when the former Lone Peak coach succeeded Cody Mallory as head coach on Bulldog Boulevard, including a 4-26 record in the previous three years.
But McGeary's impact was almost immediate. He turned Provo from a laughing stock by installing a culture of accountability, hard work — and a dash of talent — that saw results quickly. After winning three games in his first season, McGeary's Bulldogs went 8-3 with a playoff berth in just his second year.
In every subsequent season, Provo has advanced to the postseason, a reward for the top four teams in each region until 2019 brought the move to a ratings percentage index-based system of rankings and an all-comers state tournament bracket.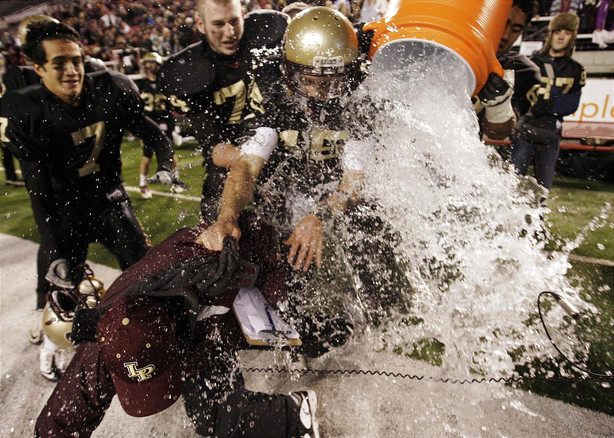 Before McGeary, Provo hadn't advanced to the playoffs since 2009 (the Bulldogs did lose to Timpanogos in a Region 7 play-in game in 2010).
He also produced several Division I college prospects, notably Washington receiver Ty Jones and BYU's Tevita Ika, to name a couple.
The list includes Cobb, the No. 18-ranked recruit in the state of Utah by 247 Sports, as well as Havea, whose older brother Drason is a 6-foot-2 linebacker being recruited by BYU, Utah and Utah State, among others.
"He just brings an energy to the weight room and enthusiasm. He just wanted to win," said Cobb, whose senior class of 2020 entered eighth grade when McGeary took over, and felt that their senior season would also be the new coach's twilight. "The winning culture came here when he came here."
Football has allowed McGeary to live out his dreams — not of playing in the NFL or making seven figures as a college coach.
But it's allowed him to fulfill his dream of molding lives and mentoring young minds, to be better people than the teenagers that first came through his classroom or gym doors as freshmen.
The dream is ending for McGeary — but not before one final playoff push.
"Every day, I've been able to come coach kids for 31 years — and that's the dream," he said.
"For me, the dream has been to do what I love every single day, to get a college degree, to play college football, and to be able to do this for a living is a dream. That's what we've instilled here at Provo. But to see guys change their lives as it's changed mine, I couldn't ask for anything better."
×
Related Stories