WEST JORDAN — The creative force behind beloved Mascot Benches adorning several universities across the Beehive State says, although his mascot sculptures are known to many, he loves portraying human subjects.
"I'm a figure sculptor. I'm really interested in people, I like to sculpt the figure," Virgil Oertle said. "I like to get to know people, try to represent them, and try to catch a little of their spirit. The human body is very interesting and hard to represent."
While he primarily sculpts human figures in various sizes and shapes, he doesn't shy away from other subjects — including the college mascots.
His mascot benches are displayed at Brigham Young University, the University of Utah and, most recently, Utah Valley University — just to name a few.
Oertle, who is currently serving as a bishop for The Church of Jesus Christ of Latter-day Saints in West Jordan, works in clay, resin and bronze. Although his work is displayed across Utah, Oertle chooses to stay humble.
He grew up in Redding, California, and as a teenager was inspired by his TV anchorman turned full-time chainsaw sculptor father.
"My dad was a sculptor. He taught himself how to do some things and became proficient to support seven kids doing that," Oertle said. "So when I was 13, I started carving mushrooms and squirrels out of wood."
Oertle said it didn't occur to him to take art classes in high school, but he continued to work with his father and on his own projects.
"I really didn't get serious with this stuff until after my (Latter-day Saint) mission. I took an art class in college at (then) Utah Valley State College. Then two years later, I was teaching a class there," Oertle said.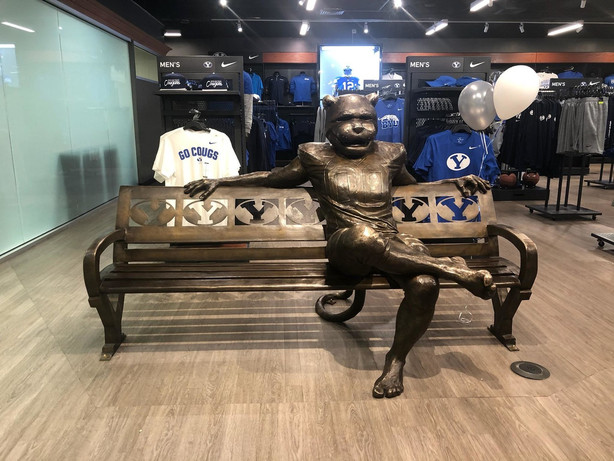 Oertle gained experience working in foundries in Springville, which was instrumental to his progression.
"It had a huge impact on me. I started working at one of the local foundries, casting bronze and being exposed to the artwork there at the museum. I saw a lot of work there, and slowly it grew on me that that's what I wanted to do. I just could never get interested in anything else," he said.
Oertle pursued formal training from UVSC, the Lyme Academy College of Fine Arts, and the Pennsylvania Academy of the Fine Arts.
He continued to hone his craft after returning to Utah and was working at a foundry in Alpine when the genesis of Mascot Benches came to life.
"One of the managers said that someone from BYU had come in asking for anybody who would be interested in putting in a proposal of Cosmo on a bench," Oertle said. "I did a model, and they liked mine the most and picked me."
For Oertle, it was just the kind of opportunity he needed.
"That was the seed for me to come home, start working and doing my own thing. It has led to all the other benches I have done — about eight or nine of those things now. It's pretty exciting," he said.
In addition to the Mascot Benches, Oertle finds inspiration from ideas, thoughts, images and life.
---
I like to get to know people, try to represent them, and try to catch a little of their spirit. The human body is very interesting and hard to represent.
–Virgil Oertle, sculptor
---
"When I am reading something and something strikes me as relatively profound or interesting, I almost immediately start thinking about how that would be portrayed in a 3-dimensional form," Oertle said. "So my process is just being alive and experiencing life, reading and trying to learn new things, and trying to output that in clay."
However, it's not always smooth sailing in his work. Oertle has to battle tough critics: fear and doubt.
"The biggest thing I'm working against is fear," he explained. "It's just knowing that there's a lot of things I want to do and not feeling like I'm good enough to do it, which is scary."
Yet, as Oertle progresses in his work, he is also gaining some perspective. "If I have to start over, I will. There's always fear, and there's always doubt," he said.
Now, he is becoming more comfortable trying new things and taking more risks.
"Before, I didn't have enough knowledge to take the risk, and that fear stopped me from even trying. But now, I feel I've changed and evolved enough to be able to take some risks; and if it doesn't work, I can start over," he said.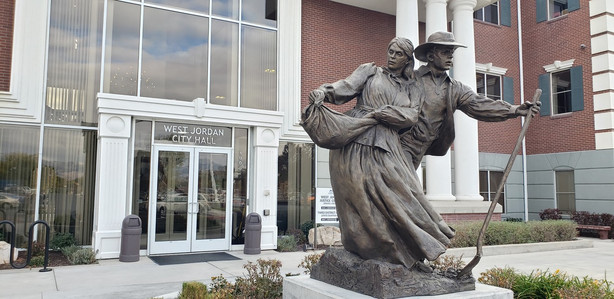 Even battling doubt, fear and uncertainty, Oertle said he can't imagine doing anything else. "There is a lot of uncertainty, but I do love what I do," he said. "It's part of my identity."
Select work is available at Deseret Book and while Oertle admits to not having a huge online presence, he is on Instagram with the handle @artbyvirg. More information is available at Oertle's Mascot Benches website.
Emily Howsley is excited to return to the Beehive state after a sojourn in Texas.
×
Photos