PROVO — Aleva Hifo was balling out.
The talented senior wide receiver and utility role player on the Cougars' offense totaled 183 all-purpose yards, including five receptions for 111 yards and two scores in BYU's most recent game.
But none of that mattered, he said; from a pure production standpoint, sure, it was probably his best game in a BYU uniform.
But the Cougars lost to Toledo 28-21, their first two-game losing skid of the 2019 season.
"My part is to try to do as much as I can for this offense, but if I could've done a little bit more to secure that win, that's what matters most to me," Hifo said Tuesday after practice. "It didn't happen, and I don't really care how productive I was in that game. We came out with an L in that game. It hurt."
There's been a lot of soul-searching since BYU's loss to the Rockets, and a bye week before the next game Saturday at South Florida (1:30 p.m. MDT, CBS Sports) doesn't do much to make those wounds disappear.
And while backup quarterback Jaren Hall will try to get his first career win in his first career start against the Bulls (2-3), there's a lot to learn from the first month of the season.
Namely, it's that BYU (2-3) needs more consistency — and some players need a little more humility, offensive line coach Eric Mateos admitted with succinct bluntness.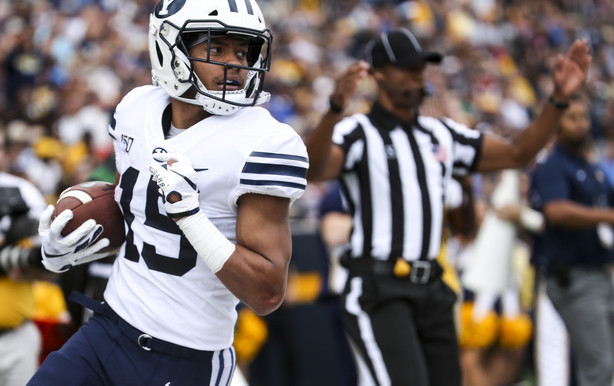 "Unfortunately, I think there were too many moments in the early part of the season where we listened to too many people talk about how good we were. That's poison," Mateos said during a taping of the Locked on Cougars podcast. "I think we heard too much of that noise, especially in the offseason."
It's not that Mateos doesn't expect a lot from his players, or that he isn't proud of them when they make a big achievement, grade out well, or execute the perfect pancake block. But the first-year Cougar line coach prefers consistency to a good game against then-No. 24 USC that is followed by duds against then-No. 22 Washington or Toledo.
"No one's expectations are higher than our own, but when you're a 20-year-old guy and everyone tells you how awesome you are, eventually you're going to start believing it," Mateos said. "My job is to keep punching them in the teeth and tell them that they aren't all that."
There's a lot of improvement to go around for BYU — both offensively and defensively. The Cougars rank 83rd nationally in third-down percentage, 95th in fewest penalties, 121st in rushing offense with 102 yards per game, and 118th in rushing defense allowing 220.8 yards per game.
Most importantly, though, is the number of points on the scoreboard. BYU averages just 22.2 points per game — and that's the end-all result, Hifo said while channeling head coach Kalani Sitake.
"We definitely need to finish our drives," the senior from Menifree, California, added. "I felt like in the last couple games from the last five weeks, we've been able to drive to the 40 or 30 — but we haven't been able to finish as well as we'd like. The biggest thing for us is to make sure we leave each drive with points."
Consistency, consistency, consistency.
The Cougars lack it, and Saturday is the first opportunity to try to get it back.
"I think we've had some really great moments, and some really abysmal moments," Mateos said. "I think the word there is 'inconsistency,' and I think that's a bit of a microcosm of what our season has been like up to this point.
"It feels like we've performed well against some high-level competition, and we've had moments where we look like we're lost. We just have to be able to consistently perform at a high level."
×
Related Stories