Estimated read time: 4-5 minutes
This archived news story is available only for your personal, non-commercial use. Information in the story may be outdated or superseded by additional information. Reading or replaying the story in its archived form does not constitute a republication of the story.
DRAPER — A lot of people who showed up to Corner Canyon's football stadium Thursday night for the opening night of the 2019 Utah high school season had several stars to take in.
Maybe some were there for Orem star Noah Sewell, the five-star linebacker who moonlights at running back for the reigning 4A champion Tigers.
But Sewell didn't play, walking the sidelines in a walking boot that will likely keep him out for the first few weeks of his senior campaign.
So maybe some were there to see Van Fillinger, the 6-foot-3, 250-pound defensive end who recently committed to Texas — the No. 2 recruit in the state, according to 247 Sports.
And while he was good — three sacks on the night kind of good — there was another Charger that put on a show for the packed house in Draper.
Austin Bell ran for 127 yards and three touchdowns to drive the reigning 5A state champs — now competing in Class 6A — to a 30-14 win over Orem in a clash of titleholders.
"It was fun to play against the five-stars, the four-stars, everyone. It's a great opportunity," Bell said. "We've been preparing all offseason for this. It got competitive in 7-on-7, so we've been looking forward to this game."
Amid all the stars, Bell stood out.
"I love Austin. That man's a stud," Fillinger said of his teammate at running back. "He's a hard worker and a real good guy, too. The weight room shows just as much for him, too. But he's a stud."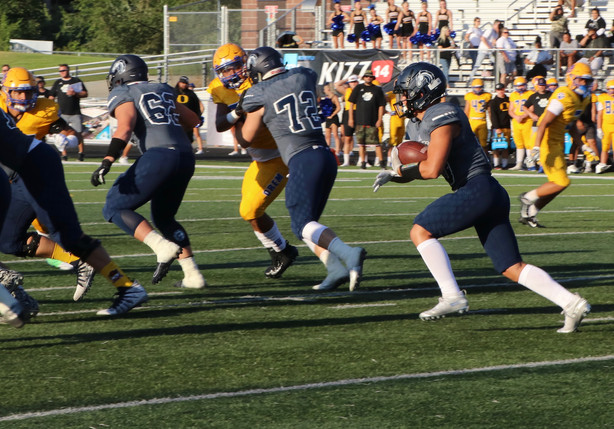 But it was Orem who stole the show first.
Orem quarterback Micah Fe'a, wearing the No. 12 jersey like a certain Washington receiver did just a year ago, completed 21-of-31 passes for 220 yards, a touchdown and an interception to guide the Tigers (0-1), including a perfect 6-of-6 drive for 55 yards before an 11-yard touchdown by Bulu Tuisavura that gave Orem a 7-0 lead with 4:21 left in the first quarter.
"I think we were still figuring stuff out. We were just tired," said Fillinger, who played through a 100-degree fever and had as many hydration breaks as possible. "I think what helped us, though, was we figured out how to get those quick outs.
"It shows on that first drive; you saw how quickly they were throwing the ball. We really got after them, and I think that helps our DBs, too."
It was far from a perfect start for the Chargers.
But like a season itself, it's not how you start — but how you end.
The Chargers ended the night with nine sacks, including three by Fillinger, and two each from BYU commit Josh Wilson and 6-foot linebacker Steve Street — who teamed up with Fillinger on a pair of rushes as chants of "Scuuuuuuuba!" rained down on the field.
"I love my defensive line. We're all brothers out there," Fillinger said. "We worked really hard this offseason to get where we are, athletically."
Corner Canyon had six sacks in the first half, including a strip-sack by Filinger in the second quarter as the Chargers responded from their 7-0 deficit with a pair of rushing touchdowns. First, it was quarterback Cole Hagen running free for a 38-yard sprint up the middle to tie the game before Bell finished off Fillinger's turnover with a short touchdown plunge en route to a 21-14 halftime lead.
The Corner Canyon defense did the rest, shutting out Orem in the second half and adding a fourth-quarter safety to Bell's 15-yard touchdown midway through the fourth quarter to salt away the win.
"We probably should have rode him even more," Corner Canyon coach Eric Kjar said of Bell. "We fell in love with some stuff because they were asking for it in coverage. But we didn't protect to hold some of that stuff, just attacking. We'll figure it out."
In a first game filled with usual first-game jitters and a big stage, the Chargers survived. But they'll need to get better quick: after the Tigers come non-region games against Herriman and Bingham before beginning their first foray into Region 4.
"We've got to play a lot better offensively," Kjar said. "There were a lot of things we missed that we should have had. But we'll get there."
Noah Kjar caught three passes for 48 yards for the Chargers.
Tuisavura finished with 50 yards on 17 carries to lead the Tigers.
×
Photos
Related Stories