PROVO — Timpview's second-year football coach Andy Stokes insists he didn't say a single word to his players on the eve of the annual rivalry game with Provo High.
The pageantry of two schools locked in constant competition — the only two high schools in a landlocked Provo School District. The nearly 50-year history of the series.
Not even the 29-game winning streak the Thunderbirds took into Friday night.
Truth is, Stokes didn't have to say anything to his players.
They already knew.
Elijah Allen completed 15-of-15 passes for 193 yards and a touchdown, and he ran for another 3-yard score to help Timpview survive crosstown rival Provo, 13-6 to stretch the Thunderbirds' win streak to 30-straight games Friday night at home.
"I've been playing for Timpview since I was in fifth grade," said Allen, the 150-pound junior who took six tackles for loss but kept coming back for more in the Thunderbirds' win. "I've always come to these games, and I love the Provo ones. The crowd is extra, so many people come and it's a big game. It's not a championship or a playoff game, but I love the energy every time we play Provo.
"It definitely feels different."
Targhee Lamsbon ran for 84 yards on 28 carries for Timpview, which opened the season with back-to-back losses to Lone Peak and American Fork.
But different team, different speed Friday night.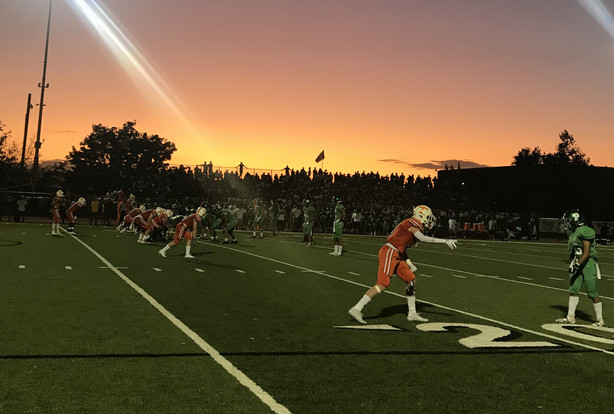 "I'm proud of these guys. They're taking great stride in their youth," Stokes said. "They're getting better every week. That's all we can ask of them.
"Elijah's probably growing faster than anyone else. He's doing a phenomenal job right now. The second half was a little rough, but from Lone Peak to Provo, he's a different kid that took the field."
Haslem threw for 60 yards and set up a touchdown with a reverse for the Bulldogs, who opened the season with dominant wins over Logan and Westlake. Dallin Havea ran for 48 yards on 10 carries for the Bulldogs (1-2).
But it didn't matter who was 0-2 and who was 2-0 on Friday night. Not in this rivalry, at least.
The Thunderbirds haven't lost to Provo since Sept. 15, 1989, two weeks before the fall of the Berlin Wall or nine months into the first term of President George H.W. Bush.
And yet, despite the win streak, the No. 30 felt a little surreal as players, students and coaches flooded the sideline in jubilation. It was far different from the feeling a week earlier, or even four minutes earlier. For just the sixth time in the past 30 years, the Thunderbirds controlled a single-digit margin of victory.
"I think what everyone has to understand about this group is that we're so young. We started 11 kids on offense that didn't start last year," Stokes said. "Defensively, I think we have seven new starters. They're all underclassmen. They're talented, but when things go wrong, you don't always have what you need to overcome it — you don't have the experience."
🚨 Week 3 #UTHSFB Highlights 🚨

Here's your weekly reminder that BYU commit Raider Damuni for @timpviewsports is still pretty good .... pic.twitter.com/NhDbM7jAcV

— KSL.com Sports (@KSLcomSports) August 31, 2019
Allen's 41-yard strike to Raider Damuni, the 6-foot-1 wide receiver/defensive back/punter/returner who has committed to BYU, with 26 seconds left in the first half was Timpview's final score of the night.
"Raider's one of my go-to guys," Allen said of his favorite receiver. "We can always trust him to catch the ball. When we need him, he pulls through every time."
If the Thunderbirds were going to win No. 30, they were going to have to do it with defense, after Havea hit Ryder MacGillivray with a 35-yard bomb that pulled the Bulldogs within 13-6.
Provo's defensive front, led by the 295-pound Jimmy Tomasi, tipped a potential game-sealing field goal from 40 yards with 1:52 to play, and the Bulldogs had one final chance.
That only lasted four plays before the T-birds' defense earned the win.
"I'm so proud of our defense. It's a different defense," Stokes said. "They stepped up, and in that situation where everything was on the line, we had 11 kids do the job — perfectly."
Week 3 Highlight
Here are three more results (plus a bonus point) that stood out during Week 3 of the Utah high school football season.
First down:
Crimson Cliffs gets its first-ever win
At Crimson Cliffs, Chase Hansen threw three touchdown passes, and the Mustangs scored 19-unanswered points in the fourth quarter to pull away for their first win in the first-year school's history, 38-13.
Curtis Sweeten added three touchdowns for Crimson Cliffs, including a pair of TD runs for a total of 100 yards to lift the Mustangs into a tie for first with Dixie, Pine View and Snow Canyon after the first week of Region 9 play.
The Flyers throttled rival Desert Hills 62-36 behind three touchdown passes from Reggie Graff, who also ran for two scores.
Second down:
Springville lends a helping hand to Bountiful — and gets some late heroics
At Springville, Payton Murphy connected with Austin Mortensen on a 7-yard TD pass with 4 seconds left — the receiver's third score of the game — to help the Red Devils edge the Braves, 20-14.
Mortensen also had a 3-yard touchdown and a 60-yard pick-six as Springville (3-0) jumped out to a 14-0 in the fourth quarter.
But Bountiful rallied with back-to-back touchdowns just three minutes apart to tie the game before Murphy's late-game heroics.
Off the field, Springville's student council organized a halftime fundraiser that collected over $400 for Bountiful students and faculty affected by the Gun Range Fire.
Third down:
Juan Diego shut out for first time in a long time
At Skyline, Braxton Bolingbroke connected with Mason Lund on the only touchdown of the game in the third quarter, and James Knowlton had a 23-yard field goal to lift the Eagles to a 10-0 shutout victory over the Soaring Eagle.
Juan Diego was held scoreless through four quarters for the first time since 2005, snapping a 130-game scoring streak in program history.
Extra point:
Herriman spoils historic night for Reggie Bush's alma mater
At La Mesa, California, Kepu Fifita's second touchdown of the game helped the Mustangs to a 26-19 overtime win over the high school that produced Alex Smith and Reggie Bush.
Caden Syddall's 30-yard field goal at the end of regulation tied the game at 19-19 to force the extra session, and Fifita did the rest, knocking off the Highlanders on the same night running back Elelyon Noa topped Bush's school record of 4,925 career rushing yards.
×
Photos
Related Stories