SALT LAKE CITY — As the most recent moisture system passed through northern Utah on Sunday, it left a hint of snow above City Creek Canyon and some extra sheen on the foliage closer to the mouth of the canyon.
Those who braved the cool downpour that day — or even waited until the storms had passed — were treated to an exquisite combination of autumn's vibrant colors and the impending winter weather that awaits us.
Sure there are many other noted spots in Utah to view the changing colors in autumn, but that day was a reminder as to why the canyon is another tremendous place to celebrate the season each and every year via a walk, hike, run or bike ride.
We at KSL.com wanted to know: What are some of your favorite places to view fall colors in Utah? We asked through social media as a way to crowdsource ideas for those who may want a new place to view fall colors this season.
Janice Noyce brought up a good point to our question on Facebook. She points out that essentially every canyon in the state is a good place to check out the fall foliage.
"Pretty hard to pick just one," she wrote.
Not only that, many of the canyons offer a plethora of different hikes for those who may just want to wander deeper into the forest.
Nevertheless, here are great places to view fall colors suggested by our readers:
Alpine Loop
State Route 92 in American Fork Canyon remains a crown jewel in Utah's scenery beyond just fall and — no surprise — it led in recommendations. View-wise, the Alpine Loop is one of the most pleasant drives one can have in the state, giving a breath-taking view of the Uinta-Wasatch-Cache National Forest with a mountainous backdrop.
So many good places, Alpine loop is where I've been to recently though so that will be my vote. Took this picture yesterday pic.twitter.com/9XhbQgecR2

— Preston Photography (@PrestonPhotog) October 1, 2019
As one person wrote on Google Reviews: "The best scenic drive in the state. Really shows off how beautiful our state is. Narrow winding roads through dense forest."
More information about the route can be found here.
Bear Lake
Bear Lake is a destination not just for the summer. Susan Reese sent us a photo of this northern Utah area with the colors popping.
The area can be reached through U.S. Highway 89 or state Route 30.
Butterfield Canyon
Again, hard to go wrong with any of Utah's canyons during fall. Gary Horn recommended Butterfield Canyon with a grand photo of the autumn colors beneath the silver, fall sky on Sunday.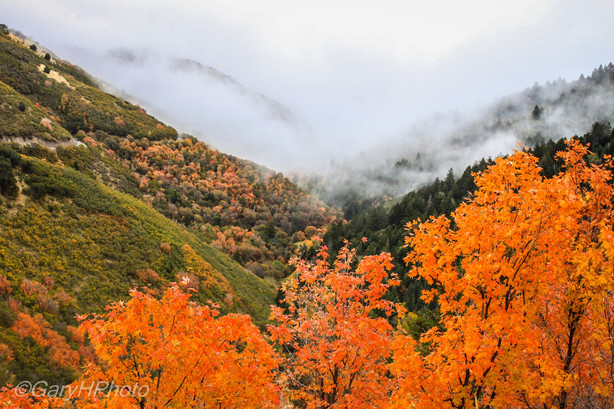 Located west of Herriman, the canyon can be reached until wintertime. More information can be found here.
Hobble Creek Canyon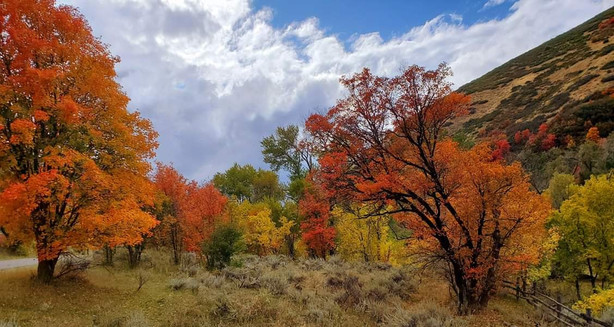 Suzanne Taylor recommended Hobble Creek Canyon with a gorgeous photo taken on Sunday. It's difficult to top the collage of colors here. Located east of Springville, anyone can access the canyon through Canyon Road.
Logan Canyon
Another popular recommendation is Logan Canyon. Andrea Nielsen sent us a sped-up video of Tony Grove in the canyon, where fall colors can also be enjoyed. Tara Crane recommended the Crimson Trail, which offers a splendid vista of the canyon, as well.
Tony's Grove up Logan canyon! pic.twitter.com/6BTSS6f4Mq

— Andrea Nielsen (@MerlinXVI) October 2, 2019
The canyon can be accessed through U.S. 89 northeast of Logan. The highway and canyon connect the Cache Valley with Garden City and Bear Lake.
Mirror Lake Highway
State Route 150, or the Mirror Lake Highway, is another seasonal route that connects scenic Kamas with Wyoming by cutting through the Uinta Mountains. Much like other options on this list, it offers motorists quaint fall views; and Mirror Lake is one of the more popular places to recreate.
"Serene and beautiful. The drive is also awesome to reach," one person wrote on Google Reviews.
There are some recreational fees, and more information about those fees can be found here.
Nebo Loop
The Nebo Loop got an official recommendation from none other than KSL TV reporter Alex Cabrero's dog, Timber — so you know it's good.
"Timber really enjoys Nebo Loop, especially the little off-shoot roads to Maple Lake and Bear Canyon," Cabrero wrote us on Twitter. However, he cautions that last year's wildfires have taken out some of the grand views in the area.
@cwilliamsKSL@KSLcom Timber really enjoys Nebo Loop, especially the little off-shoot roads to Maple Lake and Bear Canyon. Lots of burned areas from last years wildfires, though. 🍁 pic.twitter.com/usUXPDsBAO

— Alex Cabrero (@KSL_AlexCabrero) October 1, 2019
Nebo Loop Byway is located east of Mona between Nephi and Payson. More information about it can be found here.
Provo Canyon
U.S. Highway 189, which connects the Utah and Heber valleys, offers motorists a beautiful view as they drive through Provo Canyon. It even has an outlet to Alpine Loop and American Fork Canyon, allowing anyone to merge multiple fall adventures in one trip.
Bridal Veil Falls is one of the more popular views in the area. Kari Peterson sent us a photo of the falls with the colors starting to turn there.
6 Mile Canyon
Located east of Palisade State Park in Sterling, Sanpete County, 6 Mile Canyon was another brought up a couple of times.
"Unbelievable colors!" Twitter user @BYUis1 responded.
6 mile canyon by Manti, Ut. Unbelievable colors! pic.twitter.com/93AhJ2658v

— BYUmama (@BYUis1) October 1, 2019
I second that!! pic.twitter.com/GVRt7DjfdZ

— Emily Hardman (@Ehardman7898) October 2, 2019
Motorists can access the canyon by turning east off of U.S. 89 onto Palisade Road, which turns into 6 Mile Canyon Road at a fork in the road south of Palisade Lake.
What is your favorite spot to view fall colors in Utah? You can leave a comment in the section below to keep the conversation going. As always, please make sure to adhere to "Leave No Trace" principles if you plan to hike around the state's foliage.
×
Photos