Estimated read time: 5-6 minutes
This archived news story is available only for your personal, non-commercial use. Information in the story may be outdated or superseded by additional information. Reading or replaying the story in its archived form does not constitute a republication of the story.
SALT LAKE CITY — My toddler is almost 3 years old, and verbal communication doesn't come naturally to him. I hug him, but he can't say goodbye when he departs with my wife on a weekly 130-mile journey along a forested highway to another town. Their final destination is an applied behavior analysis therapy clinic nestled in the Hudson Valley region of New York. The clinic runs a weekday program for adorable kids like our toddler who are on the autism spectrum.
Specialized clinics for children with autism are abundant in this region of our state, but not in the town where we happen to live. So for now, we have chosen an unorthodox routine that requires living under separate roofs on weekdays so we can access the best services for our child while he's still a toddler.
Autism, as a condition, can't be painted with too broad of a brush. Every parent who suspects that their infant or toddler is on that spectrum must embark on their own journey of figuring out what's best for their child, and for their family. This often means starting from scratch to stitch together a patchwork of specialists who can diagnose the condition, assess the severity, address developmental health needs, administer appropriate therapy programs, provide educational support and so on.
Each of those services can be critical early on, and their availability depends a lot on geography.
To understand more about how autism services are distributed across our nation's vast landscape, and where gaps may exist, a team of pediatricians and biomedical data scientists at Stanford University embarked on their own journey. They created a searchable database called GapMap that maps the locations of about 28,000 different autism services in the U.S. After identifying those services, the researchers sorted them into the categories of diagnosis, support, health, therapy, education, recreation and "other" needs.
The research team analyzed their data and recently reported what they found. One surprising thing their data showed is that services for autism could be identified in only 16% of U.S. counties, so far. What is less surprising is that the distribution of these services corresponds strongly with population density.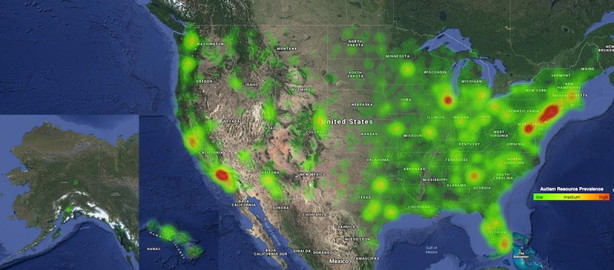 On average, the distance between an autism resource and those who need it can stretch to more than 50 miles for those in rural states like Wyoming and Nevada, or even 100 miles in Alaska. But that distance can also shrink below 4 miles for those in more urban states like New Jersey, the study found.
Parents may have to travel beyond these distances to find the services that are best for their child's particular needs. The study reported the average distance for each category of services as well, with diagnosis being the most distant resource.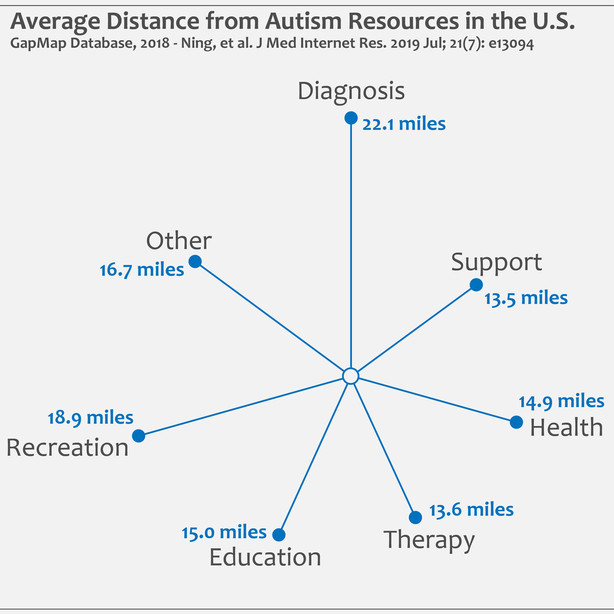 Although it can be diagnosed much sooner, most children with autism in the U.S aren't diagnosed until around the age of 4. The need to travel significant distances to get that diagnosis or access an array of support services for autism is clearly problematic for families already stressed by concern for their child's development. But at least one autism center has a solution in mind.
The University of Utah collaborates with Medicaid on a program that coordinates several categories of services for those who have been diagnosed with autism and other developmental challenges. It's called the Neurobehavior Healthy Outcomes Medical Excellence, or HOME for short.
Besides being an acronym, HOME refers to what is known as the "medical home" model of health care in which various medical services are coordinated around the needs of the patient. This approach can be a shortcut to a more comprehensive early intervention strategy for people with autism.
"The goal of HOME is to provide family-centered and coordinated ongoing care for children and adults with developmental disabilities, especially those with co-occurring behavioral and psychiatric conditions," explained Paul Carbone, a University of Utah pediatrician who works within the HOME program.
After 20 years of operation, the HOME clinic is now preparing to move to a new location in Salt Lake City so that it can better serve the population. "The new location will allow for further expansion," Carbone said, noting that there is currently a waitlist to enroll in the program. "We are moving off-campus and into the community, which will be closer for families."
The new University of Utah Neurobehavior HOME clinic plans to open in mid-November. Although the new clinic will be only one of thousands that show up in the GapMap resource database, it's staff believes that it is more than just another data point.
"We hope that other states will emulate Utah's program," Carbone and University of Utah pediatric resident Kathleen Campbell recently stated.
Clearly, there are many parents out there who hope so too.
---
×
Photos