PROVO — Maarius Dennis thought vaping was safe.
When the Provo resident took up the habit, he knew it likely wasn't totally harmless — his vape pen was a vessel for nicotine, after all. But it seemed "totally safe" at the time, as he remembers it. A "great alternative to cigarettes" for a former smoker.
He doesn't feel that way anymore. Now, when he looks at his vape pen, he wonders why he started in the first place.
"Five years later I'm in the ICU, trying to figure out why I'm waking up on hospital beds with tubes sticking out of me in all directions," Dennis said Monday, sitting in his home with an oxygen tank by his side.
Dennis is one of 71 Utahns who have experienced a mysterious, seemingly vaping-related lung disease in recent months, with 10 more potential cases under investigation. And the illness isn't unique to Utah. More than 800 cases have been reported across the country, with at least 15 reported deaths.
Since he was first hospitalized in July, Dennis has undergone three surgeries. Both of his lungs have collapsed. He now uses an oxygen tank 24 hours a day, seven days a week.
"It was bad to worse to worse to worse," Dennis said, recalling his nearly two straight months spent in the hospital this summer. "They were grasping at straws, because they hadn't seen anything like this yet. And all of a sudden all these places all around the country started having similar problems, and then they were saying it was an epidemic."
It was late July when Dennis first became feverish. With his temperature of 104 degrees, he agreed after several days of urging from his fiancee to go to the hospital. It was likely pneumonia, the doctors told him, possibly from exposure to cleaning chemicals the previous day. They put him on oxygen his second day in the hospital, as he was having a hard time breathing, and released him on oxygen after a week. There was nothing in the X-rays to suggest that there was anything wrong with his lungs.
Twelve hours after leaving the hospital, one of Dennis' lungs collapsed. It started with a cough while watching TV, then quickly turned turned into a pain, and then a gasping. He couldn't breathe.
"It's like when you're in a swimming pool too long, when you're down in the water and you're like, I've got to get to the top," Dennis said. "But I was not in the water and I was just breathing, gasping, and it was scary."
Everything was "fuzzy." He thought he might die.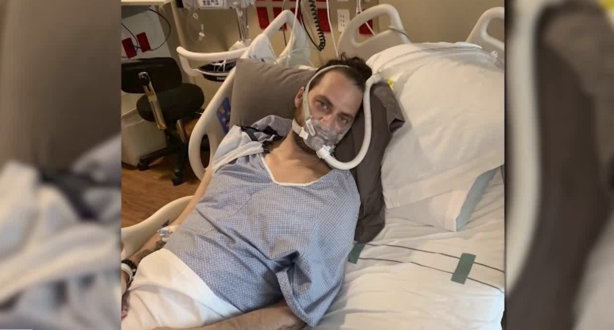 Dennis was admitted to the hospital a second time, where he underwent an emergency surgery.
Since then, Dennis' life has been a blur of surgeries, medications, and excruciating pain. Though the details are hard for him to remember, his family tells him he nearly died three times in a two-week span. His other lung collapsed, too. He couldn't breathe without having forced air. He was on a two-hour rotation of various pain medications while in the hospital, he said, along with an epidural. The doctors described it as atypical pneumonitis.
On multiple occasions, his family tells him, he asked to die.
"'Just let me die,' because it was so unbearable at the time," Dennis said.
The exact cause of the lung disease is still largely a mystery to scientists, but vaping either nicotine or THC appears to be a common link between all of the cases. Doctors in Utah have said they have made some progress toward finding an effective treatment.
---
It's like when you're in a swimming pool too long, when you're down in the water and you're like, I've got to get to the top. But I was not in the water and I was just breathing, gasping, and it was scary.
–Maarius Dennis
---
"That's part of the scary thing," Dennis said. "They still aren't sure exactly what caused it."
The majority of lung disease patients — about 77% — reported using THC in the 30 days before the symptoms set in, according to the Centers for Disease Control and Prevention. About 57% reported using nicotine-containing products, with just 16% of patients using only nicotine products rather than a mix of nicotine and THC.
Dennis, a nicotine user, says he exclusively bought his oil from local vape shops.
At the time of Monday's interview, Dennis had been home from the hospital for two weeks. He was back in the emergency room later that day.
×
Related Stories