Estimated read time: 4-5 minutes
This archived news story is available only for your personal, non-commercial use. Information in the story may be outdated or superseded by additional information. Reading or replaying the story in its archived form does not constitute a republication of the story.
SALT LAKE CITY — Parking is big business in Salt Lake City and parking compliance officers have tucked almost $2 million worth of tickets under windshield wipers over the past year.
The KSL Investigators combed through more than four years of parking violations, from May 15, 2015, to August 22, 2019, to find out where and when you are most likely to get a ticket downtown. During that time, compliance officers issued 404,217 citations, totaling $11,033,054 in fines.
With 81,559 tickets, Thursday turned out to be the busiest day for parking enforcement, with 20.2% of the overall ticket total. But Tuesday, Wednesday and Friday were not far behind. At 8%, Monday was the least busy weekday in terms of tickets.
Parking downtown is free for the first two hours on Saturdays. Parking enforcement begins each day at 7 a.m. and ends at 11:30 p.m., except for Sundays, when parking is free with no restrictions.
"We have a skeleton crew to cover any safety problems, such as blocked driveways, blocked hydrants, things like that," said Jorge Chamorro, director of the city's Public Services Compliance Division.
We found compliance officers cited the most drivers during the 11 a.m. hour, totaling 47,568 tickets. That's 11.77% of all tickets issued. While the 7 a.m. hour saw the least violations (5,250), during the typical workday the hour between 3 p.m. and 4 p.m. was a window where you're less likely to get a ticket, with just 8,163 citations.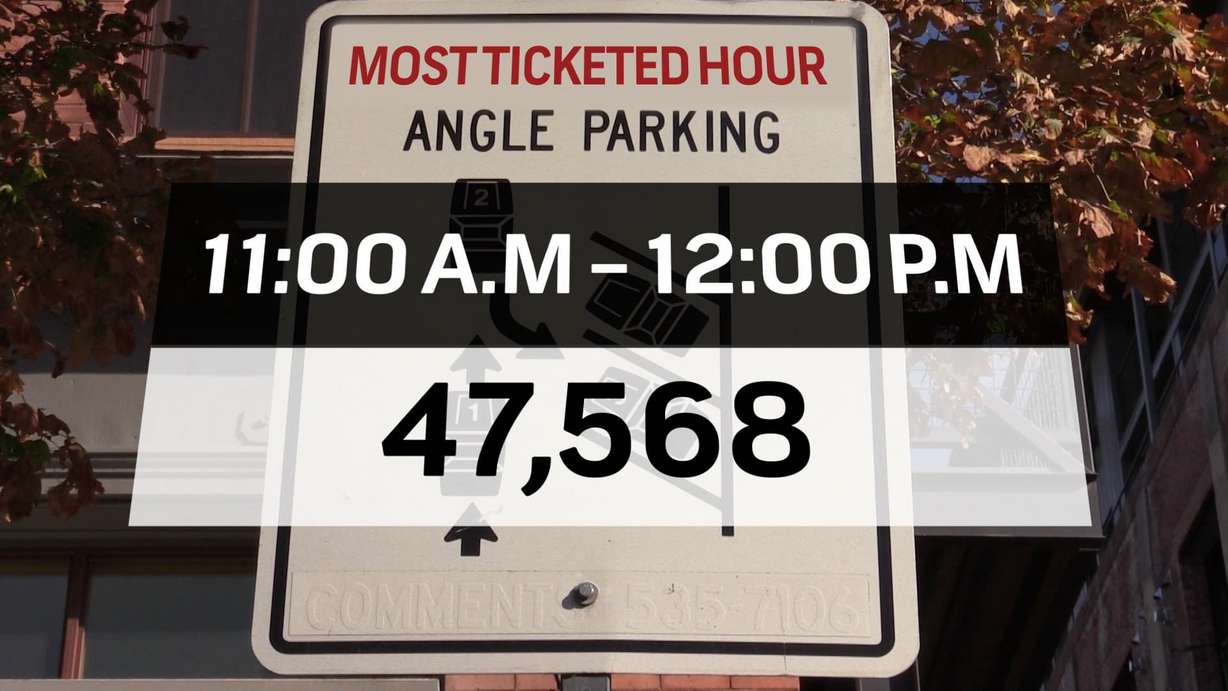 When it came to location, the easiest street in the city to land a parking ticket was 300 South. Our analysis found 42,680 citations there.
The block between State Street and 200 East ranked third in our count of most-ticketed blocks with 7,890 tickets. The city's second-place block was also on 300 South between Main Street and West Temple, where we counted 8,624 tickets.
The city's top block for parking violations was 200 South between 300 West and 400 West. With 10,337 tickets issued, it won our first place handily.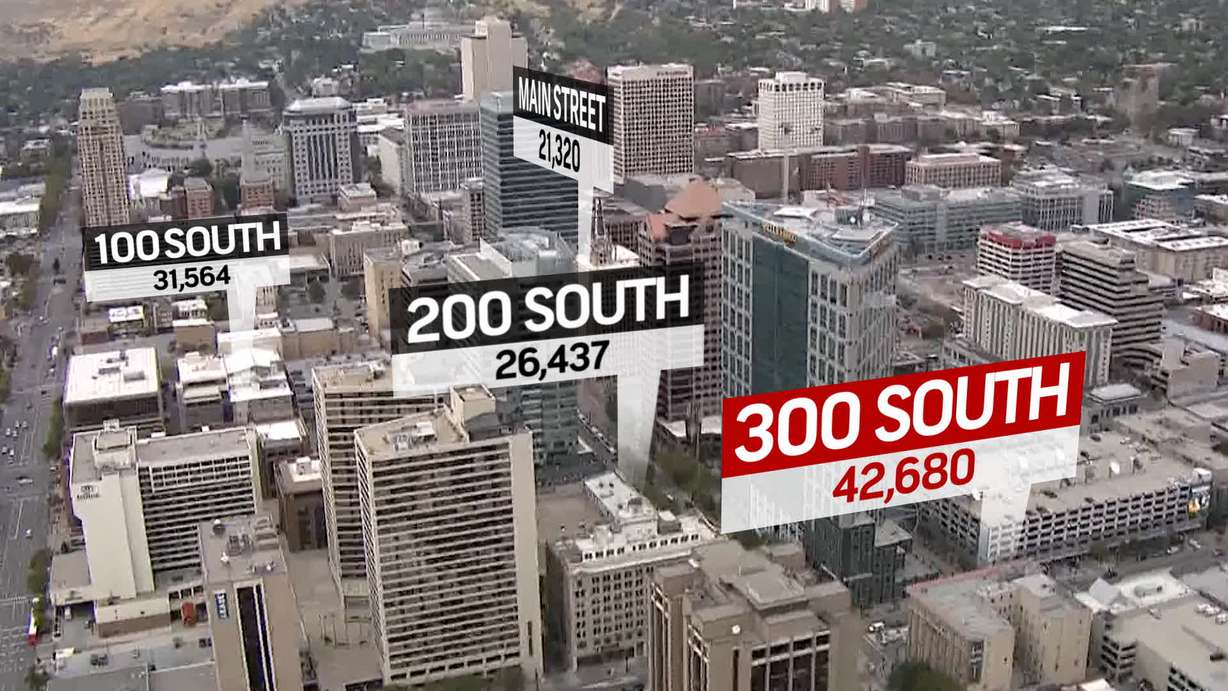 The top two ways to earn a ticket there were not feeding the meter and not backing into a back-in only space. Chamorro said he hears a lot of complaints on that last one.
"We don't have complaints about why is it back-in only," he said. "It's more like, 'I didn't see the sign' but the signs are there."
Top 5 parking tickets – by block
Between 300 West & 400 West on 200 South – 10,337 tickets
Between Main & West Temple on 300 South – 8,624 tickets
Between State & 200 East on 300 South – 7,890 tickets
Between 100 South & 200 South on Main St. – 6,256 tickets
Between 200 South & 300 South on 200 West – 3,729 tickets
. We talked to several people downtown who said parking enforcement is quick to spot expired meters.
One woman told us she got a ticket for going over by two minutes and another for 15 minutes over.
To see how long it would take us to earn a parking ticket, we parked three cars at or close to the city's busiest metered spaces (#2534 near 227 South 200 West; #4174 near 345 West 200 South; #2153 near 46 West 300 South) on three days during the most-ticketed hours without feeding meters. In that all that time, we earned just one ticket for a car parked for an hour at space number 2534, which is the most ticketed metered space in the city.
Top 5 parking tickets – by metered parking space
#2534 (200 West) – 388 tickets
#4174 (200 South) – 379 tickets
#2533 (200 West) – 366 tickets
#2153 (300 South) – 312 tickets
#2157 (300 South) – 308 tickets
"We are not driven by the violations," Chamorro said. "We are seeing that everyone is just following the rules. We are driven by policy and policy says we need to encourage these businesses to be able to offer parking closer to their locations."
Chamorro said another top priority besides creating space turnover for businesses was fixing safety issues for residents.
"Our line is pretty much busy all day with calls, 'Someone is parked too close to my driveway and I cannot leave' or 'I just noticed that someone is parking in front of a hydrant,'" he said.
According to our count, compliance officers wrote 116,070 tickets for expired meters. That was far more tickets than any other violation.
Currently, an expired meter means a $38 fine. There is an easy way to avoid that: Download and use the city's ParkSLC app to pay for your parking. It alerts you when the meter is about to run out so you can add more time until you hit the two-hour maximum.
Top 5 parking tickets – by violation
Expired Meter – 116,070 tickets
Registration and Plates – 95,814 tickets
Overtime Parking / Time Limited Zones – 39,318
No Parking / Prohibited at all Times – 32,897
No Parking within 5 Feet of Fire Hydrant – 10,521
Chamorro said 12 officers currently patrol the entire city in two shifts of six officers each. He said he hopes to hire more.
"The holidays are coming pretty quickly and those are busy times because there are a lot of visitors," he said. "So, yeah, definitely we will be in a more comfortable position."
×
Photos
Most recent Utah stories