Estimated read time: 4-5 minutes
This archived news story is available only for your personal, non-commercial use. Information in the story may be outdated or superseded by additional information. Reading or replaying the story in its archived form does not constitute a republication of the story.
SALT LAKE CITY — It's no secret outdoor activities drive a portion of Utah's economy. Much of the state's tourism centers around visiting the state's vast outdoor attractions, and tourism is now a $9 billion industry.
But how much does recreation move the U.S. economy and how does Utah compare to other states? For the first time, there's an answer from a federal agency. On Friday, The U.S. Bureau of Economic Analysis released a report on a state-by-state basis showing how outdoor recreation affects state and local economies.
Tom Adams, director of the Utah Office of Outdoor Recreation, said the numbers released Friday mirror numbers those in the outdoor industry have shared before.
"It allows all of us, as individual states, to know what our contribution is," he said.
Utah's outdoor GDP
Overall, the bureau found outdoor recreation contributed to about $778 billion in gross economic output in 2017, which was about 2.2% of the entire U.S. Gross Domestic Product that year. It also led to 5.2 million jobs nationwide.
The bureau defined outdoor activities as boating/fishing, RVing, snow activities, amusement parks/water parks, festivals/sporting events, game areas (golf or tennis) and any other outdoor activities that weren't otherwise classified.
On a state scale, the agency found outdoor recreation in Utah accounted for 3.3% of Utah's total economic output in 2017, or about $5.5 billion. The agency previously released that Utah's total Gross Domestic Product was about $165.7 billion in 2017.
One of the state's largest outdoor GDP factors is a no-brainer. Utah's snow activities, such as skiing and snowboarding, led to $549.2 million in GDP in 2017, which was second only to Colorado ($1.5 billion) among the U.S.'s 50 states and the District of Columbia. There was no specific value shown for the five national parks or other parks in the report.
How Utah's outdoor GDP compares with other states
Utah's economic output from outdoor recreation ranked 24th overall in 2017.
With such a diverse scale, it's no surprise that states with more population dominated the list for impact on the federal economy. For example, the country's most populated state, California, led the nation with $52.1 billion generated from outdoors in 2017 even though that only accounted for 1.9% of its total GDP. Florida, Illinois, Texas and New York rounded out the top five.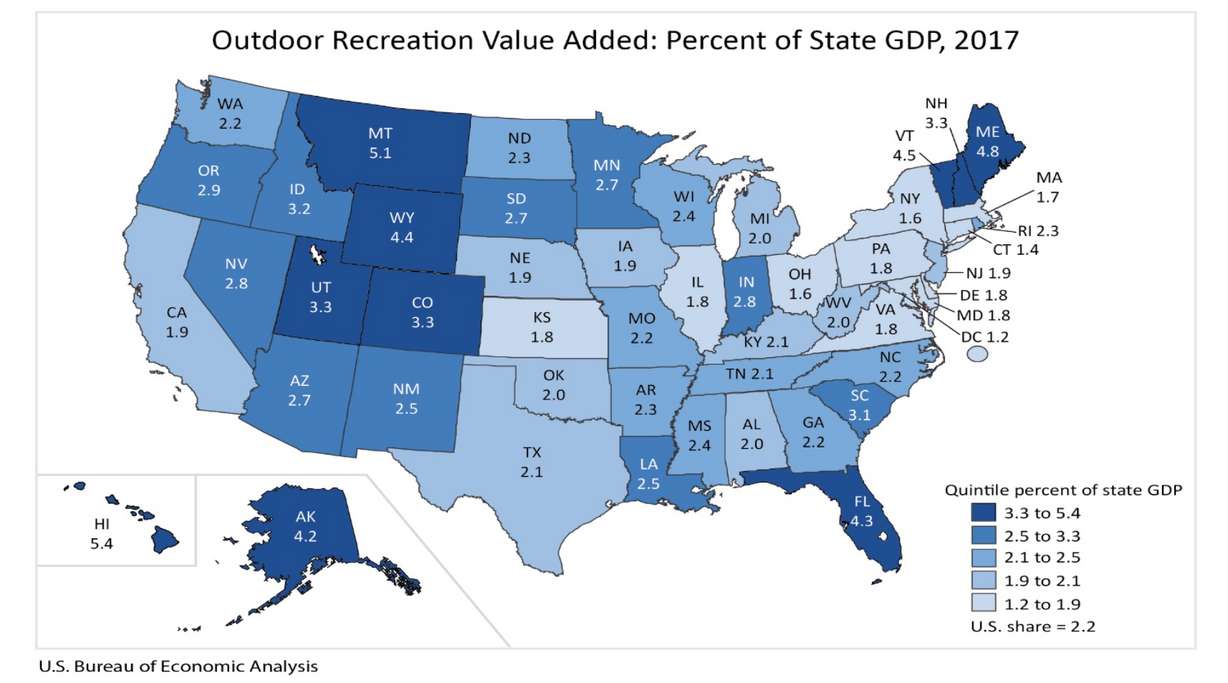 However, the percentage that outdoors played in Utah's economy in 2017 was tied with Colorado and New Hampshire for eighth in the U.S. Hawaii led the nation in that category by having 5.4% of its state GDP from outdoor recreation. Montana, Maine, Vermont and Wyoming rounded out the top five in the category.
Activities that produce the most economic output
At $20.9 billion, boating/fishing led the way for individual outdoor activities in the United States' GDP. In fact, it also was the top outdoor economic activity for 29 states and the District of Columbia in 2017. Florida led all states in boating/fishing GDP with $2.7 billion generated that year. In comparison, it accounted for $192 million in Utah.
Traveling by RV ($16.9 billion), traveling by motorcycle/ATV ($9.1 billion), hunting/shooting/trapping ($8.8 billion), equestrian activities ($7.8 billion) and snow activities ($5.6 billion) rounded out the leading individual conventional outdoor recreational activities in the country, according to the report.
However, the bureau noted guided tours and outfitted travel accounted for $12.9 billion and was one of the fastest-growing outdoor industries in the U.S., jumping 11.4% from 2016.
Future growth in outdoor economics
While the numbers released Friday are simply a snapshot of the industry as a whole two years ago, all indications are Utah's outdoor recreation industry is only growing, with new businesses coming to the state and current businesses expanding, Adams said. That's not just because of tourism or outdoor businesses, but because Utah residents enjoy going outdoors.
"We're seeing businesses, not just in the outdoor space but in any space — tech, extraction, you name it — their employees are being (retained) by the amazing quality of life that's provided through access to world-class recreational activities across the state," he said. "The outdoor recreation economy is fueled by everybody, not just the outdoor recreation industry and those businesses."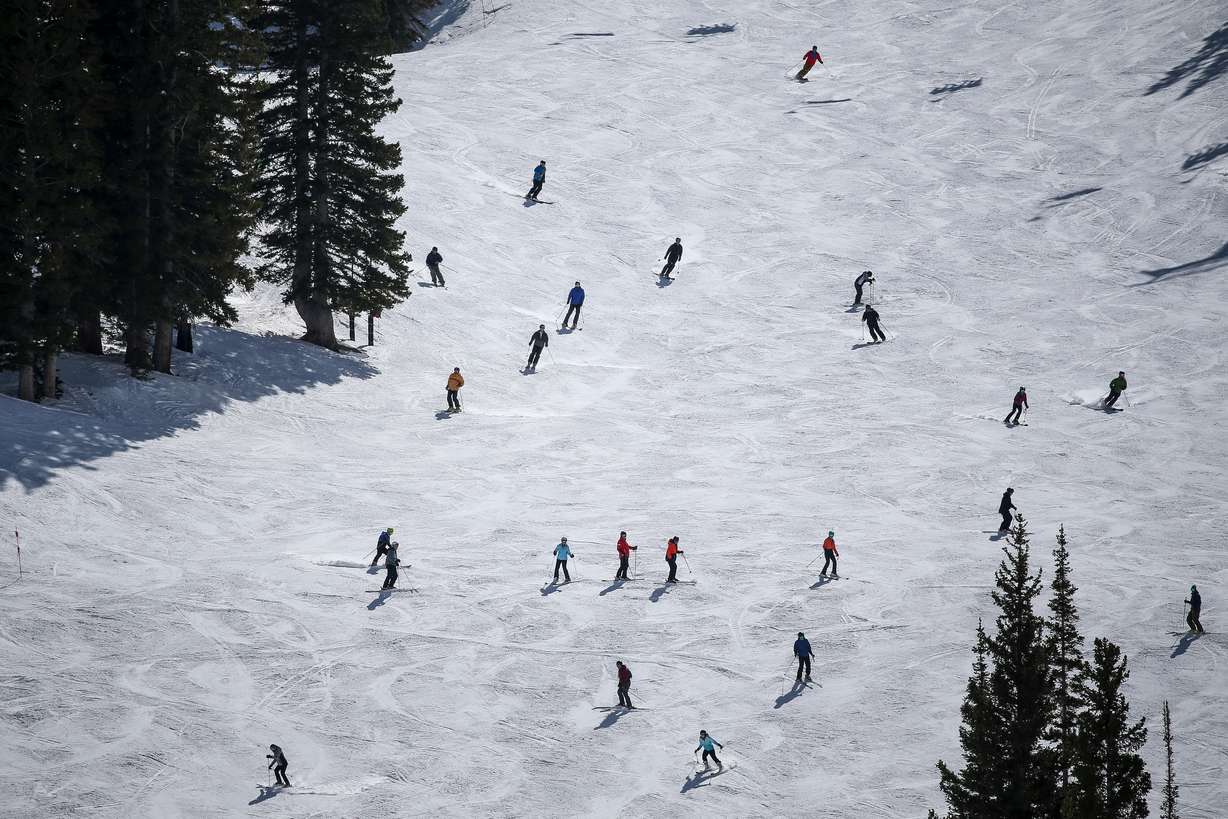 Adding in the growth guided tours and outfitted travel are experiencing, there's no reason to believe Utah's outdoor economic output will slow down either.
Utah's economic and population growth, as well as the boom in popularity to travel to Utah, is why Adams said it's important to preserve the state's outdoors.
"If you look around the state, so many people are advertising our mountains and kind of those bucket list places that people look for," Adams said. "Whether you're at a job fair and you see Delicate Arch or you drive past Southtown Mall and there are murals of mountains, a lot of people are trying to sell that 'Life Elevated' (slogan), and we need to make sure we're making a strong effort to keep those areas sustainable and make sure they're protected as well."
×
Photos
Most recent Outdoors stories