PROVO — For the second-straight week, BYU hosts a Pac-12 team ranked in the Associated Press Top 25 in a game broadcast on ABC.
But that's about where the similarities end for No. 22 Washington and the Cougars' previous opponent, then-No. 24 USC, which lost for the first time this season in overtime a week ago at LaVell Edwards Stadium.
This week's opponent in a special throwback game, the Huskies (2-1) run a spread offense in the sixth season under Chris Peterson, who has posted a 49-22 record at Washington and consistently has the Huskies among the top teams in the Pac-12 North.
That doesn't appear likely to change this season, despite an early-season slip up to Cal and a new quarterback. After Jake Browning graduated — BYU fans remember him well, after he led U-dub to a 35-7 rout of the Cougars a year ago in Seattle — the Huskies simply brought in Georgia transfer Jacob Eason.
And all the 6-foot-6, 227-pound junior pocket passer has done is throw for 773 yards and 7 touchdowns with just 1 interception.
BYU head coach Kalani Sitake is hardly noticing his height — football fields aren't measured by lining up single-file in a combine-like setting, he jokes. But he is aware of his arm.
"He's a big guy with a strong arm," Sitake said of the 62.0 percent passer. "I think he does a great job of going through his progressions. If they feel like he can be their quarterback, then he must be something special."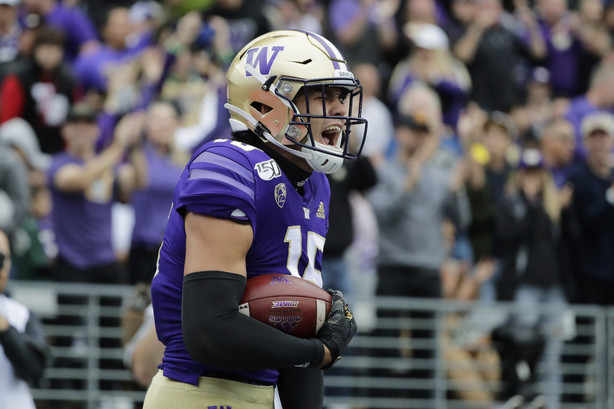 Eason has a lot of returning talent to work with in Seattle, too, from 6-foot-2 junior wide out Hunter Bryant to 5-foot-11, 196-pound tailback Salvon Ahmed. But the notable pick for local football fans will be the addition of Puka Nacua.
The former Orem High standout is in his freshman season at Washington, and after signing with the Huskies over offers from BYU, Utah and virtually every major program on the West Coast (and beyond), the younger brother of former BYU safety Kai Nacua has begun to find his footing in Seattle.
He even caught the first touchdown pass of his collegiate career in the Huskies' 52-20 rout of Hawaii last week.
"He goes up and makes high-point balls, and he's a big guy, which is nice to have," Eason said of Nacua last week, according to The Athletic. "It's exciting. He had a great fall camp, and he's been having a good couple weeks, so it's exciting for him to get out there and score his first touchdown."
Game details

How to watch, listen and stream No. 22 Washington at BYU


Coaches: BYU's Kalani Sitake (4th year, BYU), UW's Chris Petersen (6th year, UC Davis)
Kickoff: 1:30 p.m. MDT
TV: ABC (west) or ESPN2 (east) (Steve Levy, Brian Griese, Todd McShay, Molly McGrath)
Radio: KSL Newsradio, BYU Radio (Greg Wrubell, Riley Nelson, Mitchell Juergens)
Streaming: WatchESPN
Series: Washington leads 6-4 (BYU 3-1 in Provo)
Last year's game hampered BYU in a number of ways — the Cougars were shut out until the game was well out of reach — but perhaps the most disappointing was the loss of Moroni Laulu-Pututau, the Mountain Crest product whose knee injury kept him on the sideline for nearly a full year.
Laulu-Pututau made a stirring return in the past two games, catching two passes for 36 yards. But offensive coordinator Jeff Grimes admits the injury to the rangey tight end "hurt significantly."
"It forced us to rely on Dallin Holker, and he did a nice job," Grimes said. "But he was a freshman, and there were some growing pains."
With Laulu-Pututau and a full complement of receivers at quarterback Zach Wilson's disposal, the Cougars will take their best shot at revenge on their terms at home.
And yes, it is a revenge spot. At least, it is for tight end Matt Bushman.
"Everyone was mad because we kept shooting ourselves in the foot," Bushman recalled of the Huskies' dominating win. "We'd have really good drives, and then have a holding call or something. We definitely didn't perform our best.
"A lot of us are excited to get another shot, and to get them at home."
×
Photos
Related Stories