PROVO — No, BYU fans, it's not a fake.
Just a few days removed from a 30-27 overtime win over then-No. 24 USC, the BYU football Twitter account dropped more good news for its fan base Tuesday.
The athletic department announced a new uniform that will debut Saturday when the Cougars host No. 22/21 Washington at LaVell Edwards Stadium (1:30 p.m. MDT, ABC/ESPN2).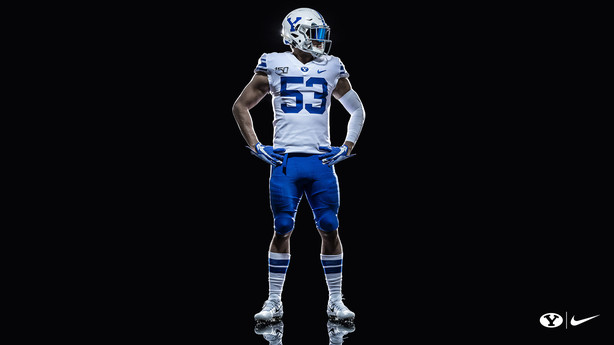 The new uniform is a throwback to the 1960s-era of BYU football, and comes with a retro-themed field with diamond-shaped patterns in the end zones that were characteristic of the time. In addition, BYU cheerleaders and the Cougarettes dance team will also perform in throwback uniforms, and vintage Cosmo the Cougar will make an appearance.
"Today was the first day (I saw them), and we were liking the uniforms," BYU linebacker Kavika Fonua said after Tuesday's practice. "It's looking nice."
Fonua — and his teammates — focused more on the new uniform's model, linebacker Isaiah Kaufusi.
"Honestly, he should keep modeling, even after football," Fonua joked. "But he was looking good, with that visor and everything."
Prior to kickoff, Heisman Trophy winner Ty Detmer, Outland Trophy winners Mo Elewonibi and Jason Buck, and former defensive back standout Derwin Gray will join fans at Cougar Canyon, the university's official pregame tailgate area. It will be Detmer's first public appearance at LaVell Edwards Stadium since he was let go as offensive coordinator following the 2017 season.
BYU concessions will sell price-era hot dogs for $2 during the game, and fans can also purchase throwback gear, including mini and full-size replica helmets, through the BYU Store.
Overall, the new uniform is clean and classic, with a white jersey and royal blue pants combined with the logo commemorating college football's 150th anniversary (which means the uniform will be used this year).
In addition, a new white helmet sits atop the look, with a royal blue stripe a la Penn State running across the crown of the head and a blue-tinted visor on a gray facemask. Younger fans may not recognize the royal-blue block Y. on the white background — but it has historical significance.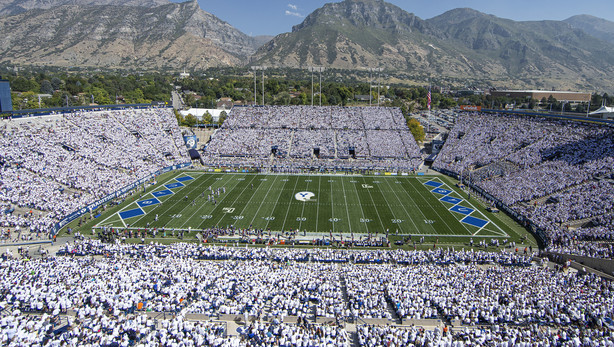 The old-new Y is reminiscent of the look the Cougars had back in the '60s and '70s, when Eldon Forte, Marc Wilson and their colleagues in between were introducing the little-known brand to the college football world. The logo was also used on the basketball court at the same time, when legendary players like Kresimir Cosic wore blue for the Cougar cagers.
Throwback, indeed.
What do you think? Do you approve of BYU's latest uniform trend?
×