PROVO — College football comparisons aren't a new thing.
Any time a player comes along that does something new, some writer, broadcaster or sports talk radio personality will try to liken the new thing to something known.
BYU quarterback Zach Wilson is one of the latest drops.
During the Cougars' recent nationally televised 30-27 overtime win over then-No. 24 USC, the broadcast crew sent social media into a frenzy, likening Wilson to former Texas A&M star (and Heisman Trophy winner) Johnny Manziel.
The nickname quickly spread — in part because of a few similarities (more on that in a minute), and in part because nobody can refuse a good alliterative pun. Plus, "Mormon Manziel" just sounds fun to say.
Such a comparison isn't new, not even for BYU quarterbacks.
Taysom Hill was once called a "Mormon version of Johnny Manziel" by CBS Sports writer Chris Huston, and the nickname seems to pop up from time to time to describe any caucasian quarterback who often runs as much as he throws.
But the nickname may be a bit of a misnomer — and not just because KSL style replaces most references of "Mormon" with "members of The Church of Jesus Christ of Latter-day Saints" or "Latter-day Saints," depending on the context, since an October 2018 talk by church President Russell M. Nelson during general conference asked media to do so. While Wilson and Manziel have some similarities, the two are also different types of dual-threat quarterbacks.
While honored by the comparison, the BYU sophomore even hopes to distance himself from the former NFL quarterback who most recently played for the Memphis Express in the now-defunct Alliance of American Football.
"That's funny. I don't know how I feel about it," Wilson said after practice Wednesday. "Johnny was a great player, but I would love to be looked at as someone that plays more within the offense, someone that scrambles when it's necessary.
"I know a lot of his plays were scrambling for no reason. He could've sat in the pocket a little more. He was a heck of a player in college, but because he was a great player he could do it. I've still got a lot of work to do to have that kind of nickname, though."
The name didn't originate from Wilson or any of his BYU teammates. It didn't even come from the local media.
The "Mormon Manziel" moniker was first used by Richard Johnson, a national college football writer who works for SB Nation's Banner Society. The writer first used the name on his popular podcast, "Podcast Ain't Played Nobody," and the rest was history.
The comparison was natural, Johnson explained recently during an interview with Utah radio station ESPN 700.
"This dude runs around kind of like that. It's almost this frantic running style," he said. "He's running with his hair on fire, and it doesn't necessarily look poised or controlled. It definitely works, but he's absolutely running for his life — whether it's 5 yards or 40 yards."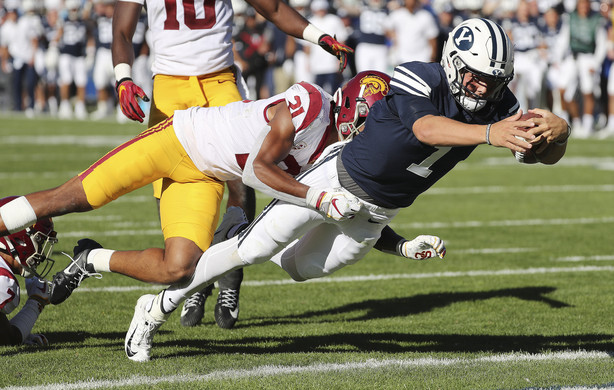 Don't take offense, BYU fans; the nickname is all in good fun and meant as a compliment.
"He's fun to watch play, and guys like that make the college game really fun to watch," Johnson said. "The college game has really unique talent like that."
But Wilson doesn't necessarily want to be "the next Johnny Manziel," with all due respect to Johnny Football and his Heisman-winning campaign of 2012. He's a different player and boasts a slightly different stature.
The Corner Canyon product is even different from previous BYU quarterbacks, like his immediate predecessor Tanner Mangum, who started for BYU during last year's loss at Washington.
"Our offense changed completely. As people know, we were a pro-style with more jet sweeps and pre-snap motions," Aleva Hifo told the Locked on Cougars podcast. "No disrespect to Tanner, who is an amazing quarterback and did a lot of great things for us, but our offense has shifted in a different way.
"He (Wilson) is able to stretch plays. I see that he's getting some praise towards Manziel … and I can see why they say that, but it's good to have a quarterback who can stretch plays. It allows us to scramble and get open for him."
Wilson stands 6-foot-3 and weighs 203 pounds as a true sophomore with the Cougars, compared to the 6-foot-1, 210-pound two-year starter listed by Texas A&M. So he's already a bit longer and a bit leaner than his much-accomplished nickname-sake.
The numbers differ, too.
Manziel completed 68% of his passes in his Heisman Trophy-winning season of 2012, throwing for 3,706 yards and 26 touchdowns with nine interceptions on 434 attempts. He also ran the ball 201 times for 1,410 yards and 21 scores.
In Wilson's first season of college football, he threw for 1,578 yards on 182 attempts, with 12 touchdowns and three interceptions, while running for 221 yards and two more scores. Even accounting for the games he didn't play while backing up then-senior Mangum, Wilson's 216.3 passing yards per game as a starter would've yielded him 2,811 yards over 13 games — nearly 1,000 yards shy of Manziel. Similarly, his 32.67 yards per game on the ground as a starter would've netted 424 yards.
Perhaps more importantly, the two scramble in different ways. The majority of Wilson's 23 carries this season have come on designed runs, such as when BYU offensive coordinator Jeff Grimes called a play that flexed running back Ty'Son Williams in a wide position, leaving Wilson with a gaping opening for a 16-yard touchdown in the fourth quarter.
Even ignoring Manziel's off-the-field issues that led to him being released early by the Cleveland Browns and booted from the CFL's Montreal Alouettes, Wilson hopes to be a different player than Manziel — maybe even better, in some ways.
Compare the above-mentioned touchdown to what many consider to be Manziel's "Heisman Moment," a hectic, scrambling touchdown throw in the Aggies' 29-24 win over then-No. 1 Alabama in 2012.
Wilson likely won't win the Heisman Trophy, or lead BYU to the College Football Playoff, or leave college after two highly decorated seasons for an NFL career that flickers after two years and sends Manziel to a (very, very) brief stint in the Canadian Football League.
Of course, haters, opposing fan bases and several people in the comment section of this story on KSL.com won't read that last paragraph.
But some of Wilson's teammates leaned into the "Mormon Manziel" moniker, like tight end Matt Bushman, the former freshman All-American who said he would "love" to have such a nickname.
"He's an athlete, and he knows his stuff," Bushman said of Wilson. "He has that sixth sense when there's a pass-rusher coming up on his back side. He knows when to scramble and make a play. It's fun to have a quarterback like that."
But Wilson isn't Manziel, or even the "Mormon Manziel" to his teammates. He's his own quarterback. And that's just fine with the guys who lovingly call him "Zachy" in the locker room.
"He's just Zach Wilson to me," Hifo said. "He needs to stay that way and make sure that he stays humble. As an offense, we need to stay humble, as well, because we have a lot of good teams ahead of us."
×
Related Stories