CEDAR CITY — If you're looking for mountain biking, running or hiking options in southern Utah, there's a new trail available that offers an extended ride in the southeastern portion of Cedar City.
On Thursday, Bureau of Land Management officials formally opened the Turnpike Trail, which is nearly a 4.5-mile route designed by the International Mountain Biking Association and added to the Iron Hills Trail System. It connects the Southview Trailhead with the Shurtz Canyon Trailhead east of Hamiltons Fort.
Unlike some of the other trails in the system, it's rated as a green/easy trail, which means it's a cross-country-type route open to all riding abilities and skill sets.
"I think what people can expect is (a) really high-quality trail riding experience," said Dave Jacobson, outdoor recreation planner for the BLM's Cedar City field office. "I feel like Turnpike now adds all of the elements out of the Southview Trailhead. You can either do a long hill climb if you want, or you can do a shuttle ride off of Greens Lake Drive into this same trailhead, or you can do downhill riding, or a traditional cross-country-type ride. It gives you a variety out of the same trailhead."
The process to open the trail began about three years ago, Jacobson said. After doing all the necessary environmental testing, final funding came from grants issued by the U.S. Department of Transportation Recreational Trails Program and the Iron County restaurant tax project funding program, as well as from state and federal recreation fees.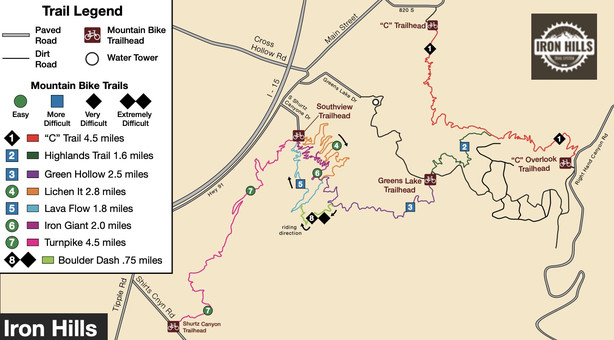 Iron Hills is one of three trail systems in the Cedar City area; it includes a trail to the "C" Overlook, which gives a panoramic view of the county's largest city. However, the Turnpike Trail isn't the end of planned growth for the system. A future route, named Elevate, will add roughly 4 miles of trail, extending the trail system even further.
"(The Turnpike Trail) creates a leg of a longer arm that we're going to build in the next couple of years," Jacobson explained. "Elevate is the trail that comes off Turnpike and will hook back onto Green Hollow."
A portion of creating the new route will begin this fall, but Jacobson noted the route is at least two years away from being completed.
×
Photos