SALT LAKE CITY— Calling all fall athletes, and even weekend warriors: Cooler weather is on its way, but not quite yet. Highland High football players know the importance of hydrating all season long.
Athletic trainer Mitchell Mckay, with Intermountain Healthcare's TOSH, sees athletes for lots of things. But on a day in September that's 96 degrees Fahrenheit, he's got one concern on his mind.
"Try to get out (to practice) before the really hot temperature, which is 3 o'clock," he said. This was realistic during summer practice hours in the morning, but, unfortunately, McKay said this is when most high school athletes are now practicing since school is in session. He said it's now the hottest time of the day.
McKay said dehydration is a dangerous pitfall because it heightens the risk of injury.
"As we get dehydrated, you have cramping, you have muscle injuries, you have sprains, you have strains of muscles and ligaments and things like that," he explained.
He said this makes it difficult to recover quickly. "When it's super hot and humid, you can't really sweat it off either, so your body temperature starts to spike," he explained.
He said drinking water keeps your body in homeostasis — a balance of water intake and output — when playing outdoors.
McKay used a temperature gauge to measure how hot the field got that Highland High football players were practicing on.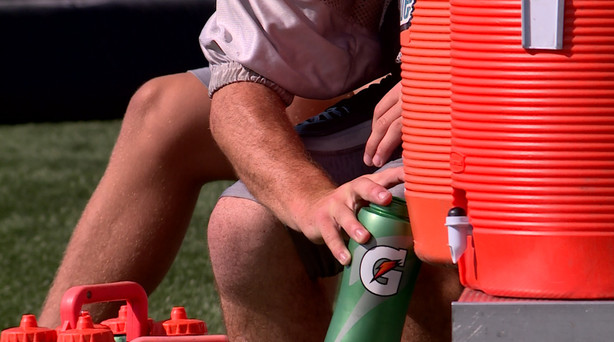 "If we look at this turf field that we're playing on, we're looking at the field being 133 degrees (F) right now," he said. The end zone, made of black turf, measured to be 141 F.
With such hot practicing temperatures, McKay said athletes must take hydrating properly seriously.
Sixteen-year-old quarterback Patrick Brennan learned the hard way. "I used to cramp my freshman-sophomore year, and I used to really be really bad at staying hydrated. But my junior year, I kind of realized I need to step it up a little bit," he said.
Now Brennan said he has more energy to perform better and longer.
"If you're going to be active, that eight glasses of water doesn't really relate to you, you need more than that," McKay said. He encourages his athletes to drink several 32-ounce water bottles during practice and asks them to drink water all day long when they're in school so they are ready for practice.
---
If we look at this turf field that we're playing on, we're looking at the field being 133 degrees (F) right now.
–Athletic trainer Mitchell Mckay
---
Seventeen-year-old Jaxsen Miner plays center and defensive tackle. He said staying hydrated is "probably the most important thing we do out here cause it's over 100 degrees every other day." He carries jugs of water around campus with him each day.
McKay urges athletes to start hydrating 24 hours before exertion and to watch for symptoms of nausea, dizziness or headaches. In that case, he tells his athletes to seek out shade or ice to cool their bodies down.
He said there are no exceptions even when the weather gets cooler this fall. McKay was frustrated earlier this week when some of his athletes weren't drinking enough. He said it wasn't as hot due to cloud coverage, making it easy to forget about water. He tried to encourage them to drink more, but some weren't listening.
"And then what do you know happens at the end of practice? We have multiple people cramping, feeling like they're gonna throw up because they weren't hydrating during the day because it was cooler," he said.
In severe cases, McKay said dehydration could lead to heatstroke or even death. He also recommends drinking Gatorade or Powerade in addition to water to replenish electrolytes lost through sweat.
As the team goes head-to-head with the Hillcrest Huskies Friday, they're doing everything they can to bring their A-game.
"Always have to play to the best of our ability," Miner said.
"I mean, it's one of the most important things to me, was just coming out here and playing well," Brennan said.
More your life your health:
×
Photos
Related Stories