BOUNTIFUL — A phone call woke up 101-year-old Bountiful resident Helen Day very early Friday morning.
It was Keith McMullin, Day's neighbor, telling her to get up, get dressed and get out. Flames from the Gun Range Fire were approaching her home and her area was being evacuated.
"I was right in the middle of it," Day said.
She was able to get out safely and returned to her home in northeast Bountiful about 6 a.m. Friday. Many family members lent their help to get her out of her home safely, Day said.
McMullin, who served as a general authority for The Church of Jesus Christ of Latter-day Saints, said he and his family knew they had to alert their neighbors when they heard of the evacuations. McMullin is also the president and CEO of Deseret Management Corporation, a parent company over KSL.com.
"That was a wakeup call never to be forgotten," he said.
His daughter, who lives close, called McMullin and his wife to alert them to the situation. She soon arrived at their house and McMullin, his daughter and grandson started canvassing the neighborhood to bang on doors and make sure neighbors got out safe.
Once most of their street was notified, McMullin started to alert some of the elderly people in the neighborhood who would need extra help getting out, he said.
"She's a wonderful person, she'll be 102 in November. And it was my privilege to awaken her and tell her 'Helen we need to get up and get ready and evacuate,'" he said.
Once Day was awake and ready, they all left together in McMullin's car to get away from the fire, he said.
"I got a lot of help this morning," Day said. "I'm getting along just fine. I happen to be 101 years old, so they felt like I needed somebody who knew what they were doing."
As of Friday afternoon, the Gun Range Fire was 365 acres and was 10% contained, authorities said. It is burning in the foothills east of Bountiful and Centerville.
Related:
Being quick to help out in times of need is a typical quality for people in Bountiful, and for Utahns as a whole. Those who were volunteering Friday morning said the community's response is almost immediate in cases like these.
"That's one thing about Utah in times of disaster — it doesn't take much to get the community to come together to help those that are affected," said Kirsten Stuart, public information officer for the American Red Cross of Utah and Nevada.
About 80 people had been in and out of evacuation aid centers in Bountiful and Centerville as of Friday morning, Stuart said. Over 400 homes were evacuated, so that meant many people had found friends, family members or neighbors to stay with instead of going to the centers, she said.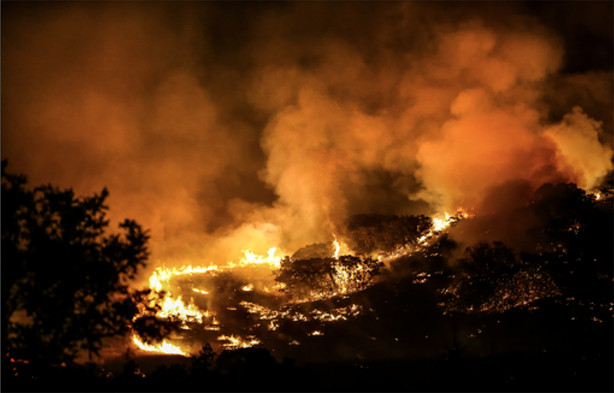 Stuart said the Red Cross would remain in the area until there is no longer a need for aid.
Volunteers made sure evacuees were comfortable while they waited to see when they could get back to their homes. The Red Cross provided access to food and water, as well as shelter for about 22 people who slept on cots at the tabernacle.
"Bountiful is a very good volunteering community," said Bryan Potts, who is on the Bountiful City Service Council. "So when there's something like this... there's just massive efforts of people willing to come and help their neighbors."
Potts started at the Tabernacle about 6 a.m. Friday and helped bring food to the shelter. He remembered similar situations during the floods of 1983, as well as a major windstorm about a decade ago, where people in the area mobilized quickly to help out and volunteer.
"We're just grateful for the efforts of everybody trying to help their community out," he said.
Beth Smoot has lived in the Bountiful area since the 1990s and said she doesn't remember seeing a situation like the Gun Range Fire before. She had been monitoring the situation with her ham radio to make sure everyone was being taken care of. She lives just across the street from the Bountiful evacuation area.
Smoot said she was awakened early Friday morning by a friend who called her home and asked if everyone was OK. She looked out her window and saw the flames.
"Then you start thinking 'Oh that's so-and-so's house, that's so-and-so's house,'" Smoot said. "We just hope everybody's OK, and our prayers go out to everybody — especially those who have lost homes and property."
By Friday morning, authorities were no longer asking for donations for the fire, Stuart said. She noted that Red Cross officials would continue helping people in the area who were directly affected for as long as they need.
We'd like to thank the community for reaching out to help with the #GunRangeFire. At this time, we do not need donations at the shelter located on Center and Main Street in Bountiful. https://t.co/ZcQVJaCgc7

— Utah/Nevada Red Cross (@RedCrossUtahNV) August 30, 2019
After the initial assistance period, the Red Cross transitions to casework for people who were displaced by the fire or had homes damaged or destroyed. The group provides different types of aid including financial assistance, lodging, medical services or mental health needs, Stuart said.
Cases typically close at different times because everyone has different needs, she added.
"The community's so amazing at coming together in times like this," Stuart said.
For more information, visit redcross.org.
Contributing: Jeff Caplan and Heather Kelly, KSL Newsradio
×
Related Stories