SALT LAKE CITY — Part of the allure of hiking is discovering things in nature. Many hikers learn the names of birds, animals, trees and wildflowers.
This knowledge, for some, is taken to another level. Writer Barry Lopez teaches: "One learns a landscape finally not by knowing the name or identity of everything in it, but by perceiving the relationships in it — like that between a sparrow and a twig."
Indian paintbrush is the common name given to the species of wildflower known as Castilleja. There are over 200 species of Castilleja native to the Americas. Most are found in the western United States, with over 24 species found in the Rocky Mountains. The plant regenerates through seeds or by sprouting each year from its root crown; it typically blooms from June through August.
In Utah, Indian paintbrush is found in dry to moist soils in the foothills, canyons, up toward timberline in the mountains, and in the western and southern desert areas. As the name indicates, the plant looks like small paintbrushes that have been dipped in paint, sticking out of the soil.
Botanists' have learned that the Indian paintbrush has a secret life and a not so nice relationship with other plants.
Secret No. 1
Indian paintbrush is a colorful wildflower. It is found in various shades of red, orange, yellow, pink and white. When we look at the plant, we perceive the colored portion as the flower. But the flower portion of the paintbrush plant is small and inconspicuous. The colored portion of Indian paintbrush is actually the leafy bracts that surround the flower.
Bracts are leaf-like and fold around the flower that work to protect it when budding. Bracts like those of the paintbrush are thought to be colored to attract pollinators such as bees and hummingbirds. To simplify, when we view Indian paintbrush, we really don't see a "wildflower;" we really see the plants colorful leafy bracts.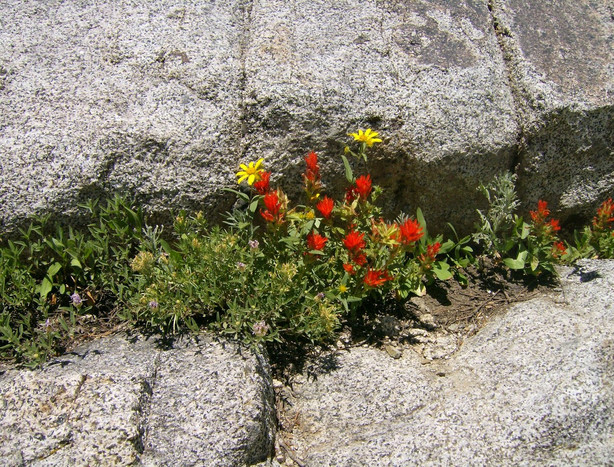 Secret No. 2
The roots of Indian paintbrush average about 10-12 inches in depth. The root is capable of receiving nutrients and moisture from the soil, but the plant has a little underground secret.
Indian paintbrush plants have developed a root system that is hemiparasitic. This means the paintbrush plant receives part of its nourishment and water from the roots of other native wildflowers, sagebrush and grasses. The term for this parasitic tissue that grows from the paintbrush root system and penetrates the roots of a host plant is haustoria. Paintbrush plants have become so dependent on host plants that they are rarely seen growing on their own.
Wildflowers are still in bloom in Utah's mountains. Take a hike and see if you can spot Indian paintbrush plants. Now you know a couple of their secrets, see what other secrets nature might hold. Robert Williamson is a graduate of Weber State College and the author of "Creative Flies: Innovative Tying Techniques."
×
Photos