This archived news story is available only for your personal, non-commercial use. Information in the story may be outdated or superseded by additional information. Reading or replaying the story in its archived form does not constitute a republication of the story.
OGDEN — At first glimpse of her family's new home, Anifah Barobi was so overcome with emotion she fell to her knees and rolled on the hot pavement on 22nd Street late Thursday afternoon.
Finally, she collected herself enough to cry out "thank you, thank you, thank you, thank you, thank you, very much."
The six-bedroom house was the gift of HGTV's "Extreme Makeover: Home Edition," Ogden general contractor Wadman Corp. and an army of volunteers who built the house in a week.
The show's host, Jesse Tyler Ferguson, fanned Barobi and eventually helped her to her feet along with her nephew Ashraf Kambere.
A few minutes later, Ferguson presented Kambere the keys and the family scampered up the stairs to explore their new home.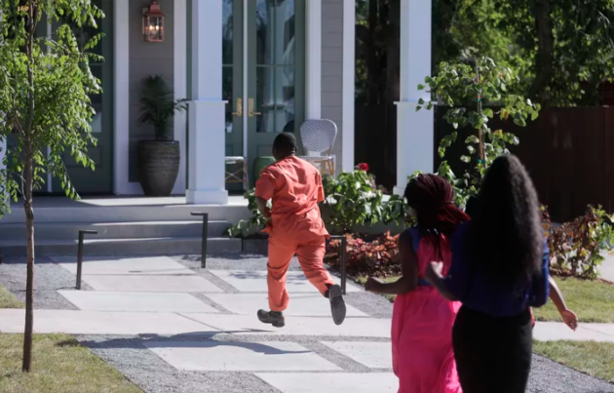 For the past week, crews have worked around the clock to build the high-efficiency, two-story house that will be home to Barobi, her daughter Zulufa, her nieces Azida and Habiba and nephews Ashraf and Hakim. Hakim is on a mission for The Church of Jesus Christ of Latter-day Saints in Colorado.
The family, who are refugees from Congo, were resettled to Utah by Catholic Community Services and in recent years moved to Ogden because housing was more affordable.
Before that they lived in a refugee camp in Uganda, after escaping war-torn Congo. Ashraf Kambere and his siblings were just children ages 5 to 13 when they fled from rebels who killed their parents and youngest sister. They wandered for a month, occasionally meeting people who told them where to go next, or where they might find something to eat.
As they approached the border of Uganda, a man they didn't know offered to pay their bus fare to the Kyaka refugee camp. They accepted his help.
Incredibly, their first day in the camp, the children were reunited with their aunt, Anifah Barobi, and her daughter among more than 20,000 refugees.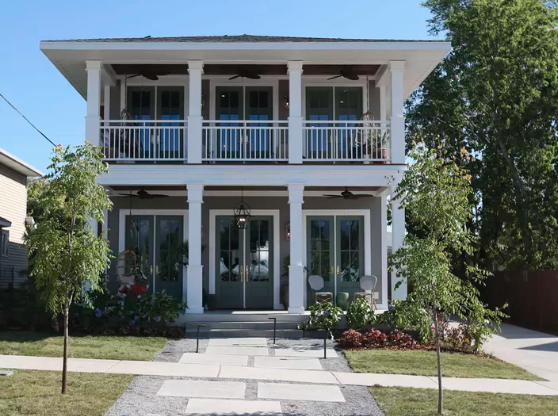 Kambare and his siblings hadn't seen her in years. She immediately shared her small tent with them, and they've been together since.
The next step of their incredible journey to be being featured on a popular American television show and to be given a home of their own was, well, overwhelming.
"Thank you everybody. I'm just so grateful," said Kambere, who also fell to his knees and threw his hands up in gratitude when the "Extreme Makeover" bus pulled away and he saw his family's new home.
David Wadman, CEO of Wadman Corp., said the net-zero home is solar powered and the only utility expense they will have is water, so living in the house is expected to cost them only $200 a month including taxes and insurance.
Wadman said 30 of his employees worked around the clock alongside some 500 volunteers to make the home a reality. The Ogden general contracting company primarily builds commercial buildings, schools and LDS Church temples, so constructing something as personal as a home "was remarkable. It's awesome," Wadman said.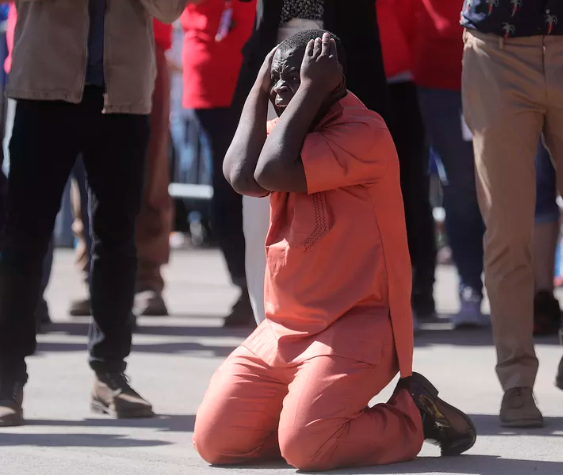 "More important is the family. This family that has gone from just horrific circumstances to come here and have a chance to live in a free country to do what they want to do, live the way they want to live, to be able to be what they want to be, this gives them a great head start," he said.
Kambere singled out Kathy Ulrich of Ogden who volunteered through Catholic Community Services to assist family. She's even taught three of the children to drive.
"It's just been my privilege and my benefit to be friends with their family. It's been amazing," she said.
Their new home is "literally a dream come true," she said.
"Anifah has wanted to buy a home sometime, and she's talked to me a couple of times and many other people about how she could make that happen. It seemed like it would be such a large, hard journey, maybe impossible," she said.
The new 2,900-square-foot-home "will help them get ahead. I feel like they can start from here and progress and move forward and kind of have that weight off their shoulders. Ashraf, especially, has carried a really heavy weight of protecting and providing for his family."
Ogden Mayor Mike Caldwell said the event showcased the city's best attributes, its nation-leading rates of volunteer hours and charitable giving.
Volunteers worked shifts that started at 2 a.m., sacrificing sleep to be part of what was a community's gift to a deserving family, he said.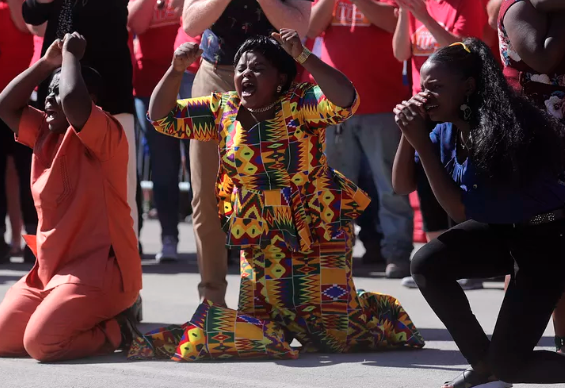 "It's just an amazing feel-good story. I think it's a great reflection what Ogden's all about," he said.
Aden Batar, director of Immigration and Refugee Services at Catholic Community Services of Utah, said at a time that the nation's president is posturing about shutting down the nation's refugee resettlement program, the community effort behind "Extreme Makeover: Home Edition's" gift demonstrates that refugees are wanted and welcomed in Utah.
From Weber State University football players and cheerleaders to students, volunteers and other community members, Ogden residents crowded the street across from the Barobi family's home to celebrate the family's good fortune and help them feel welcome in their new home.
"You can hear the voice of the Utah community. We want refugees in our community," he said.
"Just look at this. Our community wants this."
×
Photos
Related Stories