PROVO — By the middle of the second week of fall camp, where BYU currently sits ahead of the 2019 season, the topic often turns to the newcomers.
Who is standing out? Who is stepping up? What new faces should fans keep an eye on this upcoming season?
There are a few of those in Provo. But mostly, especially on the defensive side, it's old habits dying hard.
Because "old" is the way BYU's first-string defense will line up this fall.
As many as 14 players with three or more years of experience are expected to line up in the BYU's two-deep defensive game plan this fall, including nine senior safeties.
From seniors Zayne Anderson and Chris Wilcox to Austin Lee, Austin Kafentzis and Sawyer Powell, the BYU backfield is littered with upperclassmen — or at least, redshirt sophomores — this fall.
Even players who are still working back from injury and may miss time during the season, like safety Troy Warner, and those making a move to a new spot, like cornerback-turned-safety-turned-cornerback-again Dayan Ghanwoloku, are as equally experienced in their teammates' work as their own.
"They're bringing a lot of experience and helping with the coaching," BYU coach Kalani Sitake said. "Guys like Troy Warner and Dayan have played a lot, and that really helps the youngsters. We're seeing a lot of youngsters who have played a lot more effectively at cornerback and safety, and a lot of that is because of the mentoring of our players with each other from Troy or Dayan or Austin Lee, guys like that.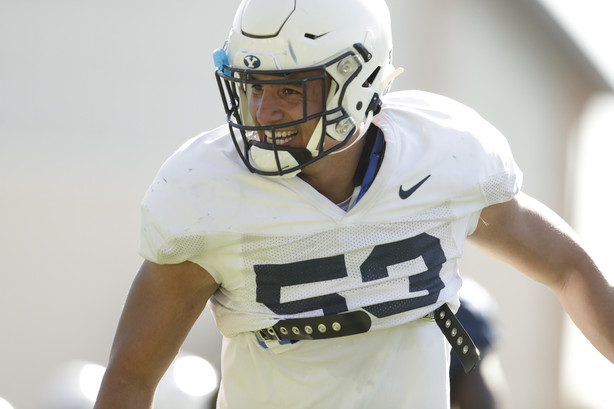 "This year, we feel a lot more comfortable with freshmen playing than we have in the past. We won't be forced to do it, but I think they are going to see the field."
Even when experience is lacking at a position — take, for example, middle linebacker, where Jackson Kaufusi, Payton Wilgar and Keenan Pili have impressed to seize on Sione Takitaki's spot — the rest of the group has stepped up to carry the load, according to Jackson's brother Isaiah Kaufusi.
"We have a lot of leaders in all the position groups," he said. "We're on the same page, and we know how to communicate with each other. We'll get problems fixed, and I think that makes it easy on the defense."
Return forthcoming
With summer term wrapping up on campus, coaches are expecting to receive a handful of additional players as they sort out academic issues.
One of those is Moroni Laulu-Pututau, who is in school but healthy as he returns from a season-ending knee injury a year ago.
Laulu-Pututau is expected to start opposite former freshman All-American Matt Bushman at tight end, and even more so with the recent injury to Hank Tuipulotu, likely out for the year.
But the former Mountain Crest standout is "close" to returning.
"We're just as excited as everybody else. But we're getting really close. Hopefully, we'll see him soon," Sitake said of Laulu-Pututau. "I know our summer bridge guys are finishing up this week. So we expect him soon."
16 days away
A few times this offseason, BYU players and coaches have broken the post-practice huddle with "beat Utah."
And why not? The long-awaited kickoff opening night is just 16 days away, on Thursday, Aug. 29, at LaVell Edwards Stadium.
Some players, though, are looking forward to that game a little more than others.
"I've held myself to a higher standard than a lot of guys, because how that game ended for me," said Isaiah Kaufusi, who was BYU's third-leading tackle in 2018 before an ankle injury suffered against the Utes. "I have a chip on my shoulder for that game, specifically. So I'm excited that it's the first game for me, and for us. It's definitely one I've marked on my calendar, and I'm really looking forward to it."
×