Estimated read time: 4-5 minutes
This archived news story is available only for your personal, non-commercial use. Information in the story may be outdated or superseded by additional information. Reading or replaying the story in its archived form does not constitute a republication of the story.
SALT LAKE CITY — Last week's thunderstorms not only provided a lightning show for some, as well as flooding and wildfire headaches for others, it also pushed precipitation totals to a plateau that National Weather Service officials haven't seen in Salt Lake City since 2011: 20 inches of precipitation in a water year.
As of Monday morning, the weather service has recorded 20.10 inches of precipitation at its station located at the Salt Lake City International Airport since the water year began on Oct. 1, 2018. The average through Aug. 11 is 14.43 inches. It's just the 16th time since the records were first kept in 1874 that the NWS has observed 20 inches or more at its Salt Lake City station.
As it stands with roughly 1 1/2 months to go before the 2020 water year begins, 2019 is already the 15th-wettest year on record. That's a significant improvement from last year, which was the ninth-driest year on record at 10.5 inches.
The NWS Salt Lake City office also has stations in Cedar City and Evanston, Wyoming. The Cedar City station has received 12.17 inches during the water year; the average there through Aug. 11 is 9.96 inches. The Evanston station hasn't been as fortunate at 7.34 inches — 2.87 inches below its average through Aug. 11.
"This has been a fabulous water year," said Brian McInerney, a hydrologist at the weather service's Salt Lake City office. "We've just had the best circumstances you could have (in a water year)."
McInerney explained the Salt Lake City numbers got off to an impressive start with well-above-average rain totals in October. In the winter, Utah avoided high-pressure ridges that had become normal over several previous winters. That allowed atmospheric rivers and systems from the west to bring snow and rain to the state from the Pacific that produced above-average snowpack across the state.
"These types of storms have been excellent as far as water volume and consistency of events," he said. "The entire state benefited from those storms."
It continued into spring, where Salt Lake City recorded the second-wettest spring on record. It even recorded more rain during those three months than all of 2018 combined. McInerney said the monsoon season got off to a late start, but that was predicted by a cooler, wetter spring across the state. When it started, it's helped some farmers avoid using irrigation water and help preserve what the state has in its reservoirs.
That's partly why the state has avoided a drought for the time being. The U.S. Drought Monitor currently reports nearly 15% of the state is "abnormally dry," according to its most recent report released last Tuesday.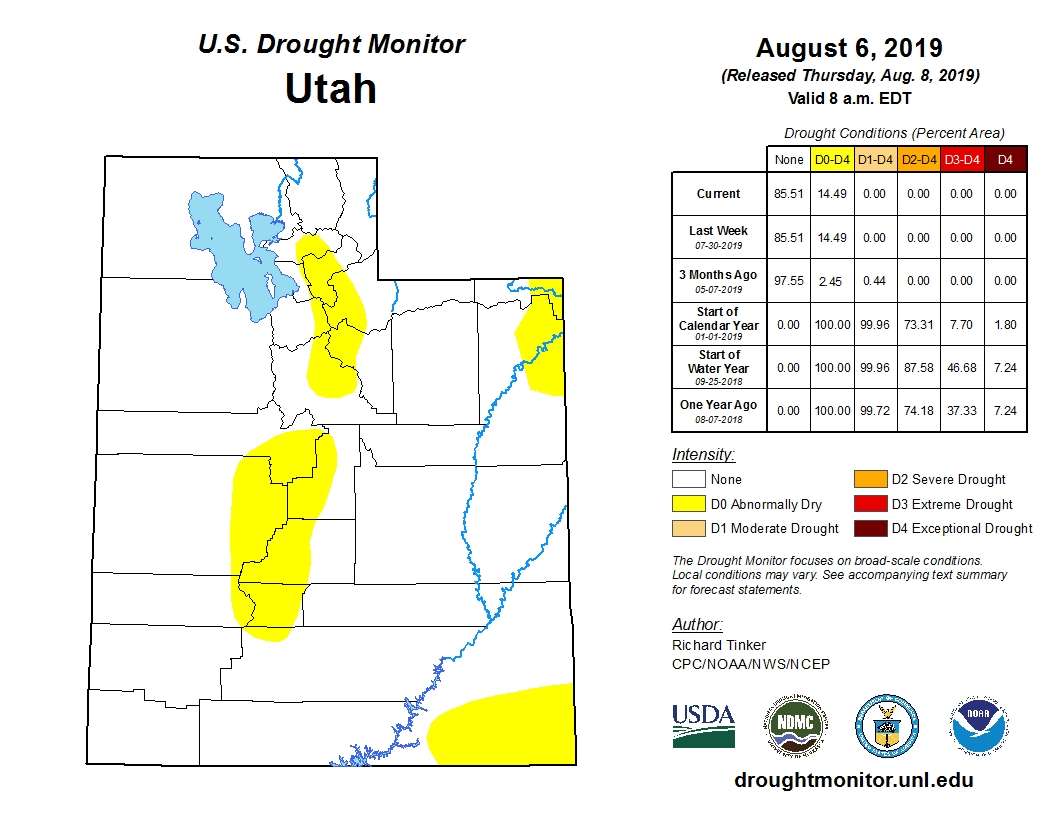 As for the reservoirs, some in the state remained above-capacity and most were at least close to full capacity statewide before recent storms padded rain totals across the state. Entering August, Utah's reservoirs (excluding Lake Powell and Flaming Gorge) were listed at 89% capacity as compared to 72% at the same point last year, according to data provided by the Utah Department of Natural Resources. The average is 74% for Aug. 1. That's helped maintain recreational activities at many of the reservoirs.
Flaming Gorge reported a slight decline from last year but remains above average at 92% full. Lake Powell reported a slight increase from last year but is still at just 53% capacity. The Lake Powell average for Aug. 1 is 79% capacity.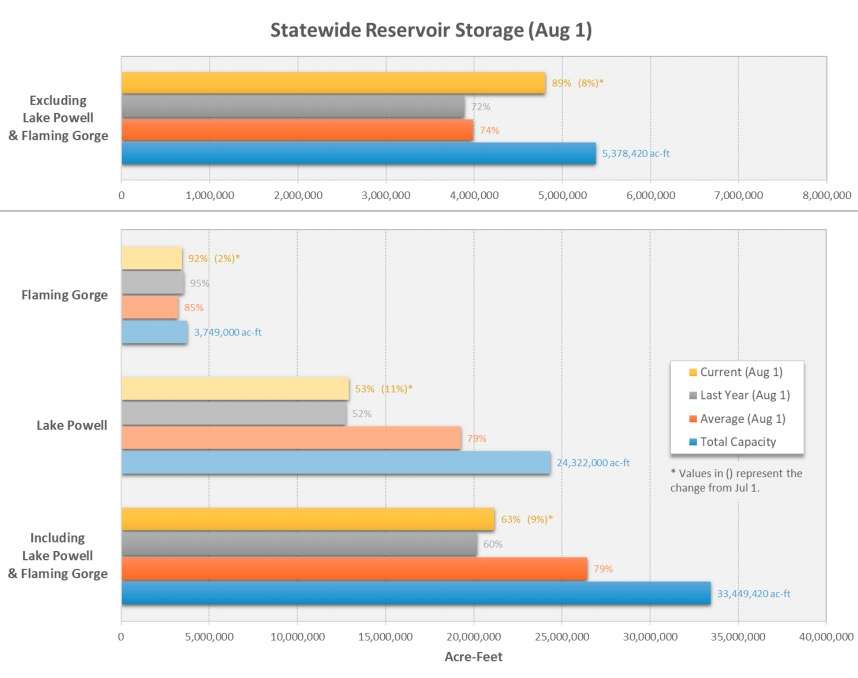 McInerney credits not just a prolific water year, but increased water conservation efforts for helping keep Utah's reservoirs full throughout the summer months.
Long-range forecasts differ as to the start of fall, which meteorologically starts on Sept. 1. NWS's Climate Prediction Center forecasted above-average temperatures for August, September and October, and predicted no abnormalities in precipitation during that span. If that holds, places like Salt Lake City averages about 1.2 inches of rain in September, according to Weather Atlas.
Accuweather forecasts fall to be "wet at times" throughout fall for most of Utah. That said, McInerney said it's hard to completely predict weather more than five days in advance. Therefore, it's difficult to tell if the 2019 water year will end on a strong note or if the 2020 water year will open on a similar pace as 2019.
In the meantime, McInerney advised Utahns to continue to use conversation efforts even without a drought. That's because another dry water year like 2018 — which ended in a severe drought — could easily be in store next year or over the course of the next decade.
"As it's getting hotter and we're getting drier (overall), our future calls for reduced water use and less water," he said. "We need to have practices early on and we need to have policies to allow us to use less water because we'll have less water in our future."
×
Photos
Most recent Outdoors stories