SALT LAKE CITY — Every boulderer, at some point, wants to try climbing outside rather than in a rock climbing gym. Here are some of Little Cottonwood Canyon's most iconic bouldering routes every rock climber should strive to complete.
For many Utah boulderers, Direct North Face of Shothole is the first route they climbed outside. This attainable boulderer (especially for the more vertically gifted) is a reachy but easy V0, which makes for a fun and satisfying outdoor boulder — and it's great for photos.
In the direct middle of the north face on the All Thumbs Boulder, this will be one of the first large boulders in the Secret Garden area of Little Cottonwood Canyon. Begin in the center on a big jug. Move your hands around to find what start works best for you, and move from giant jug to giant jug until you mantle over the top.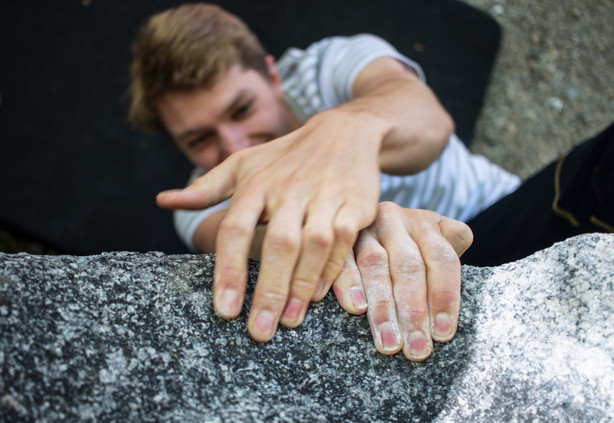 This 15-foot boulder is not especially difficult but requires some boldness as you work your way along drill scars, up an arete until you reach the daring and exciting mantle and top out at the end.
Located on the Copperhead Boulder, Secret Garden Arete is obvious on the east side of the south boulder, directly to the right of another bouldering route called "Shothole Arete." This V2 is an excellent introduction to outdoor climbing for beginner and novice climbers and provides some excellent photo opportunities.
Twisted is a right of passage for intermediate-level outdoor boulderers in the Salt Lake City area. Strength-intensive and employing tricky technique, Twisted encourages climbers to test their flexibility and "get twisted" in order to reach the top of this boulder.
Begin on the lower left side of the Copperhead Boulder and work your way up the slopey midsection of the boulder through crimping and inching until you can get your feet high. Then, attain the iconic "twisted" position and lever yourself up and to the top, which is a tricky move concluding in a satisfying catch.
A great intermediate climb, topping out on Twisted will prepare you for Little Cottonwood Canyon's advanced boulders.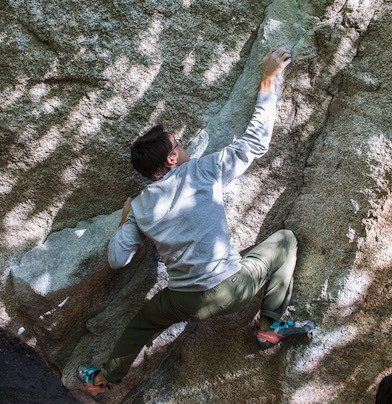 Another classic intermediate climb in Little Cottonwood Canyon is Surfboard, a 10-foot boulder in the Five Mile Boulders area of the canyon. This double arete is shaped just like a surfboard, making it a fun, Bear Hug-esque slab climb (more on that later).
Located on the southeast side of the boulders, use small hand and feet holds to make your way to the flat section at the top of the arete. The climb gets easier at the top and is a satisfying finish for any intermediate climber.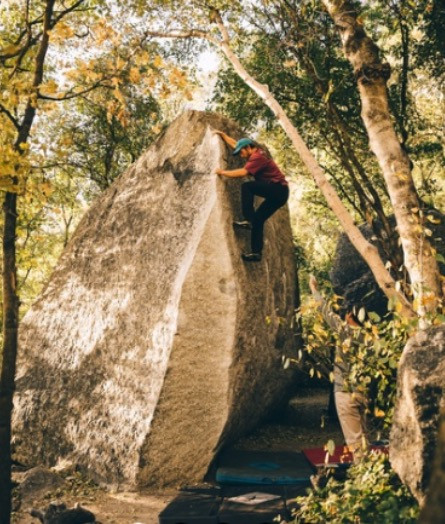 Bear Hug, a 14-foot climb on the north side of the Copperhead Boulder, is significantly more challenging than other routes mentioned here. A great introductory V8 for outdoor climbing, Bear Hug requires strength and technique with a dash of bravery thrown in.
Begin by placing your left hand on a sidepull and your right hand on a crimp from a low position on the boulder. Raise your right hand to a finger stack, and then throw a big move with your left hand up to a sloper. Then bear hug the rock and inch your way up to the top.
As with any bouldering, ensure that you have spotters and at least one crash pad for each one of these routes. Exercise caution and only go bouldering with people you trust.
What are your favorite boulders near Salt Lake City? Comment below.
×
Photos