PROVO — For all his money and his 20-plus years of life, Ty'Son Williams never imagined he'd play for BYU.
Truth be told, until recently, he couldn't identify that university named for former President of The Church of Jesus Christ of Latter-day Saints Brigham Young on a map. Look up Utah? Maybe, with the help from an atlas or the internet.
So, maybe it was a little surreal when he stood in front of a group of local reporters — most of them from Utah — answering questions as the newest running back to join BYU.
Life, it turns out, has a weird way of working out, he admitted shortly after breathing a long, drawn out "noooo" when asked about his knowledge of BYU growing up.
"I had heard of it," he said, "but I didn't know where it was.
"Things just happen in life, and I'm happy to be here."
The former South Carolina running back was one of two rushers introduced to the media Tuesday, joining former Rice standout Emmanuel Esukpa on a BYU media day that was otherwise light on news, big announcements and other things that typically get the media fired up.
But the 6-foot, 219-pound native of Sumter, South Carolina, may be reason to get excited. Williams played two seasons in the SEC after transferring from North Carolina, averaging 4.8 yards per carry for 799 yards and five touchdowns.
Williams and Esukpa join a running back room with a fair amount of talent, led by redshirt sophomore Lopini Katoa — but light on experience.
That's what the duo hope to bring to Provo. They aren't out to usurp Katoa, who led BYU in rushing a year ago with 423 yards and eight touchdowns on 76 carries, and will enter fall camp as the starting tailback. The competition at running back will be just that: a competition benefitting all parties.
On the contrary, Williams sees a little bit of himself in the American Fork product.
"He's very versatile and kind of reminds me of myself, in the way. He can do it all," Williams said.
Williams was first introduced to running backs coach AJ Steward via the NCAA's nascent transfer portal, but the two quickly connected and eventually bonded — at least enough for the former Gamecock to graduate and use his final year of collegiate eligibility at a school 2,074 miles away.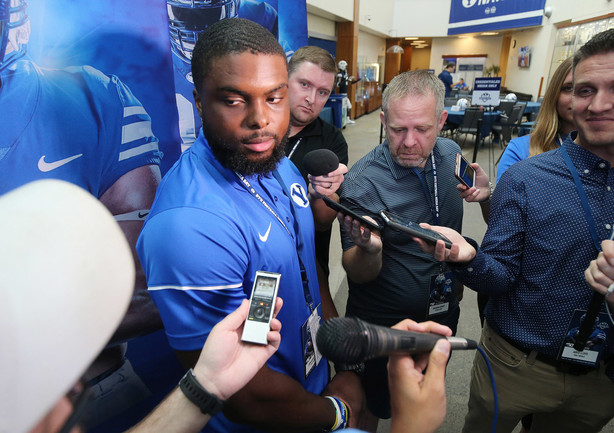 "It was a shot in the water, with him being all the way out in South Carolina," Steward said of Williams. "But it's our job at BYU to find the best players possible, and we didn't leave that stone unturned. It just worked out, and we were blessed to be able to get him to want to be part of (the team)."
The coach's connection to Esukpa, meanwhile, is a bit more straightforward. Steward coached the 5-foot-11, 232-pound tailback at the Houston-based university before moving to Provo two years ago. And when Esukpa determined it was time for him to find a new destination, the connection came naturally.
"I had a shot to play at multiple different places," he said. "I came here because there are a lot of good things happening in this program, and it's obviously on the rise. I want to be a part of it."
Academics were also a factor. Rice, a top 20-ranked school by the U.S. News and World Report, is far from a step down from BYU — which is well-known for his higher-than-average admissions standards. But Esukpa, who totaled 778 yards and six touchdowns in 29 games for the Owls, was determined both athletically and academically.
"Education really stands out to me," said Esukpa, a sport management graduate who was recently admitted into the master's of public administration program in BYU's Marriott School of Business. "I've always thought of myself for an education, and it's always been a big deal for me and my family. It was huge for my decision."
Steward remembers fondly his days coaching Esukpa at Rice. But the running back is a different player in Provo: Bigger. Faster. More mature. And he's a lot more serious about his football career, even taking extra measures like dieting and nutrition to balance with his offseason workouts.
"Physically, he's a lot more refined and mature," Steward said. "He's taken care of his body at a level that he's never done before."
BYU fans may get to know Williams and Esukpa for their play in the backfield. But for now, the duo has been paired off naturally — even planning a hike up Provo's Y Mountain once they are acclimated to Utah's extreme altitude.
"We've been hanging out a lot," Esukpa said of the South Carolinian. "He's a good guy, and it's nice just to be around him, to learn from him, and stuff like that. I'm excited for this year."
×
Photos
Related Stories