PROVO — Jeff Grimes was positively giddy as he walked off the practice field Friday following BYU's third day of fall camp.
With a bump in his step, he approached a few microphones, a television camera, and other media personnel, eager to talk about his team.
Why? Because his team is ready for the spotlight.
"I'm really pleased with the way that they've shown up to practice," Grimes said. "They've done the things that I think you are supposed to do before you show up, to earn the right to play and play well.
"I think they are excited about football. It's certainly showing up in the way we are playing. We're definitely way ahead in terms of our knowledge of the offense and our confidence level than at any time that I've been here."
Wait, a college football coach "excited" about his team in fall camp, when everyone is undefeated and each team looks more like Clemson than the College of Charleston? Stop if you've heard this before.
But Grimes, who is not usually one to overhype or piledrive praise when it isn't deserved, had a few things to say about this year's team in his second season as offensive coordinator. The routes are sharper, the execution crisper, and even the penalties — yes, there were a few in practice, though not as many as some might expect — were lighter.
Still, the Cougars have a long way to go before they'll be ready for the season opener Aug. 29 against in-state rival Utah, he admitted.
But Grimes feels confident in their readiness, their preparedness, their entrance-interview — if you will — after a summer of offseason workouts and player-run practices.
His players have reason to be confident, now knowing what to expect from a Jeff Grimes offense — jet sweeps, downhill rushing, physical play and more.
"It's huge for me, for the line, for the entire team," BYU quarterback Zach Wilson said of the offense's second year. "We've really started to find an identity.
"Every offense struggles in Year One. But they bring it together, and I'm excited for this year."
As one might expect from a coach who mentored offensive lines at eight stops from BYU to Virginia Tech to Auburn and LSU, Grimes' offense starts up front.
He's confident in those guys, too — the offensive linemen, from James Empey to Tristen Hoge to the guys battling for a spot on the two-deep roster.
"I think we're one of the deepest lines that I've had," Grimes said. "We still have a couple of spots that are up for grabs, in terms of competition. But I'm really pleased with the progress of the guys who didn't start last year. Competition is there; it will be a challenge in some spots just to see who makes the plane (the two-deep roster)."
Punters skirmish
You've probably heard of Danny Jones, the 6-foot-4, 245-pound former Aussie Rules Football pro who joined BYU as a punter last year and averaged 38.8 yards per punt in his first season of college football.
But even though he's the only punter on the roster, he's not the only athlete fielding punts in practice.
Jake Oldroyd and Skyler Southam, the two field goal kickers with their own dramatic game-winning tales in one season apiece of college football, were lofting punts at the end of Friday's practice session.
Southam, a former U.S. Army All-American at Wasatch High, was a part-time punter for the Wasps — as well as linebacker, free safety and just about anything else his coaches asked him to play. He still holds the Utah high school record for most field goals in a season, when he scored 20 in 2015.
Oldroyd, who played at Southlake Carroll High School in Texas before serving a two-year church mission in Chile, played in three games as a freshman in 2016 — when he introduced himself to BYU faithful with the game-winning 33-yard field goal in an 18-16 win over Arizona.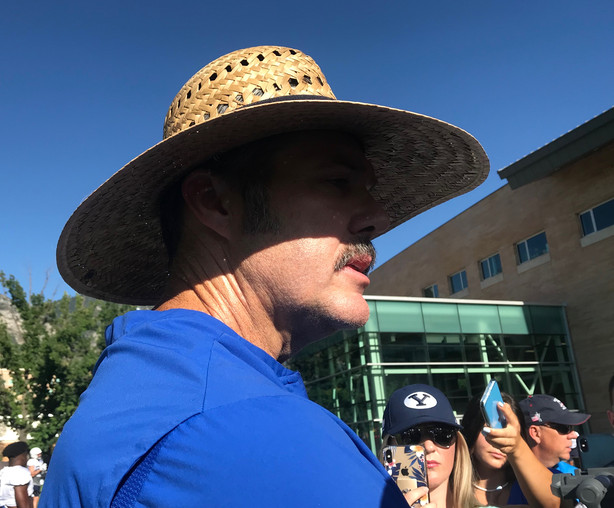 Nice 'burns, too
Grimes lit up the internet a year ago, when he and former offensive line coach Ryan Pugh held their own fall camp competition — one that included growing out honor code-approved mustaches until the other assistant coaches flinched.
The 'stache made a triumphant return this week — and it's not alone.
"With a little added feature," Grimes said, pointing to a pair of salt-and-pepper sideburns growing underneath his wide-brimmed sun hat Friday afternoon. "It's retro, back to 1972; my wife hates it even worse than the mustache, but I haven't seen her in about a week, so that's OK."
×
Related Stories