Editor's note: This is part of a series at KSL.com featuring some of Utah's coolest cars. If you own a customized vehicle — from sports cars to semitrucks — email jormond@deseretdigital.com with a photo of the vehicle and a brief description for consideration.SALT LAKE CITY — Todd Hansen and Ryan Maxfield have been involved with off-roading and Jeeps for years. After meeting through rock crawling, they decided to use their respective skills and start up their own custom off-road shop.
With Maxfield's building and fabrication skills and Hansen's skills in business, they started a company here in Salt Lake called Agility Customs. Their mission: create a place for both novice and expert off-roaders, alike, to have their perfect vehicle made into a reality. They work on anything from basic Jeep builds to serious Moab conquering machines with massive wheels and incredible suspension capabilities.
When they first started Agility Customs in 2017, they had the idea to build something fairly unique that would demonstrate what they could do and how far the envelope could be pushed. What started as a basic 2013 four-door Jeep Wrangler would soon transform into the worlds first rear-steer Jeep Wrangler.
Rear-steer vehicles are not uncommon in the off-road vehicle community. "Ryan regularly competes in off-roading events, and in the unlimited class they had recently brought back rear-steer," Hansen said. "We thought that implementing that into a street-legal platform would be a good way for us to stand out."
They completed the build in an incredible six-week time frame, transforming the Jeep into what you see today.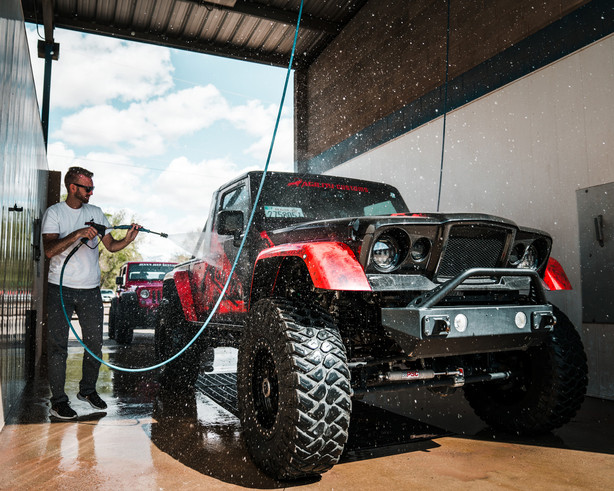 At the time, adding what was basically a front axle to the rear of the car required that they convert the four-door into a two-door with a truck bed, and cutting the frame rails by 8 inches on each side. The extra space allowed the rear wheels to rotate as if they were on the front of the car.
The Jeep features a M715 front end conversion, Action truck conversion, 1-ton axles, 40-inch tires with 20-inch Beadlock wheels and a custom wrap. The front features a TeraFlex axle, while the rear axle actually comes from a 2004 Ford Super Duty. The front bumper was made by TeraFlex and the rear was a custom job done in-house.
Maxxis tires help the rear-steer Jeep keep traction on trails like Hell's Revenge and Poison Spider in Moab.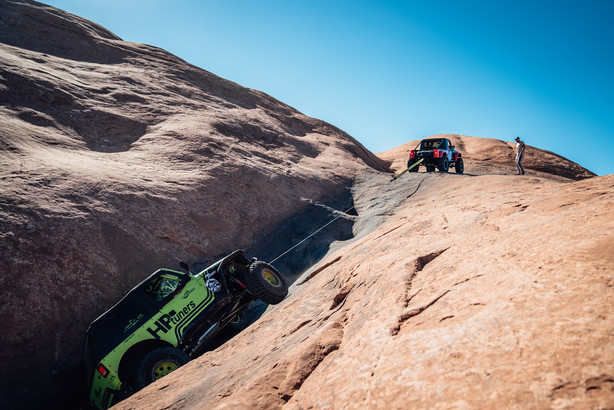 The custom Jeep grabbed the attention of media outlets, including "Top Gear," when a video surfaced of the rear-steer Jeep coming down a popular wall in southern Utah called "The Chute."
"It was crazy. One day we got call after call from people asking to use the video. The next thing you know it has millions of views all over the internet," Hansen said.
Aside from taking the Jeep down steep walls and over difficult terrain, one of Hansen's favorite things to do with it is to take it into downtown Salt Lake and parallel park.
"It's incredibly easy to park," he said. "It definitely turns heads and gets people talking."
Imagine instead of turning the wheel and maneuvering into position while parallel parking, this Jeep more or less "crawls" sideways into the space.
Hansen and Maxfield's friendship and love of all things Jeep have helped turn Agility Customs into one of the premier custom Jeep and off-road shops in the area. As for the rear-steer custom Wrangler, it will continue to be used for marketing purposes and for many more off-roading trips to Moab and southern Utah.
Cool Cars:
---
×
Photos
Related Stories