This archived news story is available only for your personal, non-commercial use. Information in the story may be outdated or superseded by additional information. Reading or replaying the story in its archived form does not constitute a republication of the story.
Editor's note: This is the first of a three-part series about the NCAA transfer portal and how it affects local college and university athletic departments. Part two will drop on KSL.com tomorrow.
CEDAR CITY — Todd Simon was caught a bit off guard by the request.
When Southern Utah's head basketball coach was asked to describe the newly-created NCAA transfer portal, he went to the first-person source. Open the laptop, type in the URL, and press 'enter.'
Now he just needed to remember his login.
Forget your password for the portal? It's not as easy as Microsoft tech support emailing you a new link. Each Division I program has one accredited login — one account for the head coach, his assistants, and any supporter staff personnel assigned to recruiting, video and so forth — to help scout the portal.
With 376 college basketball players in the portal, according to 247 Sports' database of reported moves, there are a lot of reasons to peruse the database.
After a few minutes of asking his assistants and a support staff member, Simon found the note with his login. Fingers flew across the keyboard with his username and password — and the secrets of NCAA transfers were unlocked.
Simon was able to sort by name, school and sport, but nothing else on a database that looks like the NCAA's eligibility center that every college coach and incoming freshman is supposed to be well acquainted. There are no recruiting rankings, no positions — not even the height, weight or phone number of the prospect; the only way to contact a prospective transfer is via a self-disclosed email address.
Now go recruit.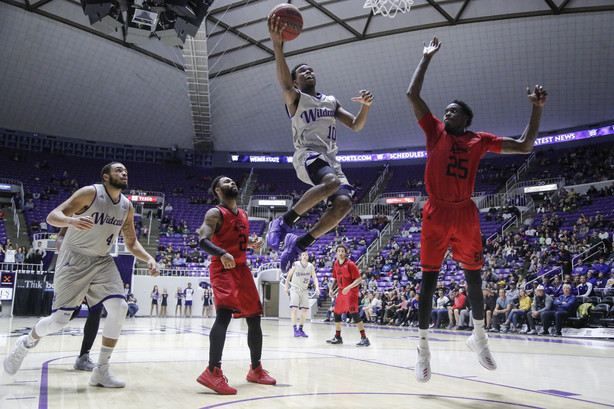 "It's really that simple," Simon joked. "You're on your own for finding out the rest.
"I thought it would be way more Austin Powers-like than what they make it. It's pretty basic; just a list of people."
But that "list of people" can be the most powerful tool in college sports, depending on the coach and institution. For SUU, that includes the occasional transfer like UNLV's Dwayne Morgan, who just received a sixth year of eligibility from the NCAA; Arizona State's Andre Adams; and Boise State's Cameron Oluyitan. But there are still plenty of high school recruits, which makes sense for a coach like Simon, who first built his career at Southern Nevada power Findlay Prep.
"Everyone's got a different model on how they want to build a program," said Simon, who has been SUU's head coach since 2016. "It doesn't take long to look at our roster and see the amount of guys who have transferred from other Division I programs. I like it, in terms of our vision. I like guys who have a little chip on their shoulder, who have been through some adversity, and I think this is a good place for guys who want to come together and share that experience — to try to do something. It's a model I certainly embrace."
Simon's five Division I transfers are hardly extraordinary. Just in the state of Utah, there are four Division I transfers on BYU's roster for the 2018-19 school year, as well as one each at Utah State and Weber State. Three of the Cougars' transfers followed new coach Mark Pope from Utah Valley — which has a roster that boasts seven Division I transfers.
Utah is the only Division I program without a D-I transfer on its current roster, but Larry Krystkowiak has lost Vante Hendrix, Christian Popoola, Charles Jones, Kevin Kremer, Donnie Tillman and Jayce Johnson via the portal.
Moreso, the Utes recently graduated Sedrick Barefield (SMU) and Justin Bibbins (Long Beach), so the embattled coach has utilized the recruiting tactic before, as well.
Division I transfers on in-state rosters
| Name | Pos | School | Departing institution |
| --- | --- | --- | --- |
| Jesse Wade | G | BYU | Gonzaga |
| Jake Toolson | G | BYU | Utah Valley |
| Wyatt Lowell | F | BYU | Utah Valley |
| Richard Harward | C | BYU | Utah Valley |
| Jakolby Long | G | Southern Utah | Iowa State |
| Daouda N'Diaye | C | Southern Utah | Illinois State |
| Cameron Oluyitan | G/F | Southern Utah | Boise State |
| Dwayne Morgan | F | Southern Utah | UNLV |
| Andre Adams | F | Southern Utah | Arizona State |
| Marco Anthony | G | Utah State | Virginia |
| Brandon Averette | G | Utah Valley | Oklahoma State |
| Connor MacDougall | F | Utah Valley | New Mexico |
| Ege Havsa | G | Utah Valley | Fordham |
| Casdon Jardine | G/F | Utah Valley | Boise State |
| Fardaws Aimaq | F | Utah Valley | Mercer |
| Brandon Morley | C | Utah Valley | Utah |
| Emmanuel Olojakpoke | F | Utah Valley | Akron |
| Trey Woodbury | G | Utah Valley | UNLV |
| Boubacar Diakite | F | Weber State | St. John's |
| Khameron Davis | G | Weber State | Pitt |
That's why Simon has embraced the NCAA's newest mechanism. While rudimentary in its build, the portal takes the place of something that has "always" been around — the college hoops transfer market.
"It centralizes a place coaches can go and see what is going on, who is moving, who is available," Simon said. "That really helps student-athletes and is more organized for coaches."
In that regard, the transfer portal is nothing new to college basketball — or athletics, as a whole. It's always existed, on some level, too.
Before basketball staffers reached out to transfer prospects on social media, cellphones reinvented the re-recruiting process by providing individual contact for each player — with some programs accusing others of skirting NCAA rules to do so. Ditto to personal computers and in-home landlines before that.
So while the portal may be new, the transfers are not.
"In a lot of ways, it's the same thing in a different method," Utah State coach Craig Smith told KSL.com. "It's just a mechanism for student-athletes, when they know that the institution they are at isn't the right fit, for them to go to the compliance people and let them know that they want to enter the portal."
For Smith, the prospect of the portal is "cleaner" than previous incarnations. But he also insists he's never blocked a prospect from leaving his program, either at Utah State or his previous stop at South Dakota.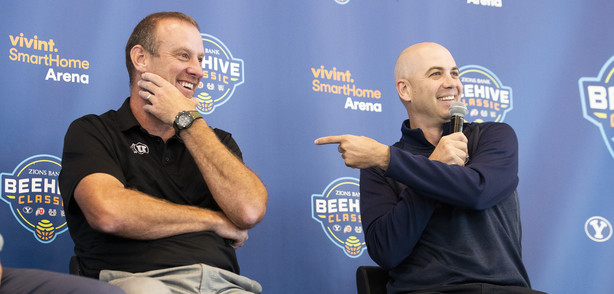 His predecessor Tim Duryea blocked one Aggie transfer, in a high-profile case of former Murray High star David Collette leaving the program. The oft-transferring Collette eventually ended his college career at Utah, but not after having to sit for one season and being unable to accept an athletic scholarship because of the block.
Collette recently revealed on an episode of the Aggie Legends podcast that he had conversations about transferring as early as his freshman season. After Duryea replaced Utah State legendary coach Stew Morrill, though, the center opted to leave Logan — something he never thought he'd do, previously.
"The way I transferred technically was not legal," he admitted on the podcast. "The rule is that I can't have contact with any school. They (Utah State) block me, right? I can't contact any school to talk about going there; neither can I have a family member, a friend, anybody — I can't have anybody communicate with the school for me. What happened is I had people communicate for me. So we were kind of following rules in that I never talked to Utah personally, but I had contact with them."
Smith said that just over half of all men's basketball players in Division I have transferred or considered a transfer since the portal's inception. That's a 3% jump from the previous year, he added.
"The portal is called the portal, but kids are still transferring like crazy just like before the portal came in," he said. "People always want to blame the student-athlete. But I think the coaches are just as much at fault. When you recruit a young man, are you recruiting the right type of person for your program? Are you recruiting on dreams that are probably not going to be fulfilled? Are they people that can thrive in your system and in your respective community, and on your depth chart?"
For schools like Utah Valley University in Orem, that list takes the form of almost an entire roster. Every player on first-year coach Mark Madsen's roster started his career at another school — either a Division I, Division II or junior college — but all have come together looking for another shot with the Wolverines. The list ranges from junior college transfers to Utah's Brandon Morley, a Bingham High product and graduate transfer.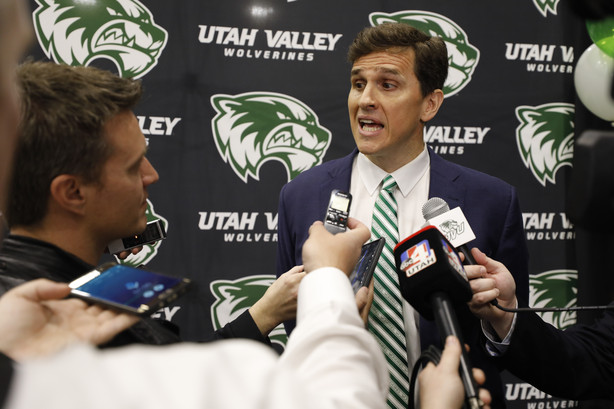 For a school like UVU and its admission standards, transfers — and the transfer portal — can be a boon. It helps schools fill out a roster with talent they might not have received the first time around.
Madsen admits that most transfers come back to a search for playing time, or an enlarged role in a particular offense. But there are academic benefits of moving around, especially for a school like Utah Valley, where most of the students stick to the "commuter college" label.
"It could also help schools where there is a really high bar to admission — schools like Notre Dame or Vanderbilt, for example — where there is such a high bar for admissions, and once players are in, they can just leave," Madsen said. "If more players leave, then that academic institution has to go through a tough admissions process with more new guys."
Of course, Madsen's views are pro-player, by his own admission. As an NBA veteran, he endorses a concept that more closely mirrors free agency — whereas many of his collegiate colleagues denounce the ideal that keeps student-athletes tied to one school year after year.
The biggest disadvantage, then? Figuring out how to navigate the website.
"I log in to the transfer portal, and it's like trying to understand Arabic," Madsen joked. "OK, maybe not that bad; but it's not intuitive. It's a great tool, though.
"It gives players freedom of movement. It's not a perfect analogy to free agency in the NBA — but it's close."
×
Related Stories