LAYTON — The Church of Jesus Christ of Latter-day Saints officially announced the location of the Layton Utah Temple Monday morning.
The temple will be built on an 11.8-acre lot at the corner of Oak Hills Drive and Rosewood Lane, about 25 miles north of Salt Lake, a news release from the church reads. The temple will be three stories tall and about 87,000 square feet.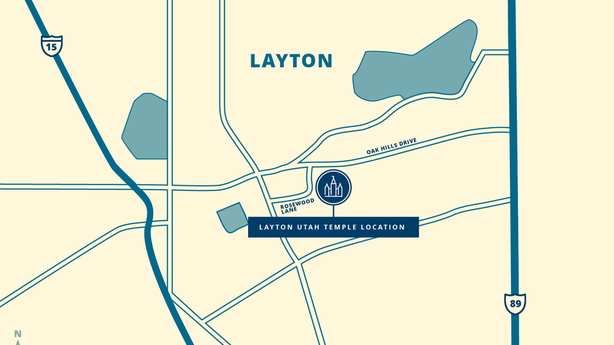 The church has not yet released any information about design details, and a groundbreaking date has not yet been set.
"Project leaders have begun working with city officials on preliminary plans for the temple, and they will begin filing public documents in the coming months," the release reads.
Layton Councilwoman Joy Petro told KSL in April 2018 that the second temple in Davis County will have a "tremendous" effect on Layton and that it "fills the gap" between the church's Bountiful and Ogden temples, creating easier access for church members in her city to perform temple work.
The church's President Russell M. Nelson first announced plans for the construction of a temple in Layton during the organization's general conference in April 2018.
While the location of the temple was then still unofficial, the Corporation of the Presiding Bishop of the church had acquired the deed for two parcels of land in Layton totaling just under 13 acres a few days prior, KSL reported in April 2018. The location of those parcels was the same as the location announced Monday by the church.
The property includes a 1-acre lot with a home east of Rosewood Lane and a nearly 12-acre pasture located south of Oak Hills Drive. The home was owned by the Elaine P. Morgan Living Trust, and the pasture was owned by the Larry W. Haugen Marital Trust, KSL reported.
In April of this year, a sign mysteriously popped up at the corner of Hillfield Road and 2200 West, claiming the land was the future site of the Layton Temple. It was later determined to be an early April Fools' Day prank.
Utah currently has 17 operating temples, which members believe to be sacred places of worship. Temples in Saratoga Springs, Tooele Valley and Washington County have also been announced.
×
Related Links
Related Stories