Estimated read time: 4-5 minutes
This archived news story is available only for your personal, non-commercial use. Information in the story may be outdated or superseded by additional information. Reading or replaying the story in its archived form does not constitute a republication of the story.
LAYTON — Layton Mayor Bob Stevenson was sitting on the second row of the Conference Center in downtown Salt Lake City Sunday with a secret.
"I was biting my tongue and avoiding as many people (as possible)," he said Monday. "It was very tempting to want to scream enthusiasm about this happening."
That was when President Russell M. Nelson of The Church of Jesus Christ of Latter-day Saints announced that Layton would be the site of a new temple, one of seven announced on the final day of the faith's worldwide general conference.
Two days before, the church acquired nearly 13 acres of land on the southeast side of Layton, KSL learned Monday. And while neighbors and other community members are abuzz that the property could be the site for the future temple, church officials, property owners and Layton officials declined to comment about the location.
Layton Councilwoman Joy Petro said many people have asked her to confirm the site for the new temple.
"I got to tell you, my phone's been blowing up. Everybody wants to know where," she said.
Regardless of where it's located, Petro said the second temple in Davis County will have a "tremendous" effect on Layton, adding that it "fills the gap" between the church's Bountiful and Ogden temples and creates easier access for church members in her city to perform temple work.
---
I think that maybe we could even hear a roar coming from not only the Conference Center, but coming from Layton, Utah.
–Mayor Bob Stevenson, Layton, Utah
---
Stevenson called the announcement of a Layton temple "stunning," adding that it is "by far the most exciting announcement we've had in our community.
"I think that maybe we could even hear a roar coming from not only the Conference Center, but coming from Layton, Utah," he said.
Confirming the location of temples is left to church officials, a position church spokesman Eric Hawkins noted Monday.
"We don't have any comment," Hawkins said. "Those kinds of announcements or confirmations have to come from the First Presidency, so we wouldn't provide any confirmation on that at all."
On Friday, the Corporation of the Presiding Bishop of the LDS Church acquired the deed for two parcels of land in Layton totaling just under 13 acres, according to documents from the Davis County Recorder's Office.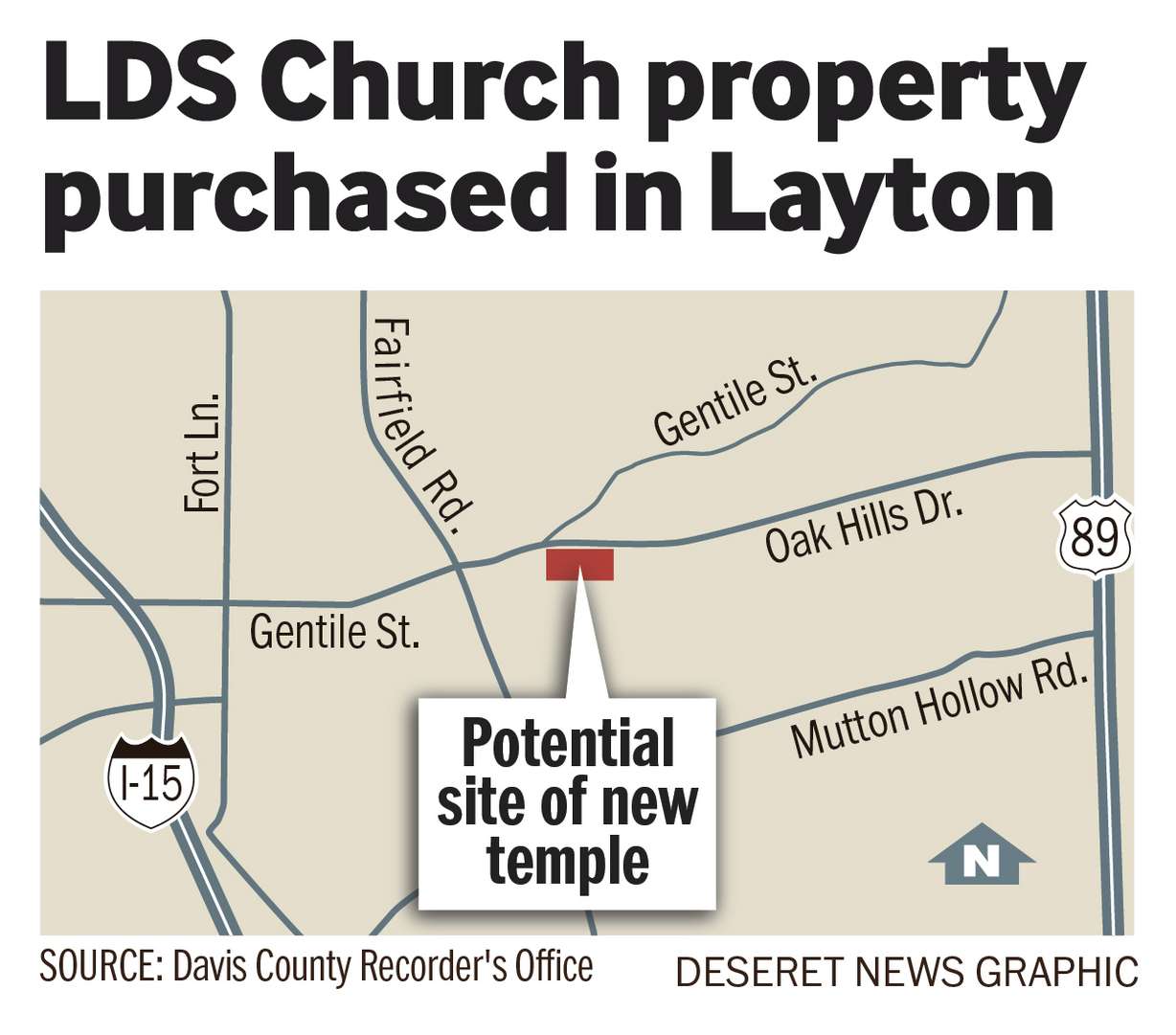 The property includes a 1-acre lot with a home east of Rosewood Lane and a nearly 12-acre pasture located south of Oak Hills Drive. The home was owned by the Elaine P. Morgan Living Trust, and the pasture was owned by the Larry W. Haugen Marital Trust. Trustees of the trusts, Elaine and Mark Morgan and Larry and Zachary Haugen, signed the land transfers on Friday, according to the deed documents.
Todd Morgan, Elaine and Mark Morgan's son who manages the trust, declined to comment Monday. "We just can't tell you anything," he said. "I wish we could, but we can't. Sorry."
Brent Roberts, managing director of the special projects department for the church, declined to specify the site for the Layton temple, noting that it will be announced "in due time" once the design of the building is prepared and the groundbreaking is announced.
Alisa Grover Simpson, who has lived in Layton for 10 years, said she "never really thought" Layton would have a temple.
"I love temple announcements," she said. "They always make me cry thinking about all the people who will get to go to the temple."
Matthew Godfrey, a member of a bishopric in his Layton ward, said he was watching general conference with his family when he heard the news.
"I screamed, 'Yes!' at the TV and then just felt a really strong feeling of gratitude and excitement," he said.
Godfrey said "it's not a hardship" for his family to visit the temples in Bountiful or Ogden so "I feel almost guilty that we'll be getting a temple in Layton." But he said that it will "hasten our own work in family history and provide us with even more opportunities to see the blessings from this work."
He added, "And I think just having a temple close by that we can drive by every day will be a great reminder of the blessings that come from temple service."
Alice Knighton Miller of Syracuse, posted her excitement about the temple announcement on Facebook. She said her great-great-grandfather, Charles Layton, was one of the founders of Layton and believes he is "rejoicing in heaven."
"I think they (ancestors) are excited. We've heard stories of them putting the first spade in the dirt in this area after coming over from England. They were honored by the name Layton being used. Now the name Layton will be on a temple," she said.
"I am sure they are thrilled. I know I was."
Contributing: Trent Toone, Deseret News
×
Photos
Most recent Utah stories