Estimated read time: 3-4 minutes
This archived news story is available only for your personal, non-commercial use. Information in the story may be outdated or superseded by additional information. Reading or replaying the story in its archived form does not constitute a republication of the story.
PROVO CANYON — Exceptionally high runoff in Utah's rivers and streams this spring prompted warnings to stay away to be safe. But as warm weather arrives and the rivers recede, businesses that make their money on rivers are urging people to come back and have fun.
"People spend a lot of money to come here and this is our backyard," said Steve Myers, who owns and operates High Country Adventure in Vivian Park on the Provo River. He's talking with KSL as he rows the oars on his raft, floating down the Provo River on a sun-baked day in Utah County.
When Myers takes people rafting on the Provo River, he guides visitors from around the world as well as right next-door.
"You'd be surprised how many people from Utah are like … We've never been on the river before," Meyers said. His father started High Country Adventure 30 years ago.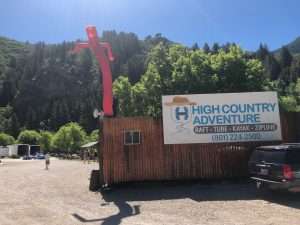 This year, the river is fast, but business has been slow. Right now, the Provo River is well below flood stage, but running fast and cold. Peak flows have subsided in recent days, and Myers said it is time for people to get out on our rivers and enjoy them as long as they play it safe.
"Right now, it's actually awesome," he said. "The alarms kind of got set off in May: danger, danger, high water … Stay away."
There was good reason for that. Rivers were raging and the banks were unsafe along many Utah rivers for weeks. In addition, six people died in swift water accidents two years ago, when rivers were high, so the state was on alert this spring.
But there are stretches on the Provo and elsewhere in the state, where the water is high and fast, but safe for floating.
"It was fun coasting," said Cathy Reese, who on this day was floating the river with her extended family, without a guide. "There were a few little whitecaps. But it was really fun."
About the current, she said, "Totally safe. We have little kids, and we had fun."
"It kind of went back and forth between being calm and fast," said Josie Haddock, one of the kids in the group. "It was fun."
They like to get out rafting on the river a couple of times a year and they really enjoyed the conditions today.
"We've never had it when the water has been this high before," said Jennifer Jenkinson. "It was awesome and it was fast. We probably got down in an hour. Usually, it takes two."
Myers said business is down about 40% this year because of those river warnings and cold, cool weather. He's had a lot of calls from people wondering whether he's open and he's been open the last two months.
"People are saying stay away," he said. "But it's not really stay away so much as be prepared when you come to the river."
His company outfits everyone in a life jacket and covers all safety precautions before they ever leave the shore.
"Just make sure you are safe, and you know where you're going," Meyers said. He recommends calling your local outfitters if you don't have experience.
You can contact High Country Adventure or any of a number of other outfitters across Utah to plan your river adventure this summer.
×
Most recent Outdoors & Rec stories