ST. GEORGE — St. George is a highlight of Southern Utah. The biggest city south of Provo, it offers a wealth of incredible outdoor recreation opportunities which provide a unique way to experience the red rock and western desert.
It would be easy to spend a week in St. George — or longer — and not experience everything the area has to offer. Oftentimes, however, people find themselves visiting for only a day or two before heading onward to their next destination.
Sara Otto, spokesman for Greater Zion Convention and Tourism Office, offered her suggestions for the best way to experience St. George with only one day:
7-10 a.m.
"Rent a boat for fishing, tubing and beach play at Sand Hollow State Park," Otto suggested as a good first stop.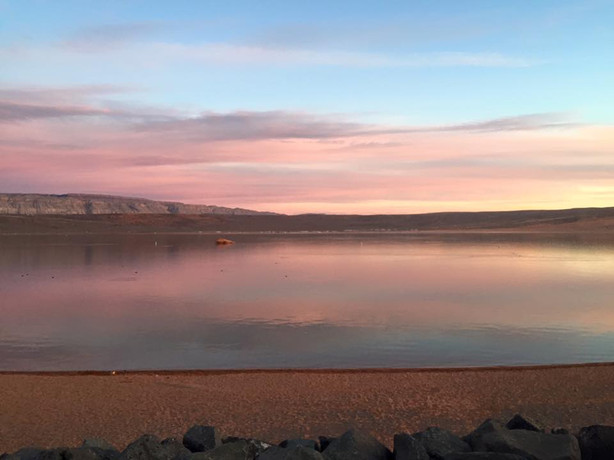 Boaters can enjoy breakfast on the lake and bask in the sharp contrast of baby blue water against bright red rock at this reservoir. The warm water makes it ideal for just about all water sports, according to Utah.com, so paddle boarders and swimmers can find plenty to do here. Fishermen can also find themselves entertained as they cast their lines in search of bass, bluegill, crappie, and catfish, all of which can be found in the lake.
10 a.m. - 12 p.m.
Stop 2: Otto suggests taking a hike on the Red Reef Trail in the Red Cliffs National Conservation Area.
This short hike, between 1 and 2 miles round trip, provides fantastic views all year round of plants and rock formations. Completed in around an hour, Red Reef Trail takes hikers up to a series of pools which, during spring, run coolly with clear water.
12:30-5 p.m.
After the hike, Otto suggests you get on the road and take a scenic drive around the Veyo Loop. Start by visiting Gunlock Reservoir, where you can dip your toes in the water and hike around the area. Swing through Veyo for lunch, and then cruise through Snow Canyon State Park for some short hikes right off the main road (Pioneer Names, Sand Dunes and Jenny's Canyon).
5 p.m.
Get a quick dinner on the drive back.
6 p.m. - 8 p.m.
"Mountain bike the Tempi'po'op," Otto suggested.
The Tempi'po'op trail runs for about 3.5 miles, according to Hike St. George. The path winds up to the remains of an old Anasazi farmstead and some very well-preserved petroglyphs.
8:45 p.m. - 10:45 p.m.
Visit the Tuacahn Amphitheater and see an amazing live show after your bike ride, Otto said. They do a series of plays, with anything from Disney's "The Little Mermaid" to "A Gentleman's Guide to Love and Murder."
6:30 a.m. - 9 a.m. the next day
After a good night's sleep, enjoy golfing at one of the areas many courses: Dixie Red Hills, Sand Hollow, Green Spring and Sky Mountain, and appreciate the sunrise and cooler temperatures as you play, Otto said. (If you have an extra day, golf the Red Rock Golf Trail that features 10 courses in the area.)
After golfing, grab some breakfast and head on to your next destination.
"We truly think you need more than 24 hours to unearth all there is to see and do," Otto said. "It's worth 48 hours or even an extended weekend. Even then, you'll want to be back again and again."
×
Related Stories