SALT LAKE CITY — A man who was found dead in a Cache County irrigation pipe a week ago has been identified.
Russell Larsen, 51, of Benson, was pronounced dead June 17 after his wife found him stuck face down in the pipe, which was about 2 feet in diameter with about 4 feet of water at the bottom, according to Cache County Sheriff Chad Jensen.
Larsen had left his house earlier that morning, but when he did not return his wife's calls or texts later in the day, she went looking for him, according to a Facebook post from his wife, Angie Hintze Larsen.
She remembered her husband had told her he was fixing a pump the night before, so she went to go look for him nearby.
"As soon as I got close enough (to the pipe), I could see his boots. He had fallen head first into the pipe which had about 4 feet of water in it at the bottom. He wasn't moving. I tried with all of my might to pull him out but I couldn't do it. I just kept screaming his name — I was screaming for help — no one was around," her Facebook post reads.
She was unable to pull him out and called a neighbor and 911 for help.
"I kept pulling with every ounce of strength I could, but still couldn't get him free. He wasn't moving. I knew in my heart he was gone," she wrote.
Her neighbor and a deputy arrived at the same time, and the three were able to pull Larsen out of the pipe. He was pronounced dead at the scene, according to Jensen.
Authorities don't yet know how long Larsen was in the pipe or how exactly he got there. The investigation is still ongoing.
Since his death, however, Angie Larsen said there's been an outpouring of love and support from the community.
Larsen's fellow linemen, other city employees, and his sons, brothers and close friends built the "real-life cowboy" a custom-made casket, complete with the family's cattle and horse brands etched on the outside and a picture of the family on the inside.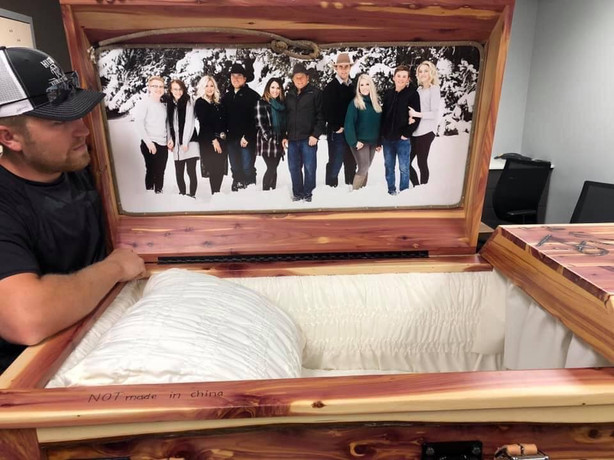 "How do I even begin to share the outpouring of love? Or adequately convey the compassion, kindness and selfless acts that have been shown to my family to honor my sweet husband this last week?" Angie Larsen wrote in a separate post. "I'm not sure anyone who didn't know Russ could even fathom how incredibly touching, and special, and unique it has been."
Editor's Note: Authorities initially told KSL.com that a neighbor found Larsen. This article was written to reflect that Larsen's wife was the one who found him.
×
Photos
Related Stories