Estimated read time: 3-4 minutes
This archived news story is available only for your personal, non-commercial use. Information in the story may be outdated or superseded by additional information. Reading or replaying the story in its archived form does not constitute a republication of the story.
SALT LAKE CITY — Several weeks after the NBA finals dry up, basketball will be back — in the form of the $2 million, winner-take-all The Basketball Tournament, which has captivated the nation for the past six seasons.
This time, TBT starts in Salt Lake City, and it's hosted by Jimmer Fredette.
The Salt Lake regional will be the tournament's western-most site, with games July 25-27 at the Maverik Center in West Valley City. Featured among the regional's eight seeds will be last year's tournament runner-up, and three squads comprised of players who played collegiately in the Beehive State.
The first game will feature the region's top seed, defending TBT runner-up Eberlein Drive, against eighth-seeded Team Utah, at 3 p.m. MDT July 25. No. 4-seed Sons of Westwood, the UCLA alumni team, will follow to face fifth-seeded L.A. Cheaters, followed by Team Challenge ALS against the Utah State alumni squad Utah Stallions, and Team Fredette in the nightcap against CitiTeam Blazers at approximately 8:30 p.m. MDT.
Team Fredette will be coached by former BYU coach Dave Rose, the program's all-time leader in win percentage who retired at the end of the 2018-19 season, with Jimmer Fredette as an assistant coach (Fredette is still under contract with the Suns, so he's ineligible to play in TBT this year). The squad will also include BYU's all-time leading scorer Tyler Haws, the one-time Deseret News Mr. Basketball at Lone Peak who played professionally in Spain, Poland, Canada and most recently with CB Pena Huesca in the Spanish second division.
Other Team Fredette talents include TBT veteran Jordon Crawford, who played collegiately at Bowling Green; Houston stars Rob Gray and Devonta Pollar; and Tu Holloway, the 2011 Atlantic-10 player of the year who has won championships in Israel and Puerto Rico.
CitiTeam Blazers is a group that competes in the Drew League pro-am circuit and features former Texas star Jordan Hamilton, San Diego State standout Malcolm Thomas and UConn's Jerome Dyson.
Team Utah, the all-Utah college-based team founded by former Ute Shaun Green, will open the Salt Lake regional July 25 at 3 p.m. MDT against Eberlein Drive. The Ute-focused squad that also includes Tim Drisdom, Justin Hawkins, Dakari Tucker and recent acquisition Ronnie Price (a Utah Valley alum and 12-year NBA veteran) will face the same team that eliminated Team Fredette in the Final Four a year ago behind former Jazzman Jeremy Evans.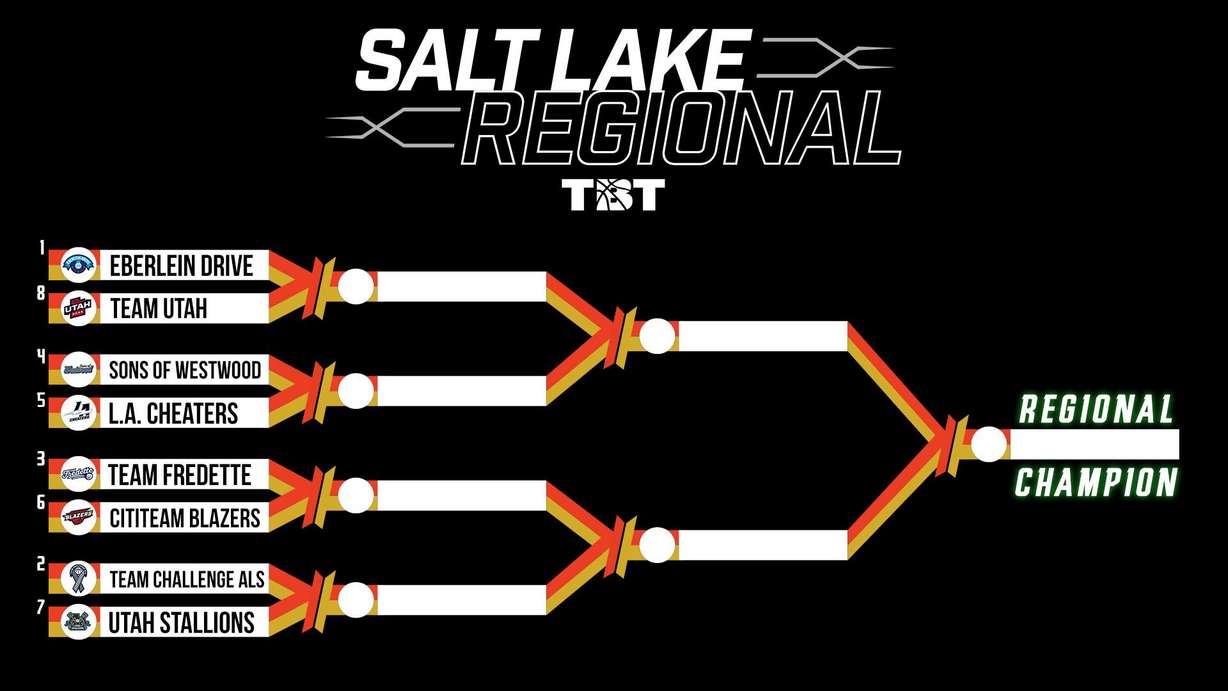 The Utah Stallions are making their second appearance in The Tournament, and first since 2016 when former Aggie big man Sean Harris put together a team after overcoming two serious knee injuries before finishing his two seasons at Utah State. The group will also include Spencer Butterfield, who played professionally primarily in Italy, and Preston Medlin, a member of the Aggies' 1,000-point club.
The regional winner will advance to the quarterfinals at Chicago's Wintrust Arena, beginning Thursday, Aug. 1. Each of the eight regional champions will earn a prize equal to 25% of the region's ticket sales, and the championship series is scheduled for Tuesday, Aug. 6.
Tickets are available at thetournament.com.
TBT Salt Lake schedule (Maverik Center)
| Date | Game | Time |
| --- | --- | --- |
| July 25 | (1) Eberlein Drive vs. (8) Team Utah | 3 p.m. MDT |
| July 25 | (4) Sons of Westwood vs. (5) L.A. Cheaters | 4:50 p.m. MDT |
| July 25 | (2) Challenge ALS vs. (7) Utah Stallions | 6:40 p.m. MDT |
| July 25 | (3) Team Fredette vs. (6) CitiTeam Blazers | 8:30 p.m. MDT |
| July 26 | Game 1 winner vs. Game 2 winner | 7 p.m. MDT |
| July 26 | Game 3 winner vs. Game 4 winner | 9 p.m. MDT |
| July 27 | Game 5 winner vs. Game 6 winner | 7 p.m. MDT |
×
Related stories
Most recent Sports stories