This archived news story is available only for your personal, non-commercial use. Information in the story may be outdated or superseded by additional information. Reading or replaying the story in its archived form does not constitute a republication of the story.
LOGAN — College is considered by many to be the best time of life, when lifelong friendships are made and before professional obligations take hold in a young adult's pathway to grown-up responsibilities.
The same is true of former college basketball players, who meet dozens of other players and teammates — and then don't get the chance to play with all of them.
Former Utah State center Sean Harris wanted to get his own band back together — and now he's doing just that.
Harris was the chief organizer of the Utah State Stallions, a team of mostly Aggie alumni that will begin play this summer in The Basketball Tournament, a 3-year-old national tournament of former college hoops standouts that begins July 9-10 with regional rounds in Los Angeles and Charlotte.
"There are a lot of good athletes and good players, and we know that we don't have the best player in the tournament," Harris said just three days after returning to Logan from his first season with Halcones de Cucuta in Colombia. "But all we need is the best team at the time and play hard, and we think we have a good chance to go far."
The Stallions open the tournament July 9 in a West regional first-round game at 5 p.m. MT. The game will be streamed live on thetournament.com.
The West regional will be played at Cal State Los Angeles July 9-10, with accompanying regionals in Charlotte (South), Philadelphia (Northeast) and Chicago (Midwest). Philadelphia University will host the Super 16 on July 21-23, and the semifinals will move to Fordham University in New York City July 30 with the finals Aug. 2.
ICYMI: Full #TBT2016 Bracket https://t.co/utzR6pEJkEpic.twitter.com/ZreeXxHJ0S

— TBT (@thetournament) July 2, 2016
Among the biggest names nationally are former NBA stars Mike Bibby and Jason Williams, who will team up in the backcourt of Pedro's Posse. Overseas Elite, a collection of European standouts, is the defending champion and received an automatic bid to retain their title, which featured a grand prize of $1 million last year. That prized has been elevated to $2 million this season.
For most of the players, the money is not the biggest draw. Every game is streamed online, with each game after regional play broadcast on the ESPN family of networks and the final on ESPN.
"That exposure is a really big thing for them," The Tournament CEO and founder Jon Mugar said. "These guys build up a fan base at 22 years old before the prime athletic years of their lives, and then some of them have to play overseas where it is hard for their friends and family to watch them. This is a way to play in front of people they surround themselves with."
Many teams draw on multi-generational attitudes to compete, like Boeheim's Army of Syracuse alumni and Few Good Men from Gonzaga. Others are newer to the competition, like the Stallions, whose oldest player is former Utah State forward Danny Berger's older brother John, who played at Dixie State from 2009-11.
"I'm really excited about that," said Danny Berger, who last played with his big brother six years ago in junior college. "He's getting older, but he's still in shape. It's going to be fun to get out there with them."
Even without the best player in the tournament, the Stallions can count on one thing that some teams may be lacking: chemistry. Harris purposefully organized the same core of players that won the Utah Summer Games in Cedar City last summer, and most of the players are Utah State alums who played under legendary coach Stew Morrill. Recently graduated wing Grayson Moore, whose brother Jalen will be a senior at Utah State this fall, is among the youngest players in The Tournament.
"It's the summer time, and we get to play basketball at a high level with some of our best friends," Harris said. "In college, we all became good friends and now I get to reunite with some of my best friends. We get to play at a high level again."
Getting into The Tournament was the biggest hurdle. After Harris had cleared the business-like entry hurdles, fans voted for their favorite teams to make the field of 64 through social media and online voting on the team's The Tournament profile pages. The Stallions earned nearly 1,000 votes, granting them a berth in the West regional in Los Angeles with squads from Gonzaga, New Mexico and Team Utah, led by former Utes like Shaun Green, Lawrence Borha and recent graduate Dakari Tucker.
Team Utah is coached by former Olympus High and Westminster College guard Adam Egan.
"We were extremely pleased to see Team Utah show interest last year, and even better to see how well Shaun Green could shoot the ball," Mugar said. "He sort of came out of nowhere for me, and it was great to see them field a good team.
"We ideally want teams from everywhere, of all different types: people who play together on the street, people who went to college together, and having teams even from Utah is very important."
Teams that earn at least 2,000 fan votes will receive a 12th player that they can add to the roster in the Super 16. The masked new player will be unidentified until the team activates him, meaning it could come from any alumni base, former pro or even an NBA player who happens to have a connection to the squad.
"It's an incentive for teams to get 2,000 votes," Mugar said. "We conceal the identity of that person until game time. Some people have claimed to have Jimmer Fredette as a ringer, and others are trying to get Allen Iverson. It's a great way to imagine what they can do if they get four wins away from $2 million and want to add somebody to their roster."
The Stallions are younger, with less Tournament experience than other teams, including Team Utah. But most of the team has also played professionally, and almost all of the team has played together. Berger currently plays in Germany where he averaged 17.0 points and 6.1 rebounds per game while leading Ehingen Urspring to a league championship.
Just playing basketball at this stage in life is a blessing for Berger, though. The Medford, Oregon, native suffered cardiac arrest when he collapsed on the court during practice in December 2012.
Berger made a full recovery, but his life was saved by the heroic actions of Utah State athletic trainer Mike Williams and a nearby automated external defibrillator (AED).
The 6-foot-6 wing still plays with a pacemaker — but that he's playing at all is perhaps the greatest miracle.
"I'm thankful every day that I'm alive, first of all, because it was such a close call," Berger said. "To be playing basketball is one of the biggest blessings I have, to be able to be active and have a body that can still play."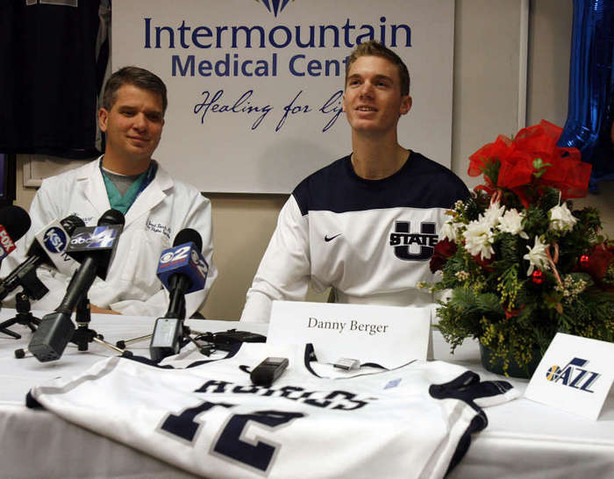 Other teammates of Harris and Berger include former Aggie point guard Preston Medline, who plays for Kavala in Greece; big man Jordan Stone, who played last season at Fundacion CB Granada in Spain; and ex-Utah State power forward Nate Bendall, who works professionally as a mortgage broker in Salt Lake City but who played with Team Utah and a group primarily composed of former Runnin' Utes in last year's The Basketball Tournament.
"We're all really excited," Berger said. "We' really thankful for the fans who voted. There are some really good squads, but it's basketball, and you never know (what will happen)."
Former Aggie great Spencer Butterfield was initially slated to play with the Stallions, as well. But Butterfield, who currently plays for BC Juventus in Italy, will be with the Utah Jazz's summer league team in Salt Lake City during the tournament's opening weekend.
This year's tournament consists of a field of 64 teams, much like the NCAA Tournament, in a square bracket with no byes. The field was chosen based on voting from 135 teams that originally met the eligibility requirements to compete, giving fans, players and "boosters" an incentive to push their team's entry on social media and other platforms.
"Our model last year with 97 was imperfect; we had to give byes to about 33 percent of the field," tournament founder Mugar said. "When you make the competition harder and the spots scarce, you get more teams approaching it more seriously and building their rosters even stronger than before."
The games are played with mostly traditional 5-on-5 rules, but with 18-minute halves, six fouls per player and four timeouts per game. The ball is automatically advanced to halfcourt during a timeout in the final minute, consistent with the international rules of basketball.
Television has been important, as well, for The Tournament, which started as a non-televised pilot field of 32 for which Mugar and his team put up $500,000 of their own money to host in Philadelphia in 2014. The Notre Dame Fighting Alumni won that event, and ESPN quickly took notice of the games as a valued television entity with former college standouts and many European players in a summertime tournament.
By 2015, the Worldwide Leader was on board to carry the event, and they returned for 2016. Each regional will be streamed on TheTournament.com, and every game beginning with the Super 16 on July 14 will be televised on ESPN3 or ESPN2. ESPN will carry the semifinals July 30 and the tournament final Aug. 2.
The Basketball Tournament
Full Details
Who: 64 teams from across the nation, including Team Utah and the Utah State Stallions
When: July 9 — Aug. 7 at four regional sites (Los Angeles, Chicago, Charlotte, Philadelphia)
Where: TheTournament.com, ESPN3, Semifinals and Finals on ESPN.
That gives teams and players — many of whom are former college stars or European players trying to find their way onto a roster — an added bonus in the tournament. Past players have used the exposure offered by The Tournament to hire agents, sign with teams overseas and reinvigorate their careers.
Even if that doesn't work out for any of the Stallions, Berger is just excited for a chance to play with some of his best friends.
"I'm just most excited to be playing ball with my friends again," he said. "We're just all getting together and competing at a high level here in the states, and seeing what we got."
×