Estimated read time: 2-3 minutes
This archived news story is available only for your personal, non-commercial use. Information in the story may be outdated or superseded by additional information. Reading or replaying the story in its archived form does not constitute a republication of the story.
One of the most powerful Republican voices in recent memory is now calling for bipartisanship in Washington.
Former House Speaker Newt Gingrich appeared in Salt Lake City today to talk about health care reform. But, of course, lots of people also wanted to know what he thought specifically about the political campaign that's going on right now.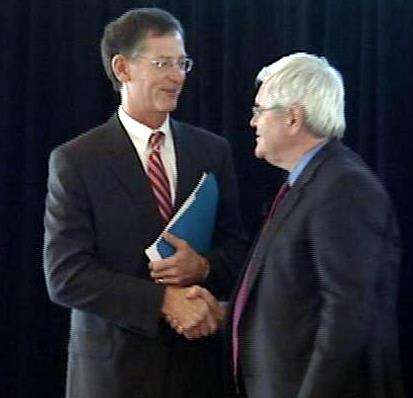 Gingrich came to Utah after an agreement with Intermountain Healthcare. Most of his talk had to do with transforming the current health care system.
In addition to talking about healthier kids, Medicare reform and cutting costs, Gingrich talked about missed opportunity.
Over the last eight years, the Bush administration, he says, missed out on ways to improve the system, in spite of efforts from former Utah Gov. Mike Leavitt.
"Both Secretary Thomson and Secretary Leavitt were hamstrung by the White House in ways that make no sense to me. It's just tragic. And I think if Secretary Leavitt had been given leeway to really aggressively do the things he believed in, we would be dramatically further down the road today," Gingrich said.
Gingrich says sharing information through electronic health records should have moved forward. Also, a healthy living-based health reform package died on the vine.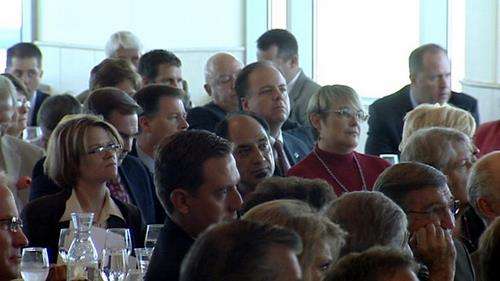 In the bigger picture, Gingrich says America is at the end of an era. He says we're now competing with China and India for jobs and facing an economy in shambles.
Partisanship won't work, no matter who is elected next Tuesday, Gingrich says.
"Whoever wins next week, we as a country should find a way to work together, because we have some substantial challenges to giving our children and grandchildren a successful country, and we are currently not in a position to meet those challenges," he said.
Gingrich predicts more inflation next year, coming as a result of all the government spending this year. He says there are tough times ahead for the U.S., and there are multiple reasons for it.
E-mail: rpiatt@ksl.com
×
Most recent Utah stories