Estimated read time: 5-6 minutes
This archived news story is available only for your personal, non-commercial use. Information in the story may be outdated or superseded by additional information. Reading or replaying the story in its archived form does not constitute a republication of the story.
Editor's note: The contents of this article are for informational purposes only. The content is not intended to be a substitute for professional advice. The owner and operator of this site does not recommend or endorse any specific products, procedures, opinions, or other information that may be mentioned in the article. Reliance on any information provided by the site owner and operator is solely at your own risk. Always make sure you have the proper equipment, physical condition and experience level before trying any outdoor activity.- - - - - -
SALT LAKE CITY — Utah's Wasatch Front is peppered with a multitude of world-class rock climbing destinations, making it a paradise for both incoming and experienced sport climbers.
Jake Ward, who teaches rock climbing courses available for credit through the University of Utah's Parks, Rec and Tourism department, offered some advice to people looking to get into outdoor sport climbing.
Where to go
Ward recommended a few good locations to start out rock climbing outside along the Wasatch Front.
Red Rock Draper: "Red Rock Draper is an area down near Corner Canyon in Draper," Ward explained. "It's a crag that has a very gym-like atmosphere, with benches and flat ground. It has bolted routes set in a very grid-like pattern much like in the gym. There are a bunch of problems close together, and it's probably the closest you can get to gym climbing outdoors." Additionally, most of the routes can be easily set up for top roping so less lead climbing skill is required.
Grandeur Peak Trailhead: "You access (this climbing area) from the west Grandeur Trailhead," Ward said. "The rock is a little slippery, but it has a bunch of routes and it is super accessible." The area contains a variety of different levels of difficulty so climbers can challenge themselves as much as they see fit.
Lisa Falls in Little Cottonwood Canyon: Ward also recommends Lisa Falls, which hosts more than 26 climbs with a mix of traditional, sport and top rope of varying difficulty.
How to transition from indoor to outdoor climbing
"The biggest thing with transitioning (to outdoor climbing) is taking a class or trying to find a mentor or instructor who can help you," Ward explained. "Momentum has a program which takes you from the gym to the crag, and so does The Front Climbing Club. There's also Utah Mountain Adventures, which you can hire to take you out and go over the basics to make sure you're climbing safely and managing your risk appropriately at an outdoor crag."
Ward added that the biggest difference between indoor and outdoor climbing is the objective increase in hazards involved. "Indoor climbing involves specifically just the inherent risk of climbing," he said. "Whereas when you're outdoors there's everything from bee stings and scrapes and bruises to falling rock hazards and stream crossings. Having a good awareness of outdoor navigational skills is huge."
Learn more about what you need to know to transition to outdoor climbing — including information on gear, safety and types of climbing — here.
Needed equipment
"You can make the transition from indoor to outdoor climbing pretty seamlessly," Ward said. "Generally, most of the gear used indoors is going to be good outdoors."
The one piece of equipment you must purchase is a helmet, Ward added. The reason you need a helmet is not because you're going to bash your head against the wall, but because falling objects can cause severe damage to your skull structure.
"Especially in the case of a belayer, if their climber drops a quickdraw or a carabiner or something like that," he said.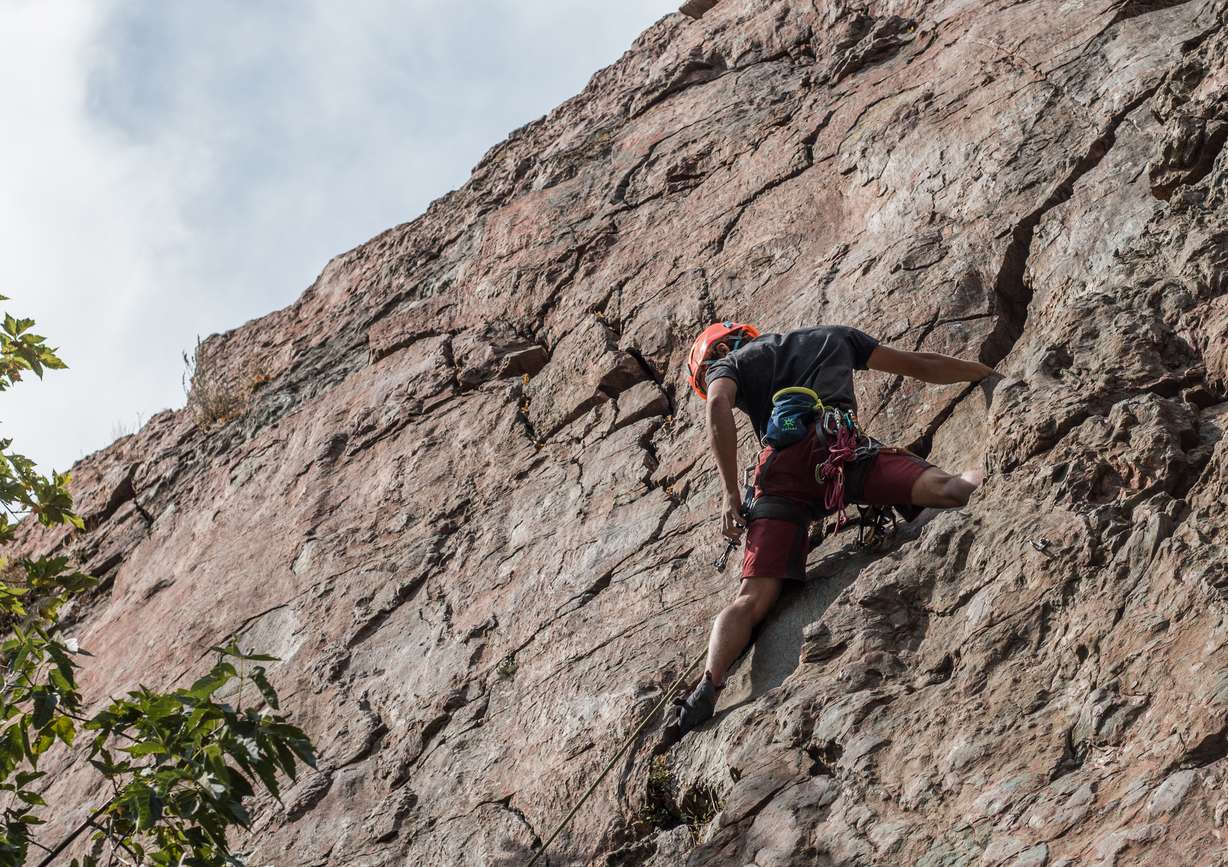 What to do when you encounter crumbly rock
Crumbly rock, known among climbers as "chossy" rock, is common in outdoor rock climbing. Even the most established climbing routes may have gravel or crumbling pieces, according to Ward.
"There are many areas which have different types of rock in the Wasatch, because there's everything from limestone to quartzite to granite," Ward explained. "You need to go to Mountain Project or another climbing website to see the route you're going to do and make sure it's not a chossy one. My advice is to always look out for any type of loose rock."
He added that the best ways to prevent being injured by rock fall are to have both the climber and the belayer wear helmets and to understand the needed communication skills to deal with falling rocks when they happen.
"If rocks are falling keep your head down and move into the wall," Ward advised. "That's a good thing to practice as a belayer, is moving into the wall in a lead climbing scenario."
Understand conditions
Ward suggested taking the time to understand the conditions you will be climbing in before going. The Wasatch Front has a few quirks in terms of climbs and the terrain surrounding them, and it's best to do some research before diving in. A major quirk to the area is the sheer difficulty of the type of rock in comparison to other areas.
"Granite is always going to be more challenging climbing than sandstone, so climbing in Little Cottonwood Canyon is going to be more challenging than climbing in southern Utah," Ward said.
He advised bearing in mind afternoon thunderstorms can cause problems, so checking the weather is a good idea. Ward also pointed out that the Cottonwoods both see a lot of rattlesnakes and poison ivy around crags, and as such, caution should be a priority.
Utah offers vast opportunities for rock climbing outdoors. Ward suggests combining a passion for the sport with attention to safety. "Take it slow," he said. "Climbing has a lot of inherent risk with it. Spending the money on good equipment and knowledge you can get from a class is worth it."
Resources
Mountain Project: Find detailed information about rock climbing routes and locations.
KSL.com on rock climbing for beginners
KSL.com on what you need to know to start rock climbing outside
KSL.com on how to pick out rock climbing shoes
×
Most recent Outdoors stories