Estimated read time: 4-5 minutes
This archived news story is available only for your personal, non-commercial use. Information in the story may be outdated or superseded by additional information. Reading or replaying the story in its archived form does not constitute a republication of the story.
SALT LAKE CITY — George Matus seems fairly calm and nonchalant for a 21-year-old who is in the running to win a $100 million contract from the United States Army.
The Utahn is founder and CEO of Teal, a Murray-based drone company that Matus began when he was just 16. Now, Teal is one of six drone companies competing for a nine-figure contract to create reconnaissance drones for soldiers in the field.
It was just a few years ago that the Army banned the use of Chinese drones because of "cyber vulnerability" concerns. Chinese drones dominate the industry, however, so it put the Army in a bit of a tight spot.
Shortly after, defense authorities called for more (America-friendly) drone companies to apply for the opportunity to create a prototype for Army reconnaissance missions. While many applied, only six were awarded a collective $11 million to design and complete drones that meet Army requirements.
Teal is one of them. Now the Utah company has until the middle of 2020 to complete the prototype and wait to see if it will be the lucky winner of the coveted contract — though there may be two winners, Matus said.
"We've just been incredibly optimistic here at Teal, in terms of how well we think we are aligned (with what the Army wants)," Matus said. "We're confident that we can build a product that has the best user experience, is able to meet these performance specifications, and, at the end of the day, offer some unexpected capabilities no one is going to see coming."
Those "performance expectations," according to Matus, are capabilities the Army has required in the drone. For example, the drone should:
Be able to fly up to 3 kilometers (almost 2 miles)
Have 30 minutes of endurance
Have both a high-resolution visible camera and a thermal camera
Be fully "ruggedized" for different weather and environmental conditions
Be completely cyber-secure with encrypted data
Be portable, so a soldier can throw the drone in a rucksack
Be able to deploy quickly and see what's around the next hill or building
"(After) they banned (the) use of all Chinese drones … soldiers just don't have a drone that they can use for this type of short-range reconnaissance," Matus said. "So, it's a really big problem in the military right now that we're able to directly address with a drone that is small and lightweight, but very capable in what it can do."
Matus won't give away any hints about what "unexpected capabilities" the Teal drone might use to gain a leg up on the competition, but he said he feels pretty confident in its chances — especially since the company's flagship product, the Teal One, had so many features from which the team could build.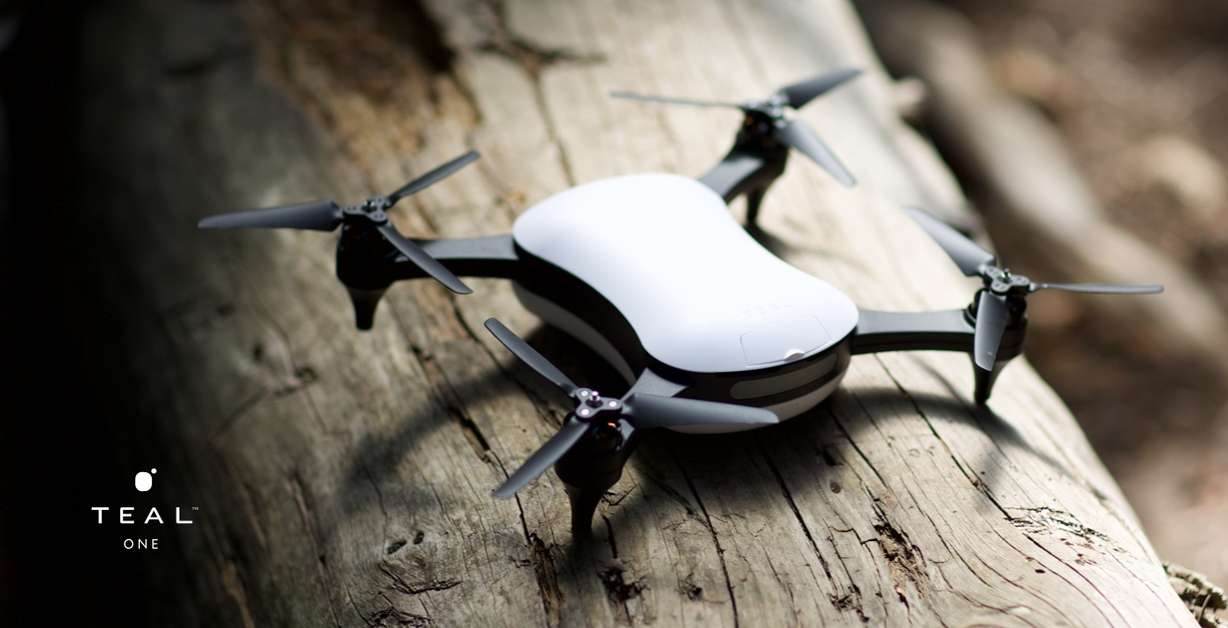 The Teal One, which launched in November of last year, includes a software platform capable of everything from artificial intelligence to augmented reality and may be the only drone mass produced entirely in the U.S., according to Matus.
But the Teal One may be a little hard for consumers to get ahold of nowadays. The drone sold out quickly and has remained out of stock since. Matus said he honestly doesn't know when the company will start manufacturing more.
Soon after the Teal One launch, the team started focusing on this new project for the Army and will most likely continue doing so instead of manufacturing more Teal Ones, he said. If the company's racer drones also sell out, those may be unavailable for a while too, he added.
Matus does hope, however, to eventually market a consumer version of the team's Army drone to the public — whether or not they win the contract.
And while manufacturing production may have stalled, Teal did recently complete a $13.5 million Series A funding round with Utah and Silicon Valley venture capital firms, bringing the company's total venture funding to over $20 million.
And while Teal's accomplishments are certainly impressive on a 21-year-old's resume, Matus said he doesn't think about how young he is all that often.
"I get asked this, sometimes, about how it's been starting the company at this age. And I've always just tried to push that aside because, at the end of the day, it's just something I'm incredibly passionate about and believe in a lot," he said.
"I was worried, initially, that age would be a factor," he added. "Age did not turn out to be a factor and actually, it can be a benefit in some ways. And as long as you have a clear passion and a purpose for what you're doing, and believe in it and have conviction … you can make some really cool things happen."
×
Related stories
Most recent Features stories