This archived news story is available only for your personal, non-commercial use. Information in the story may be outdated or superseded by additional information. Reading or replaying the story in its archived form does not constitute a republication of the story.
Editor's Note: This is part of a new series on KSL.com where we do a follow-up article about Utahns who we have previously featured on KSL. If you have been the subject of a feature story on KSL in the past and would like to be part of our "Where Are They Now?" series, email cwilliams@deseretdigital.com for consideration.SALT LAKE CITY — The old adage that if you do what you love, you'll never work a day in your life holds true for George Matus.
While many 18-year-old recent high school graduates are in the waning moments of summer before heading off to college, Matus, a recent Waterford School grad, is heading straight to the business world with the launch of Teal Drones, a potentially game-changing drone company he began building while still in high school.
"It started as a hobby and it still feels like a hobby," he said. "It doesn't feel like work necessarily. This is my passion and what I love to do in my spare time."
Matus's goal is to revolutionize the drone industry, and Teal Drones, which began in the preordering stage with the company's launch, is doing just that. The drone is capable of speeds up to 70 mph, which the company boasts is the fastest mass production drone in the world and nearly double the speed of its prime competitor — and Matus describes it as "the smartphone of drones."
In addition to its speed, the drone can also fly in winds up to 40 mph and can fly through all sorts of precipitation, Matus said. He said the drone is small enough to fit in a backpack but strong enough to carry extra payloads.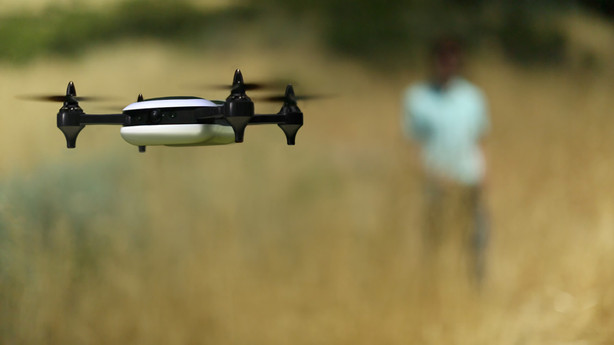 It also features an integrated supercomputer that has the ability to handle components such as artificial intelligence, apps, "follow-me" mode and much more.
With the knowledge that Chinese-based DJI controls the majority of the drone market share, Matus set out to create a product that fit the needs the competing drones struggle to have — combining all points types of drones into one product, as well as provide a direct relationship with the consumer.
"Essentially I built this wishlist of everything I would want in a drone if I were to professionally build my own because I noticed that for everything I wanted to do, I needed a different drone," he said. "I basically wanted to build a drone that's not limited to one specific use case, but rather it's sort of like the Swiss army knife of drones. It's almost a universal platform."
With the product nearing completion, Matus said he expects to have the drone orders shipped out by Christmas. The cost of the drone is currently $1,299.
How he got to the position of where he's at now is equally impressive considering how quickly his business has risen.
When KSL last featured Matus in 2015, he had just been awarded a Thiel Fellowship for $100,000 in funding by PayPal co-founder Peter Thiel to encourage college-aged people to skip college and focus on becoming entrepreneurs. He was also heading into his senior year of high school.
Matus planned to focus on drones with the fellowship. The lone constant that seemed to remain one year later is his love of drones.
"Right after the fellowship, everything started to kick off real quickly," Matus said. "I started bringing in a lot of engineering, started working on product development, executing the vision … during that product development and scaling the team process, I was also reaching out with investors and meeting with clients out in the Bay Area and here in Salt Lake."
Teal launched after raising $2.8 million over the past year to create the new potentially game-changing drone.
It's money Matus began receiving from multiple capital firms that allowed the business to grow, as well as have the ability for inventory, marketing and production before launching without asking for crowdfunding help.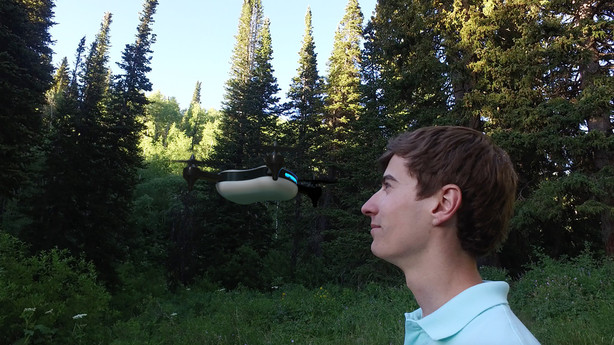 The funding process didn't really click until he met up with Utah-based Pelion Venture in August 2015.
"It was actually really challenging at the beginning. The vision wasn't fully developed yet," he said. "I didn't have any prototypes. I was just this 16, 17-year-old who was going to meetings with braces and his dad was driving him around."
Afterward, he exceeded his initial $2 million goal. Matus's company, based in Utah, currently employs three full-time jobs, and 15 full-time contractors working to cover all the bases of the business model.
Matus's former high school classmates, he said, will help in the beta testing of the drone.
"They've been very supportive," he said.
Matus seems to be in the right field working in the drone business.
"This honestly doesn't feel like work to me," he said. "It's what I want to do and it does feel like a vacation almost versus going to school or doing anything else."
×
Photos