Estimated read time: 2-3 minutes
This archived news story is available only for your personal, non-commercial use. Information in the story may be outdated or superseded by additional information. Reading or replaying the story in its archived form does not constitute a republication of the story.
WEST JORDAN — In the final weeks of school, high school senior Cody Calley will have 12 tests, student body officer duties and plans for his upcoming graduation.
"Moving forward into a new chapter in your life, times get really stressful," Calley said.
He is like many students who feel stressed about advanced placement tests, end-of-year tests, SAT tests, college acceptance, internships and a list of other things that pile up at the end of the school year.
"It is a high-pressure, high-stakes position we're putting them in, " said Stacee Worthen, counselor specialist with Jordan School District. "There are all these opportunities so there are all these pressures for kids to decide now what they want to be when they grow up."
An annual survey by the American Psychological Association found 31 percent of our teens feel overwhelmed by stress. Thirty-six percent report that stress makes them feel tired, and 23 percent skip meals. But the biggest concern is that teens feel more stress than adults. The same report showed on a 1-10 scale, teens rate their stress at 5.8, while adults rate their stress at 5.0.
"Over the last decade, there's been a huge shift with worrying over things we don't have control over," said West Jordan High School counselor Zane Elder.
He believes technology plays a role in this stress because kids are connected and more aware of what is going on than kids in previous eras. Kids look for ways to cope; and many times, even if they struggle to admit it, they look to their parents for help.
"Keeping it inside, you're going to stress out even more," Calley said. "Communication, they're a huge help in that way."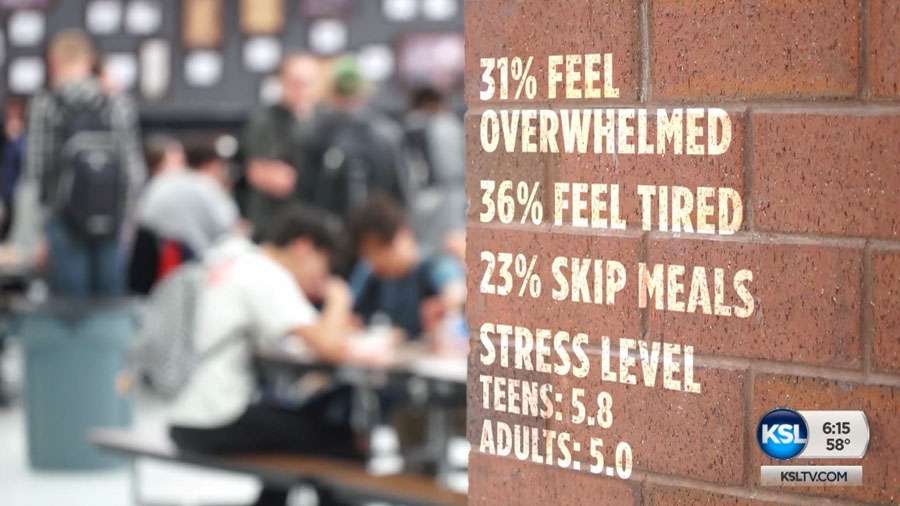 Counselors say parents can play a critical role in helping their teens manage stress by open, supportive conversation. Parents should ask about grades and assignments, but not only that.
"Make it about the relationship, not their achievement," Worthen said.
Helping teens manage the basics of sleep, healthy diet and exercise can help them feel better as they face academic challenges. Bottom line, counselors say, make sure your kids know you care about them and that their test scores don't define them.
"We need to let them know, no matter what they're going through, that no matter what bad choices they've made that frustrate us or make us angry or disappoint us, that we still love them and that we are going to be there with them," Elder said.
×
Most recent Education stories