Estimated read time: 3-4 minutes
This archived news story is available only for your personal, non-commercial use. Information in the story may be outdated or superseded by additional information. Reading or replaying the story in its archived form does not constitute a republication of the story.
SALT LAKE CITY — Kathy Howa still remembers walking into a Rowland Hall High School gym 17 years ago. The beloved coach had been recently diagnosed with breast cancer and was there to meet with her team.
She was greeted by each player wearing a pink ribbon — a ribbon, the athletes pledged, they wouldn't remove until Howa had defeated the disease.
"They were willing to go to bat for me," Howa said.
That pushed Howa to go to bat for everyone else since. It's been years since she won her individual fight with cancer. But that didn't end her battle — not by a long shot.
Those same athletes helped her start a foundation — Swing For Life — that in under two decades has helped raised $1.5 million for the Huntsman Cancer Institute. Her goal: raise as much money as she can so that fewer and fewer people will have to endure the pain that cancer brings.
"I'm alive," Howa said. "I get to be alive and hopefully what we are doing is going to help other people be alive and we can get rid of this."
That's why she stood on the Smith's Ballpark concourse on a chilly night last Saturday selling bright pink shorts featuring the Salt Lake Bees logo with all the proceeds going toward cancer research.
It was part of the Bee's annual Pack the Park Pink Night — a night dedicated to raising money for cancer research. At the end of the game, a 4-2 Salt Lake win over the Las Vegas Aviators, the team provided the Huntsman Cancer Institute a check for $18,975.
"We have kind of joined hands with the Bees," Howa said. "We join our money together and donate it together now. We call some of our tournaments the Salt Lake Bees, Sing For Life Tournament."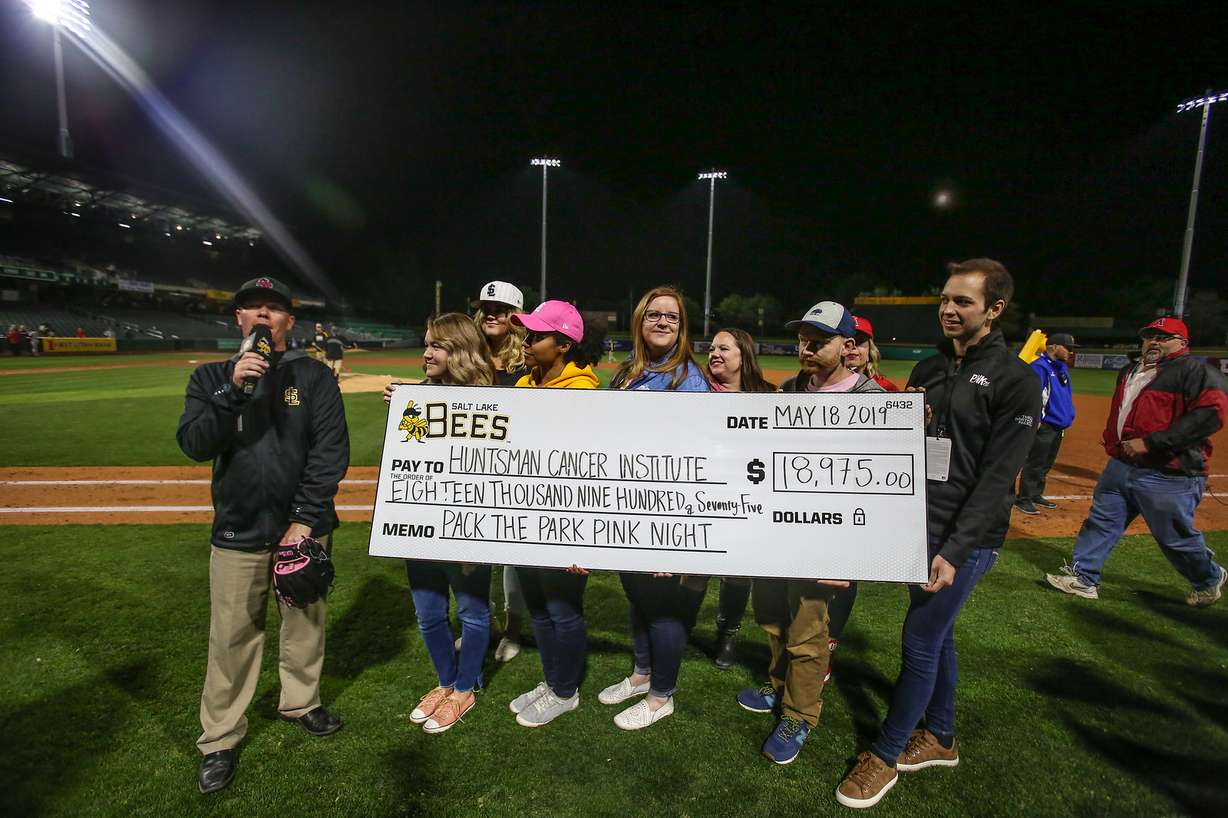 Following the game, families gathered together on the field to pose for photos holding game-worn jerseys. Those jerseys featured names like "Chirs," "Bryce," "Egan," and "Survivor" — names of those who have fought cancer.
"I think it's awesome that we get to wear these names for survivors, for mothers and for everyone," Bees third baseman Kaleb Cowart said. "It's just awesome. I feel blessed to be a part of that and make a dream come true for someone else. Anything I can do — wear a jersey, wear a name on the back that symbolizes somebody else — I'm all for that."
But someone that wasn't there posing for pictures: Howa.
Her name won't appear on a check or a press release or anything else that shows how much she's done. She doesn't care about the credit (which is partially why so many people are eager to give it to her), she just wants to see the disease be eradicated.
"No one should have to go through it," Howa said. "And it's not just the person. It's the family — the family sees what they have to go through and how sick they get. Yeah, we came out on the other side, but some people don't — we have to stop that."
She still remembers her students' vow to wear the pink ribbons until she was cured. A vow that has turned into so much more.
"They were there for me, and they helped us start this and it turned into something so fun for a good cause, and they are doing something bigger than themselves," Howa said.
×
Photos
Most recent Sports stories