Estimated read time: 6-7 minutes
This archived news story is available only for your personal, non-commercial use. Information in the story may be outdated or superseded by additional information. Reading or replaying the story in its archived form does not constitute a republication of the story.
SALT LAKE CITY — Get your camping gear ready, for Memorial Day weekend will be upon us soon. It may be hard to find the great outdoors any greater than in Utah: Hiking, camping, fishing, horseback riding, rock climbing, off-roading and in several places – well, crowds.
"People are recognizing how blessed we are and how easily accessible great recreation is all around the state," said Tom Adams, director of Utah's Office of Outdoor Recreation.
"We're also seeing people from around the world," Adams elaborated. "The other day, our executive director went to The Wave down near Kanab and met a gentleman from Japan that flew into Vegas, went hiking The Wave the next day, went right back and flew home. These are bucket list places for people all around the world."
But, if you are looking for a little more solitude for your camping experience, we asked Adams for some tips on several great camping spots around the state that typically still have a little breathing room.
Hoop Lake
In the Uinta Mountains, you can expect Mirror Lake to be packed during the weekends.
"Mirror Lake and the scenic byway is phenomenal, you can't miss it," exclaimed Adams. "But, if you pop out in Evanston and a hang a right and go east, I would go check out Hoop Lake."
Hoop Lake is a little over 30 miles south of Mountain View, Wyo., but you will cross back into Utah to reach it. It offers camping, boating, fishing, horseback riding, hiking and even rock climbing.
"There's outstanding rock climbing for a little bit more experienced folks. The fishing is wonderful. The access to the campground is really easy. It's a place most people don't hear about," said Adams.
Ashley National Forest
Hoop Lake is just on the outskirts of Ashley National Forest where many great camping spots can also be found.
"It's kind of like Ashley is the desert meets the Wasatch. You get a lot of sandstone, a lot of wonderful, beautiful formations. Fish Lake is there. And, the U.S. Forest Service does a great job with those campgrounds as well," Adams said.
Dead Horse Point State Park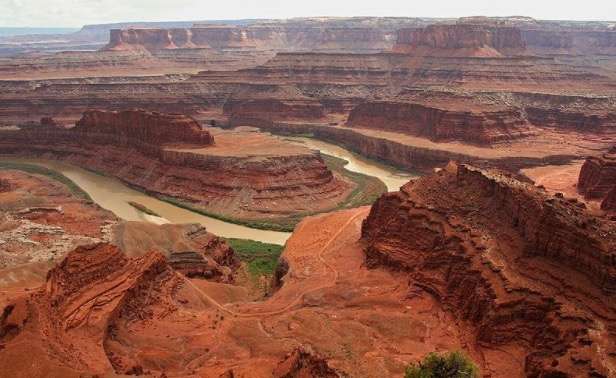 The area in and around Moab area fills up fast, but Adams recommended the phenomenally beautiful Dead Horse Point State Park.
"They've just added more camping," he explained. "They've added more yurts for those people that want to get into yurts." Adams added that a number of private entities have glamping facilities closer to Moab itself.
Henry Mountains
But, if you are searching more solitude, you will find it about 70 miles east of Moab in the Henry Mountains.
"The Henry Mountain range will have snow this year for quite a while just like a lot of our high elevation places," explained Adams. "But, the Henry Mountains was one of the last mapped mountain ranges in the lower 48 (states) and it's still very remote when it comes to people camping there. But, you'll find beautiful campgrounds and amazing views that you have never experienced."
Pine Valley Mountains
Zion National Park's incredible views draw huge crowds. Many visitors find themselves battling packed trails and long wait times. But, a 45 minute drive north brings you to the scene Pine Valley Mountains.
"There's a lot of wide open campground that you can partake in and there's amazing activities on that mountain," said Adams. "A of people don't even recognize it – they're either driving from Zion or driving to Vegas and they pass Pine Mountain and you know, it's phenomenal."
Hovenweep National Monument
Utah's southeast corner has its hidden camping gems, too.
Adams recommended Hovenweep National Monument for its camping, hiking and star gazing after dark as well as Bears Ears National Monument.
"It's really hit the map over the last few years, but it's a great place to check out," said Adams. "And, those are places you can plan for bigger trips, like maybe you want to go to Mesa Verde and come back."
Abajo Mountains
Just west of Monticello are the Abajo Mountains.
"They overlook Canyonlands National Park, so another great place that is off the beaten path and a wonderful area for OHV (off-highway) vehicles."
Huntington State Park and Millsite State Park
In Central Utah, Adams suggested the campgrounds at Huntington State Park and Millsite State Park.
"Both of them are wrapped around the towns of Castle Dale and Ferron, respectively. But, with short drives from both you can get up on top of the mesa with amazing views of Joe's Valley and you're in towards Richfield – phenomenal. And, some of the best OHV and side-by-side ridings in the country."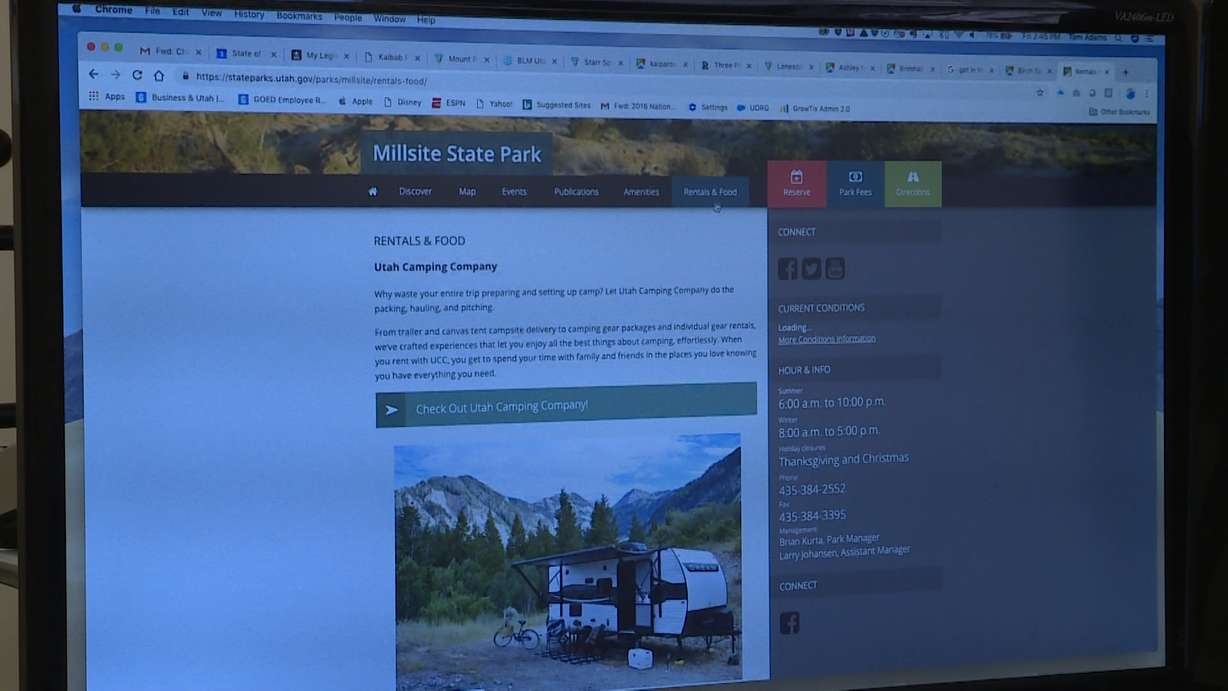 Millsite State Park is one of several state parks that offer trailer rentals.
"So, if don't want to haul your trailer, you can pull and just have a trailer set up for you and your family right at the state park," Adams said.
To see if a state park you are planning to visit has rental trailers, go to the Utah State Parks website, find your park, and click the "Rentals & Food" option on the menu bar.
Skyline Drive
Closer to the Salt Lake Valley, Adams recommended taking the Skyline Drive road above Bountiful.
"You can see beautiful views. There's great campgrounds. For some of us, that's only a 40-minute drive and you'll feel like you're in the middle of nowhere," he said. "Unless, you're overlooking the valley. Then, you feel like you're on top of the world."
Echo State Park
Adams also recommended Echo State Park.
"They're expanding the park and that will see a lot of renovations which will accommodate a lot more people in years to come," Adams explained.
West Desert
In the West Desert, Adams spoke about the abundant BLM land that offers a lot of camping opportunities.
"One thing we really want to point out, especially in BLM areas is a lot of it's in really delicate climates," he elaborated. "A lot of places it's dispersed camping so you can camp really anywhere that's somewhat existing. So, make sure you're treading lightly. Make sure you pack out what you bring in and try to stay on existing roads and areas that have seen camping before."
Adams' recommendation for campers also includes checking out the BLM's interactive website.
"I would encourage families to get out to go camping, and help our kids understand what camping is all about and the benefits they get from it," Adams remarked.
×
Photos
Most recent Utah stories