Estimated read time: 4-5 minutes
This archived news story is available only for your personal, non-commercial use. Information in the story may be outdated or superseded by additional information. Reading or replaying the story in its archived form does not constitute a republication of the story.
Editor's note: This is part of a series at KSL.com featuring some of Utah's coolest cars. If you own a customized vehicle — from sports cars to semitrucks — email vvo-duc@deseretdigital.com with a photo of the vehicle and a brief description for consideration.SALT LAKE CITY — If you were to run into James Condon on the street in Salt Lake City, you would never guess by his looks that his YouTube channel, titled TheStradman, has over 1.6 million subscribers or that he owns a supercar.
Probably wearing nothing more than a pair of sneakers, some shorts and a T-Shirt, you would be even more surprised to learn that not only does he own a supercar, but his collection contains a brand new Jeep Gladiator, a 2009 Audi R8, , a 2006 Lamborghini Gallardo, and a very unique 2012 Lamborghini Aventador.
The Lamborghini Aventador is the flagship V-12 model for the Italian brand, boasting approximately 700 horsepower and looks that would be appropriate on a fighter jet.
"Buying the Aventador was definitely the scariest decision I've ever made," Condon said. "Lamborghini has always been my favorite brand, so I knew owning the V-12 flagship was my goal."
The original color of Condon's Aventador was something Lamborghini called Arancio Argos, which is a deep pearl orange. Although the orange was a unique color, Condon decided the first modification would be to wrap the car satin chrome purple, which was done by Clayton Stark, owner of Summit Auto Lab in Park City.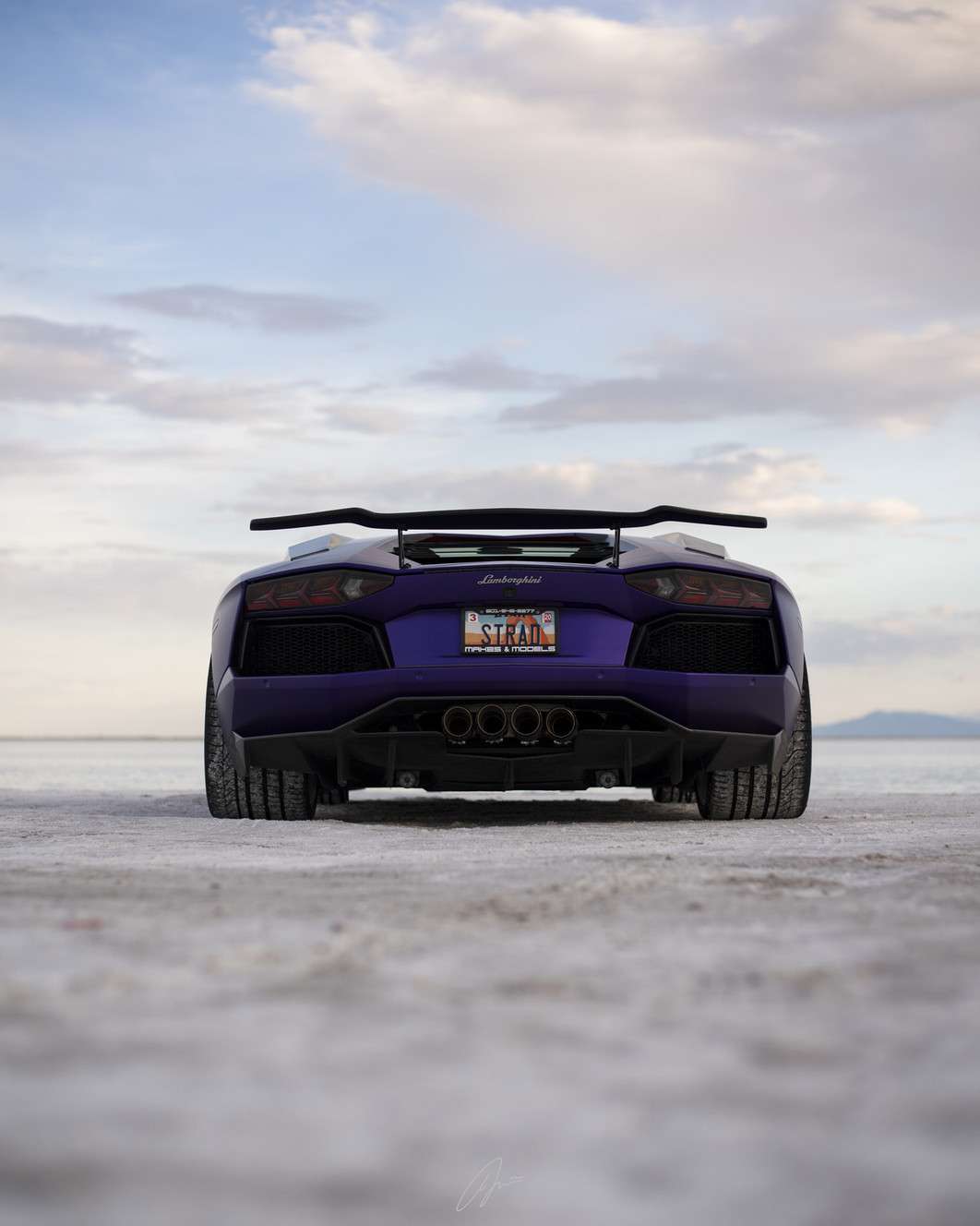 Wrapping the car was the first of many modifications to come. A custom exhaust by Frequency Intelligence was added to further enhance the sound of the car's V-12 engine. Condon has also added exterior carbon fiber parts from 1016 Industries, including a rear diffuser, hood, rear wing, and a front splitter and side skirts that will be added soon.
He added a set of white Brixton Forged wheels that contrast against both the carbon fiber and the purple wrap. He also mentioned that soon he will be adding some white and orange geometric camo vinyl on top of the purple wrap to better tie in the white wheels and orange calipers.
The interior of the car is black leather with orange accents, and a new carbon fiber steering wheel from Carbontastic was added recently.
When asked what his favorite aspect of owning the Aventador, Condon said, "Definitely the sound! There's nothing quite like an Italian V-12. I love downshifting under bridges and accelerating through tunnels. The car has a single-clutch gearbox which can be a bit jerky at times, but allows for an extremely violent experience when shifting the car under acceleration."
Related:
The purple supercar is one that is heard before it is seen.
As for future plans with the car, Condon has a few ideas in mind. "The new Aventador replacement is expected to be revealed at Geneva 2020," he said, "and my goal is to buy an early allocation of that model. I may trade in the Aventador for that new model."
Although Condon may not look like your typical supercar owner, it has been a dream of his for his entire life. "I've always been extremely conscientious of my spending habits, only spending money on what I really want. I don't wear fancy clothes or fancy watches, stay at fancy hotels or fly first class," he said. "Most people in my financial situation wouldn't buy a Lamborghini, but I love cars so much that I've made it a priority."
He also added, "To any kids out there looking to own one, make it a priority and take steps each day to achieve it."
If you happen to see a purple Lamborghini Aventador cruising down I-15 around Salt Lake, make sure to give Condon and his dog, Oskar, a wave. If you're lucky, he may even rev up the engine and give you a glimpse of what a 700-horsepower supercar sounds like.
Be sure to visit his YouTube channel and follow him on instagram (@TheStradman) for updates on the Aventador and other cars in his collection.
---
×
Photos
Most recent Utah stories