Estimated read time: 4-5 minutes
This archived news story is available only for your personal, non-commercial use. Information in the story may be outdated or superseded by additional information. Reading or replaying the story in its archived form does not constitute a republication of the story.
SALT LAKE CITY — For those people with an entrepreneurial spirit, Utah's capital city is one of the best places in the country to try your luck at being your own boss, new reports say.
A report by FitSmallBusiness.com ranked Salt Lake City No. 6 among the top 10 cities for entrepreneurs in 2019. The study looked at business survival rate, economic growth rate, new business growth, the local financial landscape, area tax climate, the labor market, quality of life and cost of living, explained special project editor Jeff Steen.
"There are a lot of factors, but at the ground level it's about opportunity," he said. "Part of that is an existing infrastructure that supports startup culture."
He said in the top-ranked cities, accessibility to investment capital is better than in many other locales compared to the overall population and startup density in those markets.
"Based on those factors, is it possible for startups to secure the funding they need to get off the ground?" he said. "Additionally, the best cities are places that offer resources to entrepreneurs that help them in their quest to get their companies up and running, including mentorship."
He also said the top cities had tax climates that were not impediments for budding businesses to establish themselves. The day-to-day expense of being a resident and business owner in a particular location was also a key measurement of a city's ranking, he added.
"As a new entrepreneur, you're going to be investing all of your spare cash and money into this business to ensure it survives, then you're going to want things like a low cost of living," Steen said. "In those instances, those individuals who are really committed to entrepreneurship will consider moving to a new city. The cities on our list, for the most part, have a lower cost of living and higher average salaries."
He said larger coastal cities, which are supposed to be launching pads for budding entrepreneurs, are often too costly to get a new business going from the ground up. For a city like Salt Lake, social opportunity, transportation and quality of life, along with other attributes, help to increase its standing among many places throughout the country that it competes with, he said.
"These are cities with smaller populations that aren't saturated with these kinds of (startup) businesses yet, and yet they have enough infrastructure and foundation for some of these businesses to get off the ground," he said. Noting the Wasatch Front's reputation for technology and life sciences, he said Salt Lake City compares favorably with larger metros like Seattle because of its higher per capita availability of resources — financial and otherwise — along with a pace of life that is alluring to many in the business community.
"The quality of life and cost of living are very attractive to people who are sick and tired of coastal rates and costs," Steen said. "Those people who would have turned away from a tech or startup mecca on the coast are now looking to places like Salt Lake City that are relatively (proximate)."
"It's not a huge jump to get to coastal places from Salt Lake, but at the same time it's far enough away to have its own culture, its own dynamic and the landscape is really good for starting a new business," he added.
The Beehive State also made the top 10 in a couple of other nationwide studies, with one a bit more dubious than the other.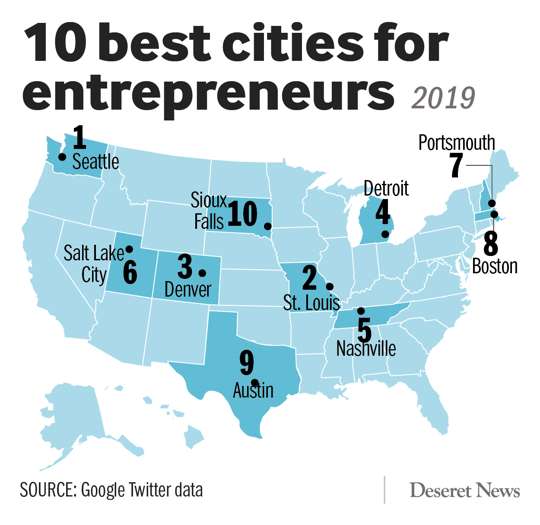 According to data from Twitter, Utah ranked No. 2 for states that love their job and also ranked No. 6 for states that hate their job. The information was compiled by online career adviser Cultivated Culture.
The rankings are based on a month of geotagged Twitter data, explained spokesman Ryan Taylor. The takeaway is there were over 30,000 tweets of people talking about loving their job versus just over 11,000 users tweeting about hating their job, he said.
Meanwhile, as the state recognized Small Business Week, Rep. John Curtis, R-Utah, commended the hard work, creativity and passion of small-business owners in his district as well as statewide.
In a statement, he said data indicates small businesses are at the forefront of economic growth in Utah.
"Small businesses added 24,549 net new jobs during the last year studied. There are 287,803 small businesses in Utah and they employ 46.2 percent of the states private workforce," he said. "We celebrate all that you do to build our communities stronger and more vibrant!"
×
Photos
Most recent Utah stories