Estimated read time: 4-5 minutes
This archived news story is available only for your personal, non-commercial use. Information in the story may be outdated or superseded by additional information. Reading or replaying the story in its archived form does not constitute a republication of the story.
SALT LAKE CITY — Maggie Grimyser, a patient who credits the Fourth Street Clinic for saving her from "horrendous pain" caused by ulcers, gaped when she walked for the first time into the clinic's brand new, custom RV.
"Holy cats," she exclaimed. "This is gorgeous."
The $1 million, 45-foot RV, which drove about 1,700 miles from Ohio to arrive in Salt Lake City this week, was unveiled Thursday — lauded by homelessness leaders as a key piece to Utah's new homeless system slated to launch when its three homeless resource centers open later this year.
The Fourth Street Clinic's "mobile clinic," equipped with three exam rooms, will travel to the three centers in Salt Lake City and South Salt Lake to provide access to doctors and physician assistants "right on site," said Preston Cochrane, executive director of Shelter the Homeless, the owner of the new homeless centers.
"This is one additional way we can help those individuals experiencing homelessness get services right at the doorstep," he said. "We're bringing those services to them."
The bus is a solution to a question that had lingered when city, county and state leaders first began eying the "scattered site model" — or the plan to build smaller homeless centers at different locations rather than have one central emergency shelter like how the Road Home's downtown shelter has functioned for decades.
How would the homeless access services that have long been anchored in Salt Lake's downtown core, such as the Fourth Street Clinic, if their centers are located elsewhere?
"This is the answer," said Michele Goldberg, Fourth Street Clinic's medical director.
It didn't "make sense financially" to build a brick-and-mortar clinic at each homeless resource center, Goldberg said, though she noted that Fourth Street Clinic will have space in each of the centers for nurses to provide basic care daily.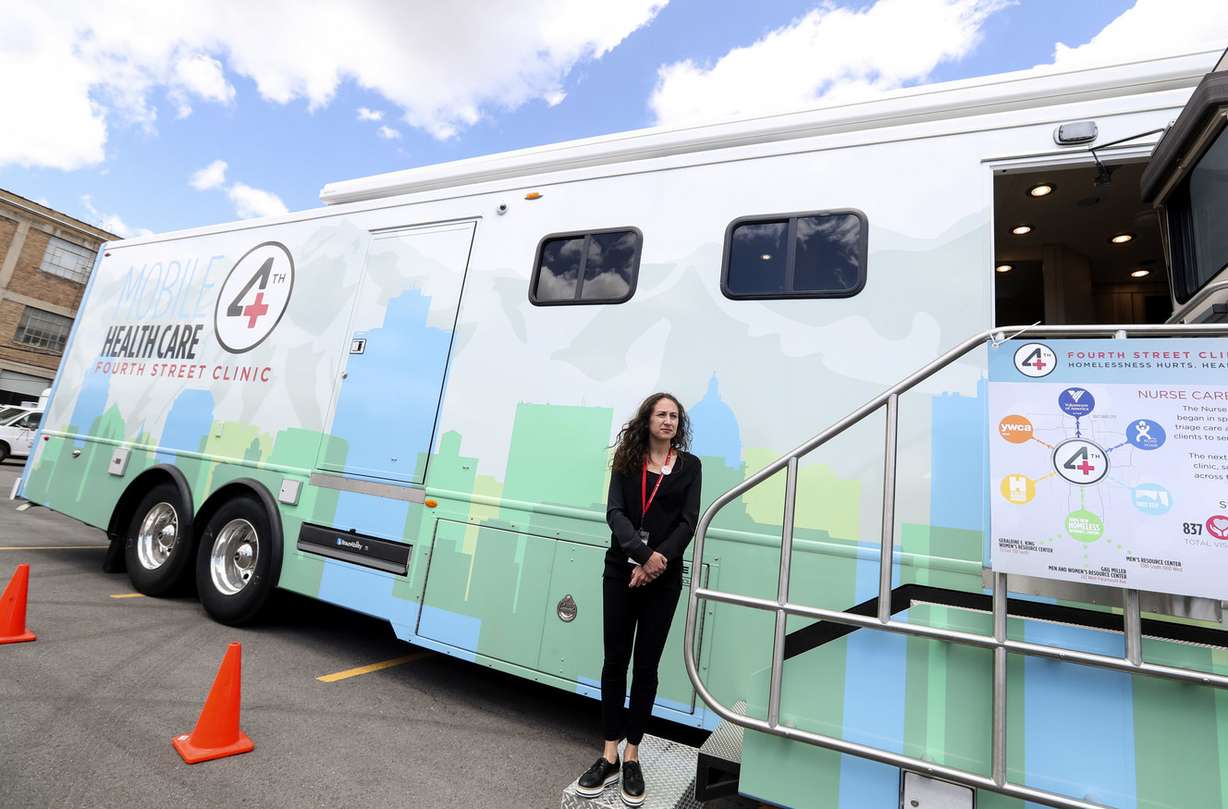 "Because the (homeless centers) are more scattered it will be more difficult for some individuals to access services at our hub," Goldberg said. "So this provides services for those individuals who really can't get here and aren't going to come here, and we can provide it to them where they're staying right at the time they need it."
While nurses stationed at the homeless centers will be able to give clients medical assessments, immunizations, and other basic care, the mobile clinic will provide access to doctors or physician assistants who can conduct preventative care including PAP smears, breast exams, full checkups, wound care, and write prescriptions for medications such as antibiotics.
If clients need more specific medications not stocked on the RV, Goldberg said they'll be couriered to the homeless centers. For other services not available on the bus such as certain specialty care or dental care, she said Fourth Street Clinic will provide clients taxi vouchers or bus tokens so they can go to the brick-and-mortar clinic downtown.
Related:
The Fourth Street Clinic's downtown location will remain in place for more specialized health care. The hope, Goldberg said, is the mobile clinic will also allow the clinic to serve more patients by freeing up space downtown. Currently, the Fourth Street Clinic serves about 5,000 a year, she said.
Goldberg called the mobile clinic "state of the art," noting Farber Specialty Vehicles custom-built the vehicle "from the ground up," starting with walls built out of the chassis.
Even with three exam rooms and a bathroom, the RV has halls roomy enough to be wheelchair accessible. It was also designed to be spacious enough so clients suffering from past traumas feel comfortable, Goldberg said.
"They did everything exactly for us," she said. "This was designed with our homeless population in mind."
The Utah Legislature appropriated nearly $1 million in one-time funding to build the mobile clinic. Cost of staff and operations, estimated at around $500,000 a year, will come from ongoing state funding, donations and grants.
Though the first two homeless resource centers in Salt Lake City aren't expected to open until July, the mobile clinic is set to begin serving clients at other providers including Volunteers of America, First Step House and others by June.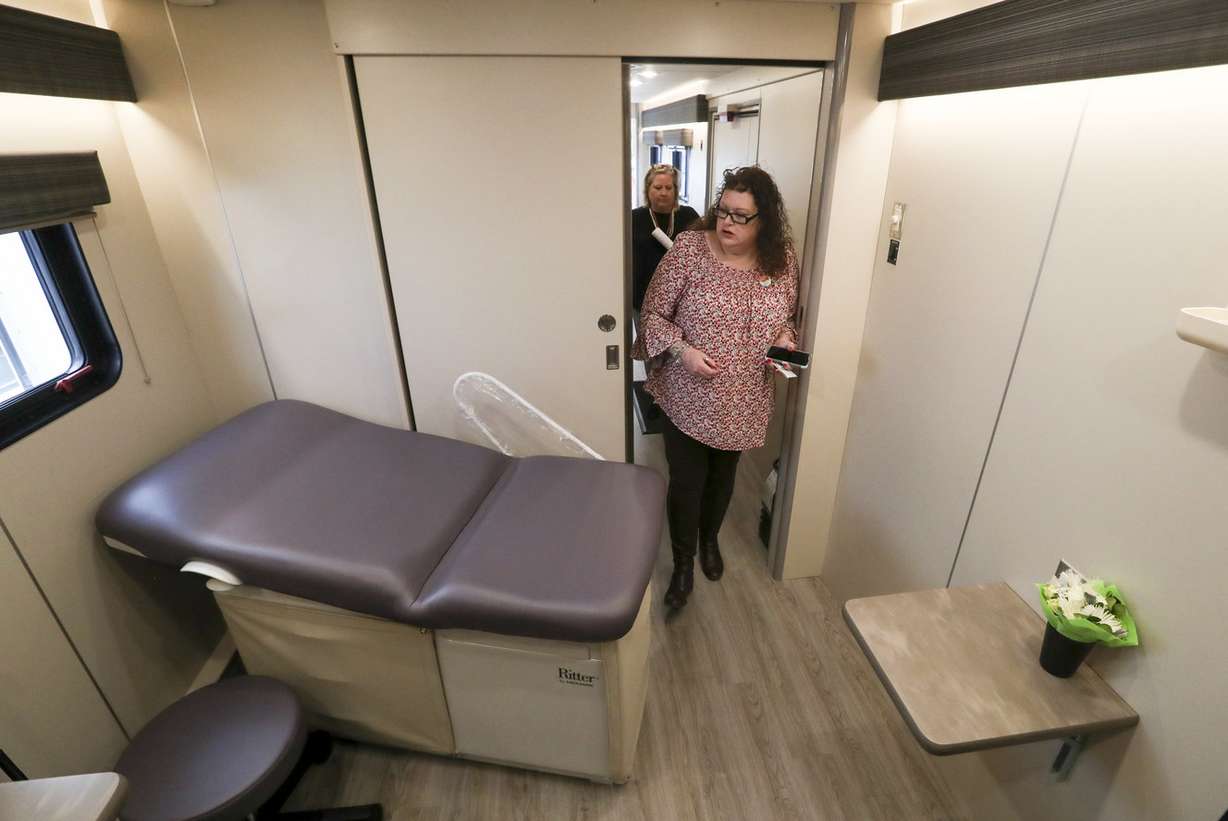 Grimyser said she didn't know where else to go when she first turned to Fourth Street Clinic two years ago. At the time, she was couch surfing or sleeping in her car, too afraid to come to the downtown shelter because she said she heard "horror stories" about what could happen to women in the shelter.
She didn't have health care coverage but needed treatment for ulcers. And while those have since healed, she said she still suffers from past traumas — an issue she said others experiencing homelessness also share.
Grimyser called the mobile clinic "amazing," seeing it as a way to help connect people on hard times with services without having to come downtown — a place that can often "bring back memories and trauma," particularly for those aiming to overcome drug addiction.
"It's something that will open up things in a whole different way," she said, "and will make it possible to help folks that really need help."
×
Photos
Related links
Related stories
Most recent Utah stories