Estimated read time: 5-6 minutes
This archived news story is available only for your personal, non-commercial use. Information in the story may be outdated or superseded by additional information. Reading or replaying the story in its archived form does not constitute a republication of the story.
SALT LAKE CITY — Everybody's seen it. The gentle river flowing through verdant flora. The wader-clad fly fisher chest-deep in the crystal clear, never-too-cold stream. The sun glints off the graceful line. Suddenly, the top of the line fly rod is bent at an unnatural angle as the fish puts up a campfire-tale of a fight. Smiles are shared. Photographs are taken.
The best way to learn to fish is to ask those who know. To help beginners better understand how to avoid the toils of tying flies onto lines, snagging hooks in trees, and actually dealing with the fish once it's out of the water, three fly fishing experts were asked, "what are five things a beginner needs to know about fly fishing?"
Cody Prentice is the owner of Lost River Angler, LLC. He spent the past 10 years as a fishing and hunting guide in Utah and is striking out on his own. Jason Norris and Aaron Dunlap are avid recreational fishers. Norris is the chief financial officer for Cedar City and Dunlap is a police officer for Parowan City. From these interviews, seven suggestions and one inexpensive, practical tip to help beginning fly fishers were compiled.
First, Prentice said, "Don't stress." He pointed to movies and TV fishing shows that are written, directed, cut, and edited to show only the best footage. Norris agreed. "Be patient," he said. "It's a learning process with multiple techniques."
Second, and all three men were firm on this point, there is no need to go all in. "Identify your target species," Prentice said, "and buy a serviceable rod and gear. You can get a pretty good beginner set up for about $100." Perhaps you can begin fly fishing with someone who has a spare outfit. If you like it, you can always increase the quality of your fishing gear. "Think of it like golf," Dunlap suggested. "How many people buy an expensive set of clubs just to find out they don't like to golf?"
Third, Prentice said beginners should get good help. Contact an expert. It might be a guide, like Prentice, a friend, or a neighbor. Check the internet for fly fishing schools nearby. The Utah Division of Wildlife Resources offers fly fishing workshops. While each person's technique will be unique, trying to self-learn with the wrong gear can develop bad habits that are difficult to retrain.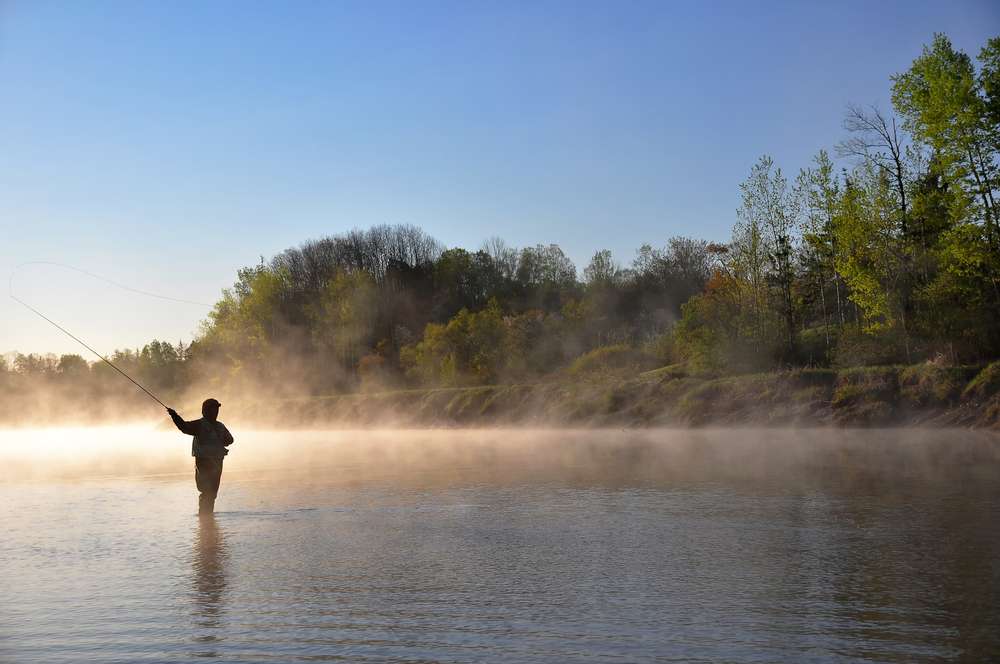 Fourth, matching the hatch is great, but not essential for a good experience. Matching the hatch refers to the attempt by the sportsperson to imitate the natural insects of the venue using artificial flies. "Know the entomology of the ecosystem," suggested Norris, and it seems to be sound advice. Still, Prentice explained, "You can still catch fish even if you haven't exactly matched the hatch. Fish are like 18-month-old children. They explore with their mouths." Dunlap suggested that beginners "cast terrestrial" using Chernobyl Ants and foam grasshoppers. They are large flies and do well when "the presentation is imperfect. With large flies and longer tippets (what we worm-drowners call 'leader') line will tangle less."
Fifth, know your water and the seasons, Norris explained. Fish behave differently depending on the season. As for the water, "Every water has five levels," Prentice taught. "The surface, the surface film (where bugs hatch and can stick their wings out of the water to dry so they can fly away), the sub-surface, the body, and the floor (usually a rough, bouncy area in moving water). Fish are energy conservative. Unless there's a reason, they'll stay where they have to work least." In streams, slow water next to food-carrying fast water is a haven for fish. In still water, fish must cruise for food.
Fishing pressure also impacts the water. Norris had few qualms about discussing his dislike of fishing the Provo River. Dunlap agreed. They dislike the amount of pressure the water gets.
Sixth, fish the water you like to fish. Dunlap strongly suggested learning to fly fish on still water – lakes and reservoirs. These bodies of water have less entanglements. In time, you'll fish the water that best suits you. If you are fishing moving waters, try to stay in open areas as much as possible until your technique is honed.
Seventh, use a floating line and don't forget your polarized glasses. "Fly fishing is sight fishing," said Dunlap. When the line is on the water (floating line) and when the glare is blocked by the right eyewear, you can see the excitement. The glasses also help protect your eyes from a back-swinging line. You can, and probably will, get hooked at some point. Prentice's Instagram page shows a photo of a fly embedded in Prentice's neck. A fly, which he was quick to point out, was that of a client, not his own.
Here's your tip from the professional: when learning to cast, Prentice suggested buying a bunch of broccoli, the kind with the big rubber band around it. Take the rubber band from the broccoli and put it around your forearm. Insert the handle of the fly rod into the rubber band. This minimizes wrist action and helps create control from the elbow and shoulder.
Finally, you don't have to love fly fishing and some bait fishers may have a difficult time converting. That's OK. "Fly fishing is like basketball," Norris explained. "Some people like to shoot three-pointers, some like to do lay-ups. Some people like to fly fish. Others don't."
---
A native of Parowan, Decker is the Cedar City Library Director. He graduated from Emporia State University with a Master of Library Science. He has degrees in Anthropology and Political Science from Southern Utah University.
×
Related stories
Most recent Outdoors stories